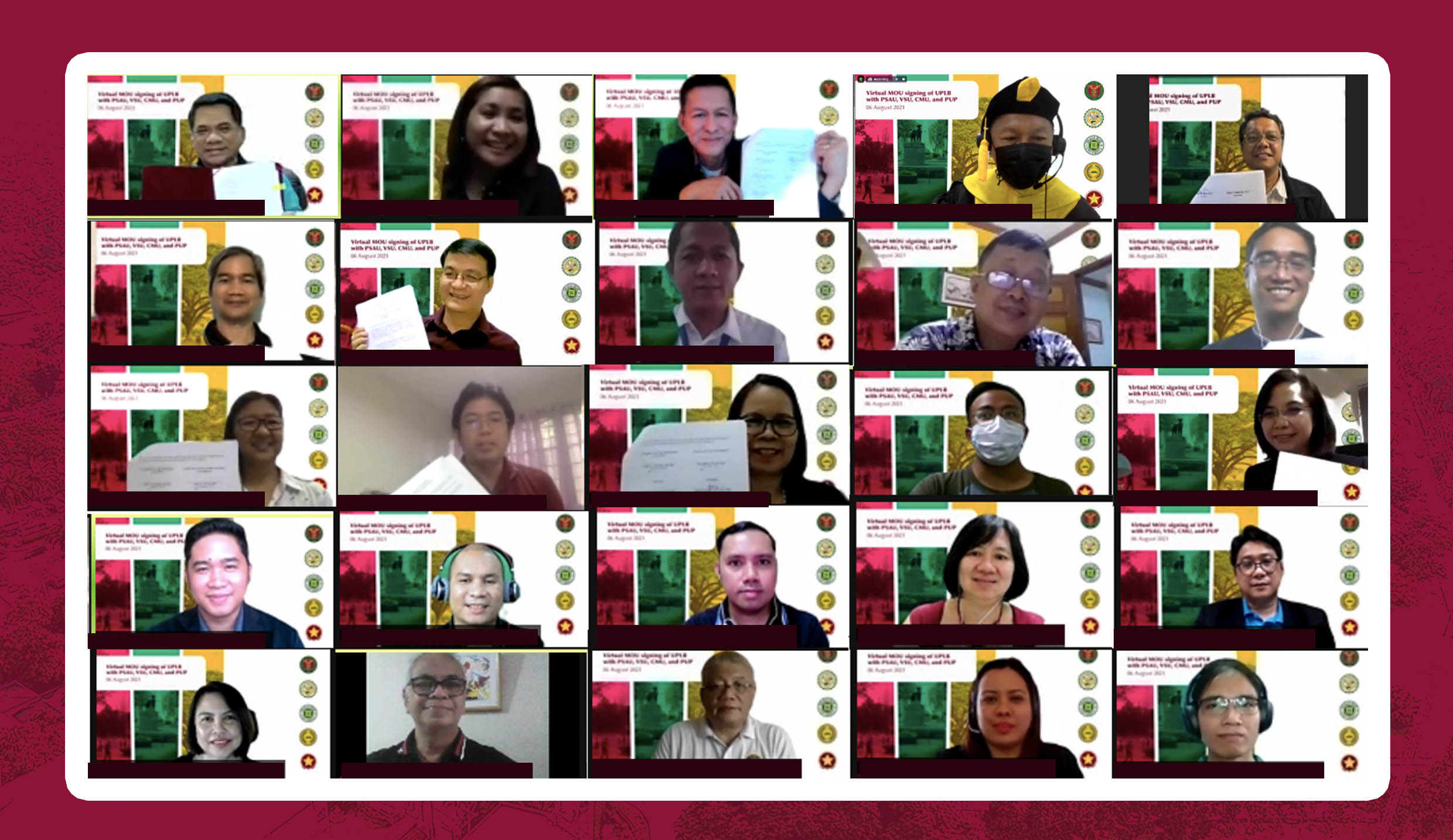 ​​UPLB signs MOUs with PSAU, VSU, CMU, PUP
Luzon, Visayas, Mindanao, and Metro Manila were all represented at a virtual ceremony where UPLB formalized its partnership with four state universities and colleges (SUCs).
On Aug. 6, UPLB signed a Memorandum of Understanding (MOU) each with Pampanga State Agricultural University (PSAU), Visayas State University (VSU), Central Mindanao University (CMU), and Polytechnic University of the Philippines (PUP) via video conferencing.
UPLB's MOU with PSAU, VSU, and CMU aims to build collaboration among their respective College of Veterinary Medicine (CVM) to continuously help the country's animal industry. Meanwhile, UPLB's MOU with PUP is for general academic, research, and knowledge sharing collaboration, and materials and human resources exchanges.
"Our history of working together and harnessing each other's strengths has been there years ago even prior to this occasion," Chancellor Jose V. Camacho, Jr. stressed, as he cited the practice of these SUCs in sending their faculty members to pursue graduate studies at UPLB, and the universities' collaborations in national and regional research and public service programs, among others.
"I am excited for what UPLB can do together with PSAU, VSU, CMU, and PUP under our MOUs as we continue to pursue our mandates in instruction, research, and public service – and to some of you, in production," Chancellor Camacho continued.
The presidents of the four SUCs expressed their excitement and anticipation for their university's incoming collaborative activities with UPLB.
"This is timely and appropriate considering that our institutions share a mission in addressing quality instruction and research in order to produce highly competent veterinarians," noted Dr. Jesus Antonio G. Derije, president of CMU, which is located in Maramag, Bukidnon.
"Our shared intent in collaboration enables us to organize and support the animal industry in this part of the region of the country, particularly in this time of uncertainties," said Dr. Edgardo E. Tulin, president of VSU in Baybay, Leyte.
Dr. Anita G. David, officer-in-charge of PSAU in Magalang, Pampanga, pointed out that the continuing enhancement of the skills and competencies of the people is needed to better serve the needs of the industry.
For his part, Dr. Manuel M. Muhi, president of PUP, affirmed the need for academic institutions to work together. PUP is a multi-campus university with headquarters in Sta. Mesa, Manila.
"This collaboration will further harness programs in faculty development, research and extension, and engagement of both universities for the benefit of the academic community and the society in general," he said.
Serving as UPLB's witnesses to the signing of the MOUs were Vice Chancellor for Research and Extension Merdelyn Lit and UPLB CVM Dean Jezie Acorda for the ones with PSAU, VSU, and CMU; Raphael Ferrer, program coordinator of the Office for Institutional Development in Higher Education (OIDHE) for the MOU with PUP; and OIDHE Director Greg Pawilen for all the MOUs.
Their counterparts in the four SUCs, as well as the vice chancellors and deans of UPLB, also joined the virtual event.
This milestone brings to nine the number of UPLB's new MOU with higher education institutions signed this year.
The earlier five were with Central Bicol State University of Agriculture, Pangasinan State University , University of Eastern Pangasinan, Tarlac Agricultural University, and Sulu State College.
UPLB's MOUs with the veterinary medical colleges of PSAU, VSU, and CMU is a result of UPLB-CVM's existing research project together with these SUCs that is being funded by the United States Department of Agriculture.
The project is entitled "Profiling of economically important diseases of swine and cattle in the Philippines for enhanced disease management, surveillance, and control," with Dr. Remil Galay, chair of UPLB-CVM's Department of Veterinary Paraclinical Sciences as acting project manager. (Mark Jayson E. Gloria)