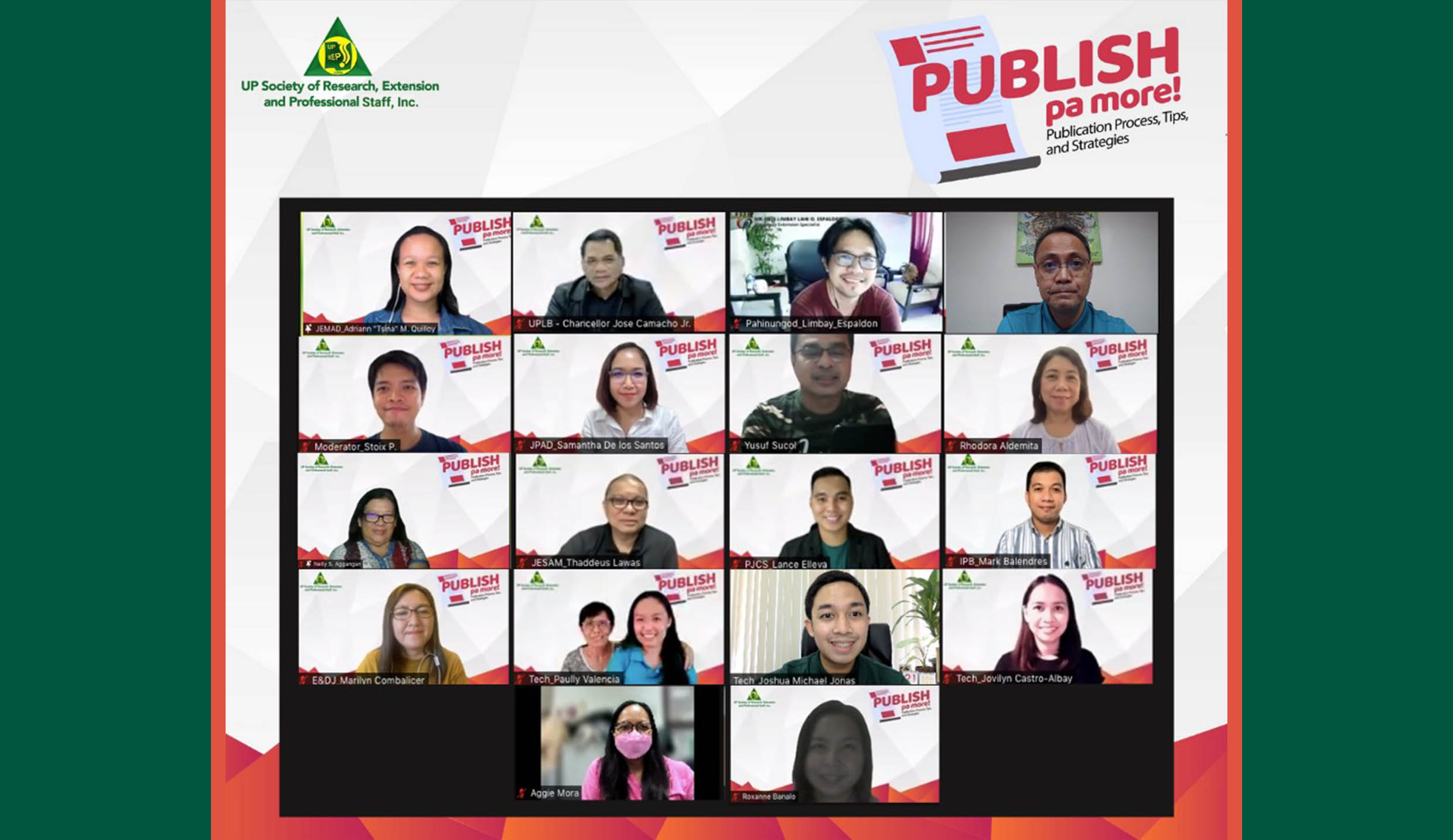 UP REPSS holds webinar on publishing in scientific publications
The UP Society of Research, Extension, and Professional Staff (UP REPSS) organized an online webinar entitled "Publish pa more: Publication Process, Tips, and Strategies" in line with celebrating its 12th anniversary on Dec. 21.
This webinar was able to cater to all the UPLB faculty and staff who are encouraged to submit and forward their published works to various local and international journals.
Jose Limbay Espaldon, president of UP REPSS and Ugnayan ng Pahinungod director gave the opening remarks, followed by Dr. Nathaniel C. Bantayan of the College of Forestry and Natural Resources (CFNR) as well as UPLB Chancellor Jose V. Camacho Jr.
Both Dr. Bantayan and Chancellor Camacho broached the UPLB Research Agenda: Accelerating Growth through One Research in Action (AGORA) to the UP REPSS members.
According to them, AGORA also aims to improve UPLB's performance with regard to publishing academic papers and peer reviewed journals and seeing these applied in the industry.
The webinar featured speakers representing select journals from UPLB, who discussed the requirements and processes that research articles, policy papers, and research notes undergo before they are published.
The speakers who presented are as follows: Samantha Geraldine G. De los Santos, managing editor of the Journal of Public Affairs and Development (JFAD); Dr. Thaddeus P. Lawas, production editor of the Journal of Environmental Science and Management (JESAM); Dr. Annalisa L. Aquino, managing editor of the Philippine Journal of Crop Science (PJCS); and Dr. Marilyn S. Combalicer, managing editor of the Ecosystems and Development Journal (EDJ).
These presentations were followed by a panel discussion featuring the aforementioned speakers, as well as, Dr. Mark Angelo O. Balendres of the Institute of Plant Breeding (IPB) and Plant Pathology and Dr. Nelly S. Aggangan of the National institute of Molecular Biology and Biotechnology (BIOTECH).
Representatives from UP REPSS mentioned that there will be succeeding webinars featuring more journals as there are many more fields that can be covered in this webinar series.
Details regarding future webinars organized by UP REPSS will be available on their Facebook page. (Kristel Hope Villafuerte)