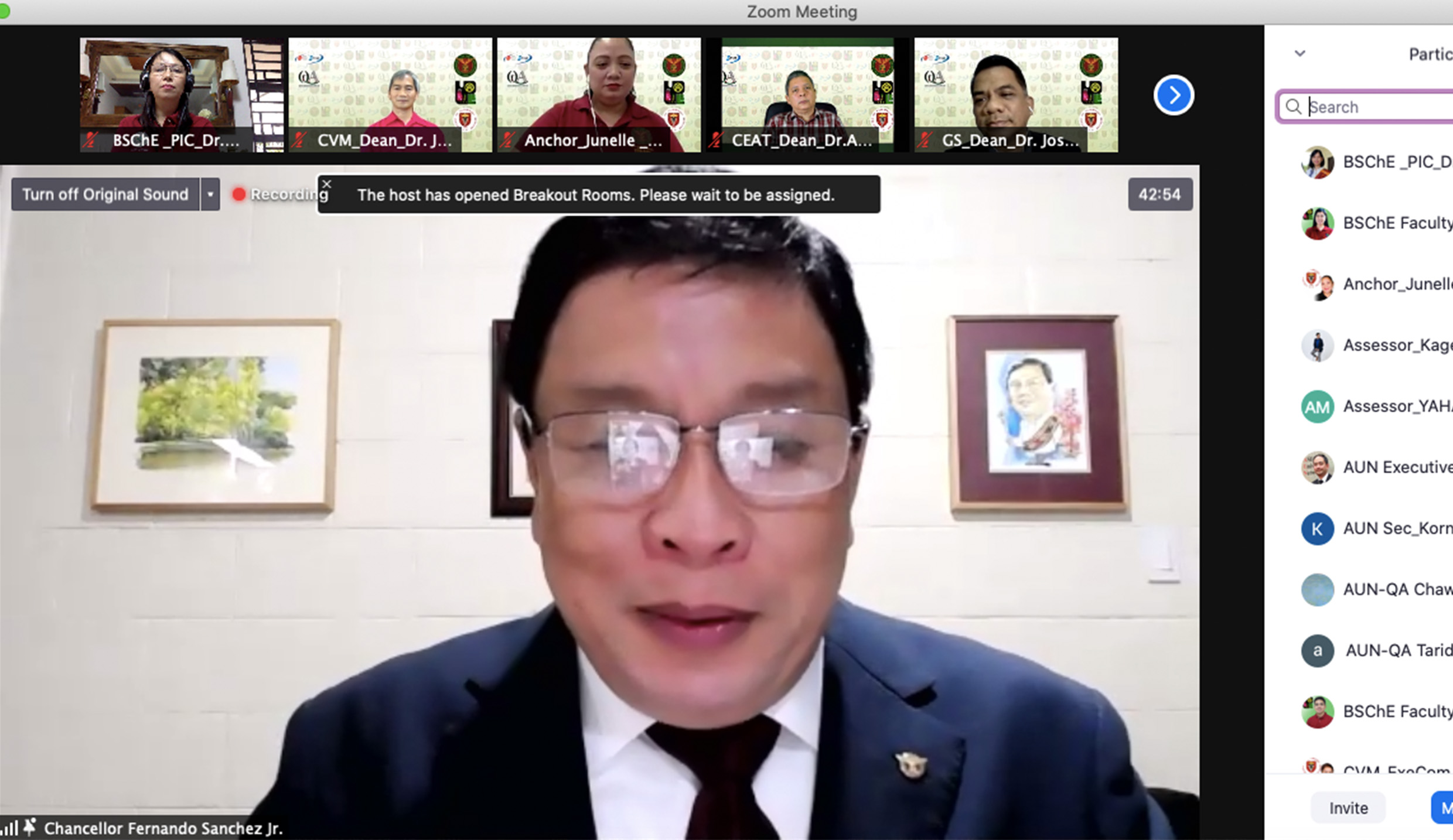 AUN-QA begins assessment process for chem eng'g, vetmed
Today, Oct. 26, marks the beginning of the week-long ASEAN University Network-Quality Assurance (AUN-QA) programme assessment at the College of Engineering and Agro-industrial Technology (CEAT) and the College of Veterinary Medicine (CVM).
CEAT will be assessed for its BS Chemical Engineering (BS ChE) program, and CVM for the Doctor of Veterinary Medicine (DVM) curriculum.
The opening program was held via Zoom and was attended by the AUN-QA assessment team composed of Dr. Yahaya Md. Sam of University Teknologi Malaysia, Dr.Kageeporn Wongpreedee of Srinakharinwirot University, Thailand, Dr. Ngo Van Thuyen of Ho Chi Minh City University of Technology and Education, Vietnam, and Dr. Porngarm Virutamasen of Srinakharinwirot University.
UPLB officials, led by Chancellor Fernando C. Sanchez, Jr., joined them in the opening program, together with the contingents from the two colleges headed by Dr. Arnold Elepaño and Dr. Jezie Acorda, deans of CEAT and CVM, respectively.
In his welcome remarks, Chancellor Sanchez said that the assessment is part of UPLB's efforts to provide quality and globally competitive education for the current and future UPLB students.
"It is also an occasion for UPLB to showcase what these degree programs can offer, as well as how they can contribute to achieving the goals and aspirations of our community, the ASEAN Community," he added.
The assessment will be taking place remotely from Oct. 26-30 wherein the assessors, who are in their respective home countries, will interview academic and support staff, students, and employers selected by the two colleges.
They will also review documents with the self-assessment report team and inspect selected sites on the university virtually.
Currently, UPLB has five AUN-QA certifications. These are for BS Biology, BS Agricultural and Biosystems Engineering, BS Development Communication, BS Agriculture, and BS Forestry. (Jessa Jael S. Arana)
Aligned with our commitment to: