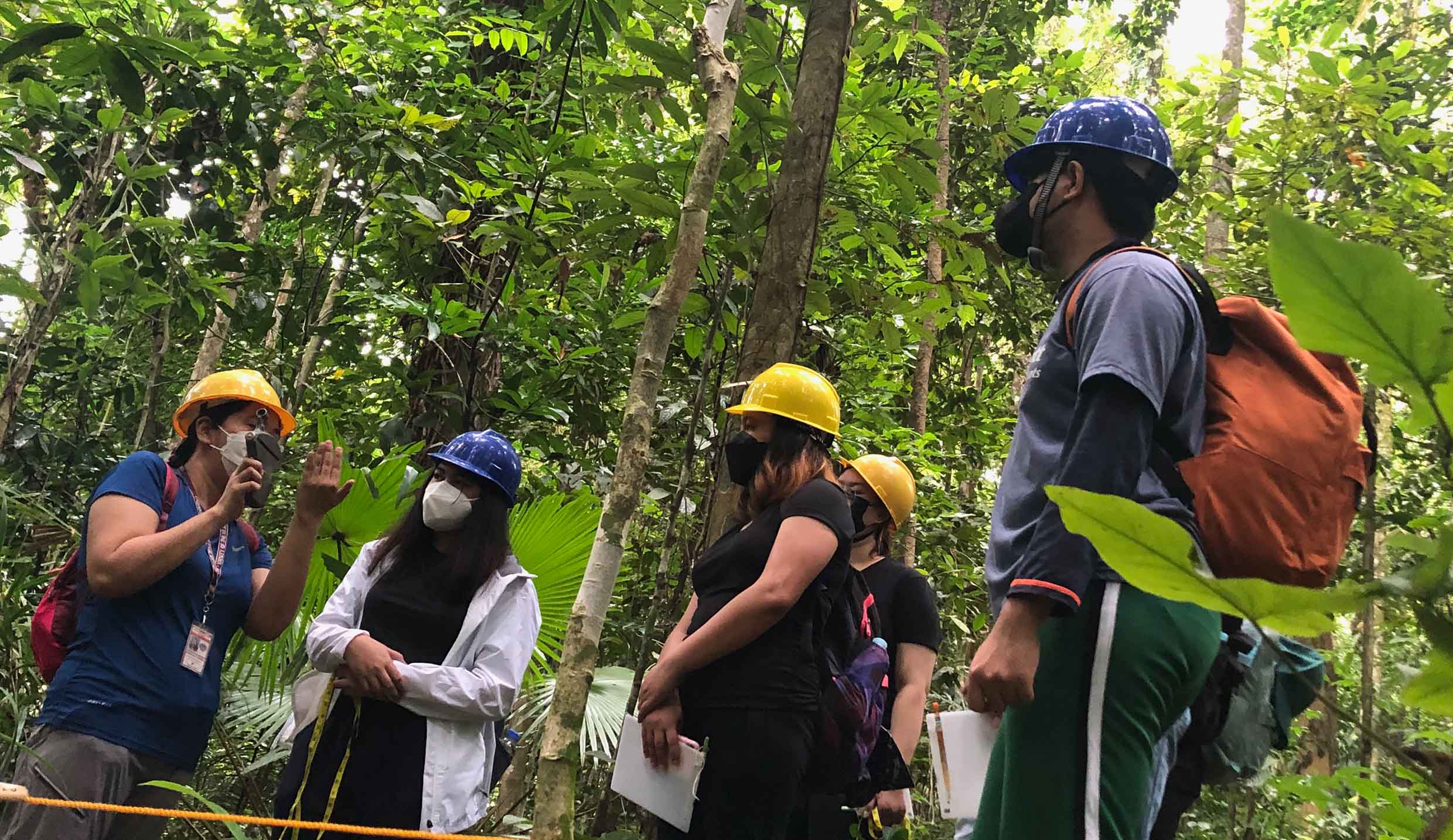 BS Bio Class of 2022 gives thumbs up for bridging program 
The BS Bio Class of 2022 spoke highly of the bridging program they underwent to address the lack of hands-on learning experience when classes shifted online amid the COVID-19 pandemic.
The Skills Enhancement Training (Midyear Bridging Program or MBP) for BS Biology Students, a two-week in-person program held from July 11 to 29 by the Institute of Biological Sciences (IBS) of the College of Arts and Sciences, was designed to teach the students the basic laboratory and field skills and techniques in the major areas and some core courses such as BIO 101 or Molecular Biology and BIO 120 or Cell Biology.
Jose Marie Villanueva, who specialized in ecology, said, "the skills enhancement training for ecology majors is one of the unforgettable moments in my college life. It was filled with activities that not only enhanced my knowledge and skills but also strengthened my bond with co-majors and the faculty."
He said his yearning to do fieldwork was fulfilled after investigating and sampling terrestrial and aquatic ecosystems in the Makiling Botanic Gardens. They also processed samples for microbial and pollution laboratory analyses.
He said that their teachers enriched their knowledge through lectures on conservation biology, urban ecology, marine ecology, and environmental impact assessment; and arranged for them to take part in the lectures of Dr. Jodi Sedlock on "Bat Sensory Ecology" and Dr. Lawrence Heaney on "Philippine Mammal Biogeography and Biodiversity: Present and Past."
Villanueva said that high-tech equipment for ecology and environmental science amazed him, while the sharing of their professors on their experiences after graduation gave them valuable insights.
Bea Micah Flores, a microbiology major, said, "the Midyear Bridging Program offered by IBS provided valuable learning experiences and new laboratory skills." According to her, they practiced the techniques learned theoretically in the past two years and more importantly, reconnected with college friends and professors.
Anthony Trillo, a cell and molecular biology major, credited the facilitators for a well-prepared and executed MBP. "Despite the relatively short period of the program, the facilitators were able to effectively demonstrate and teach us the essential laboratory skills and practices we need in our respective majors," Trillo added.
Bruce Estilo, a zoology major, found the MBP educational and refreshing. "To be back face-to-face with our professors and classmates while finally getting our hands on the 'real stuff' is definitely rewarding," Estilo said.
IBS Director Vachel Gay Paller said that IBS should continue to provide quality education in biological sciences despite their various challenges. Paller highlighted the need for IBS always to take the path that leads to a deeper commitment to students, even if it is quite challenging. "After all, the students are our most important client," she pointed out.
The training was divided into two parts: the skills training for core courses and the parallel skills training sessions for the students in their major fields such as zoology, wildlife biology, ecology, systematics, genetics, cell and molecular biology, microbiology, and plant biology.
At the end of the training, the students were expected to be able to demonstrate dexterity in fundamental laboratory skills, perform lab experiments and field techniques being taught in the various significant courses, apply theoretical concepts to the actual performance of the lab experiments, and analyze and interpret experimental results.
The training was facilitated by the five divisions of IBS: Animal Biology, Environmental Biology, Genetics and Molecular Biology, Microbiology, and Plant Biology.
The overall coordinating team was composed of members of the IBS Executive Committee, Curriculum and Instruction Committee, and Registration Committee.
The training, offered free of charge and participation of the students made voluntary, had 108 student-participants.
Precautions were put in place to prevent COVID-19 transmission in the in-person class. " Before coming to the campus, the students were asked to submit the same documentary requirements as those required for students enrolled in courses with limited face-to-face components. All participants were required to have at least two doses of COVID-19 vaccine," said Joseph Carmelo San Pascual, chair of the IBS Curriculum and Instruction Committee.
Handouts and modules were provided for each participant. Upon completion of the training course, each participant received a certificate of completion. (Joseph G. Campang)