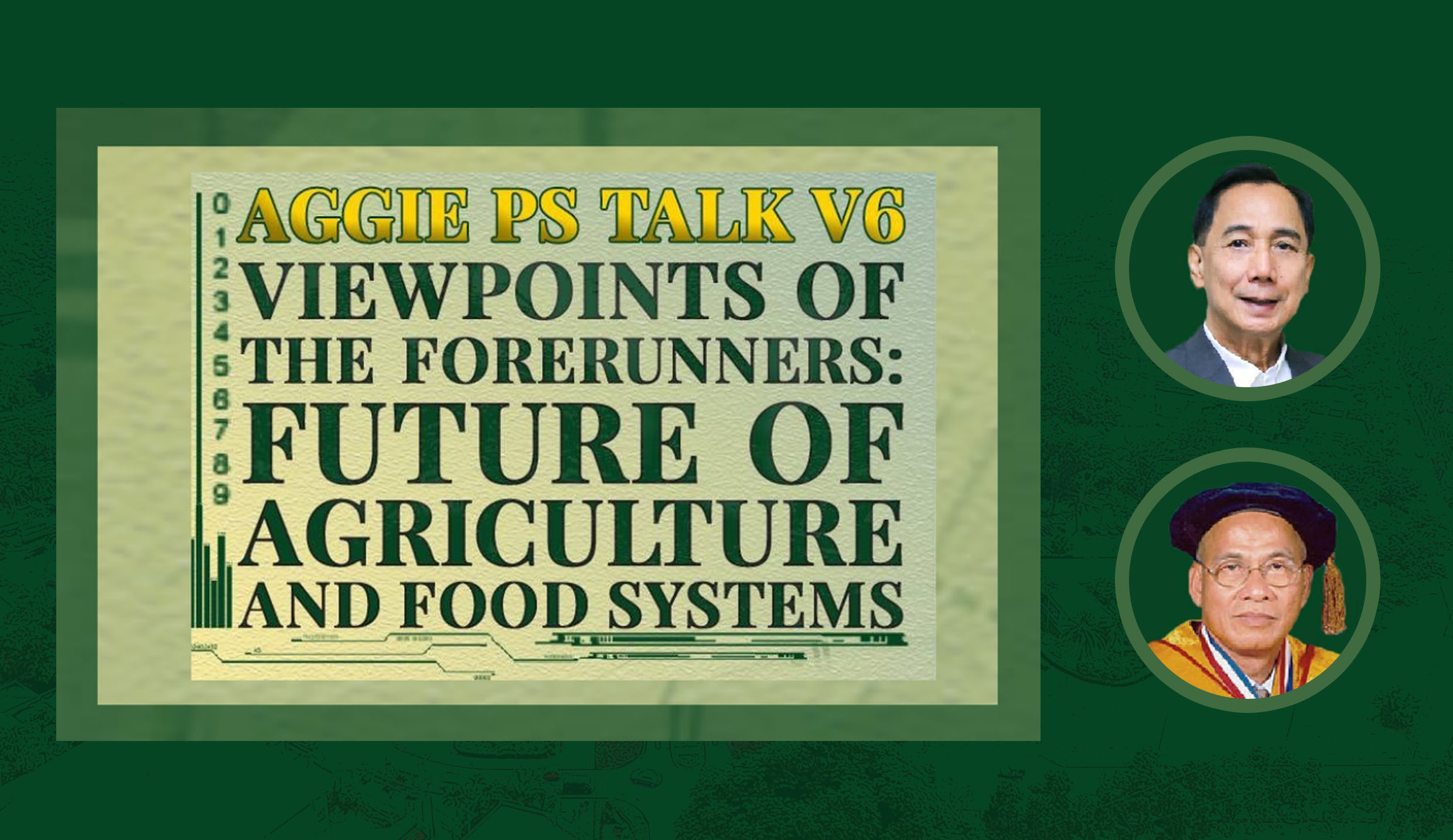 CAFS webinar lays down groundwork for future-proofing UPLB, food systems
A webinar series of the UPLB College of Agriculture and Food Science (UPLB CAFS) entitled "Viewpoints of Forerunners: Future of Agriculture and Food Systems" became to UPLB Chancellor Jose V. Camacho, an encouraging sign that all hands are on deck, in working towards his vision of future-proofing the University, and ultimately contributing to food security.
"I am very delighted about the theme because as we have envisioned to future-proof UPLB, such vision aims to future-proof, in the final analysis, our food systems, our food security."
UPLB Chancellor Jose V. Camacho, Jr. said this as he pointed out the relationship between the mission-vision of UPLB and the higher goal of food systems and food security in his welcome remarks at the UPLB CAFS webinar series entitled, "CAFS Aggie Ps Talk: Viewpoints of Forerunners: Future of Agriculture and Food Systems." The first episode of the webinar series was held on Aug. 9.
According to Chancellor Camacho, the webinar serves as a prelude to the planning workshop of the UPLB Futures Thinking Committee that he formed last March with CAFS Dean Elpidio M. Agbisit, Jr., as chair.
According to him, the committee's goal is to develop sustainable, inclusive, and effective programs, policies, and innovation not only to answer the Philippine agriculture sector's most pressing concern.
The UPLB Futures Thinking Committee, according to Chancellor Camacho, is interdisciplinary, and has various representatives from different fields such as economics, plant breeding, research and extension, and public policies.
Chancellor Camacho pointed out that it is timely and relevant to pursue new ideas of Futures Thinking which are aligned with the administration's vision of future-proofing the University's instruction, research and public service to target the agriculture sector.
UPLB officials had, in April, further studied futures thinking through the help of the Philippine's Futures Thinking Society and the office of Sen. Pia Cayetano.
The Chancellor also recognized the main speakers in the event, Agriculture Secretary William Dar and the chair of the National Academy of Science and Technology, Dr. Eufemio Rasco Jr. whose insights, according to him, will inspire the UPLB Futures Thinking Committee to lay the groundwork for their task.
Secretary Dar's talk revolved around challenging UPLB and other state universities and colleges to give more concrete contributions to develop and grow the Philippine agricultural sector.
Dr. Rasco gave an illuminating lecture on the potential of strengthening Filipino food security through embracing local and traditional food and fare. He cited as examples native fruits like mabolo, makopa, balimbing, and the food that may be derived from them.
The webinar video and more episodes of the webinar series may be viewed at the CAFS Facebook Page. (Ana Mariz Z. Pineda)