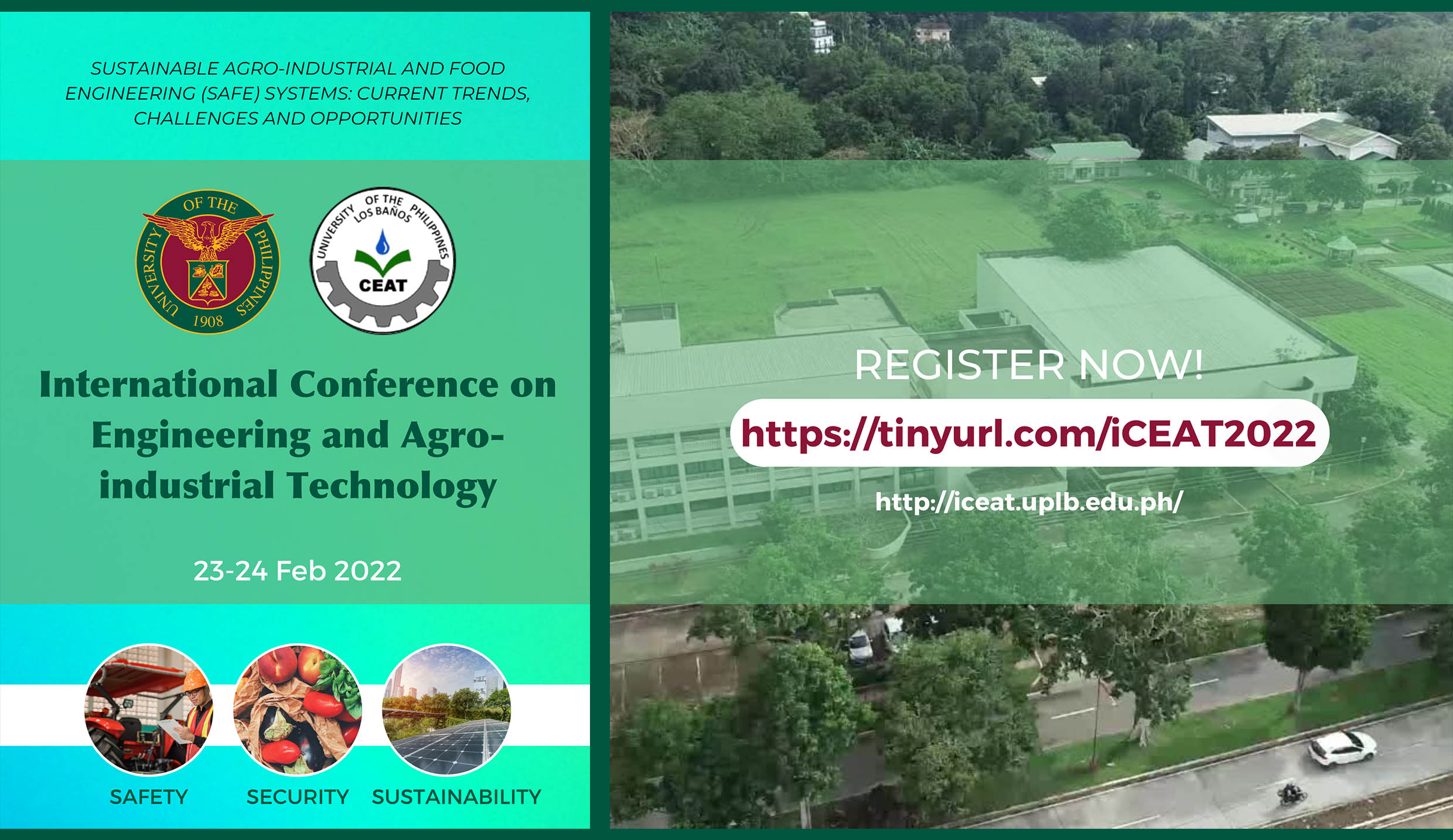 CEAT to hold virtual conference on eng'g and agro-industrial tech
The College of Engineering and Agro-industrial Technology (CEAT) will conduct the first International Conference on Engineering and Agro-industrial Technology (iCEAT 2022) on Feb. 23-24.
Themed "Sustainable Agro-industrial and Food Engineering (SAFE) Systems: Current Trends, Challenges, and Opportunities," the conference will be held via virtual conferencing and livestreaming on CEAT's social media platforms.
The conference aims to bring together leading scientists, policy makers, researchers, educators, and students to discuss the latest issues and trends, recommend solutions to challenges, and highlight best practices in engineering and agro-industrial technology.
iCEAT 2022 is among the activities that are slated for the 110th Founding Anniversary celebration of CEAT.
It aims to manifest the role of UP, through UPLB, as a National University that is responsible for promoting research and development, dissemination, and application of SAFE Systems.
The college plans to hold this conference yearly to be at the forefront of the dynamic landscape of SAFE Systems.
Science and Technology Secretary Fortunato T. dela Peña and Agriculture Secretary William D. Dar are going to be the keynote speakers of the said event alongside UP President Danilo L. Concepcion.
Speakers from various academic institutions will present their latest research during the plenary sessions.
Topics will revolve around food systems, bioprocess engineering, agricultural and fisheries mechanization; land and water resources engineering, biomass and biofuels or renewable energy; environmental engineering and waste management; materials engineering, electrical engineering, infrastructure; and civil engineering and industrial engineering, engineering and social sciences.
Interested parties may visit the conference iceat.uplb.edu.ph to register and learn more about the conference.
iCEAT 2022 is organized by CEAT faculty members and staff of the college through a steering committee led by CEAT Dean Rossana Marie C. Amongo as chairperson and Dr. Ronel S. Pangan as co-chair. The committee members are faculty members Dr. Arthur L. Fajardo, Dr. Monet Concepcion M. Detras, Dr. Roger A. Luyun, Jr., Jedidiah Joel C. Aguirre, Roderick L. Catriz, Dr. Josefa Angelie D. Revilla, Christian C. Vaso, Dr. Ralph Kristoffer B., and Dr. Marion Lux Y. Castro. (Allen Lemuel G. Lemence)