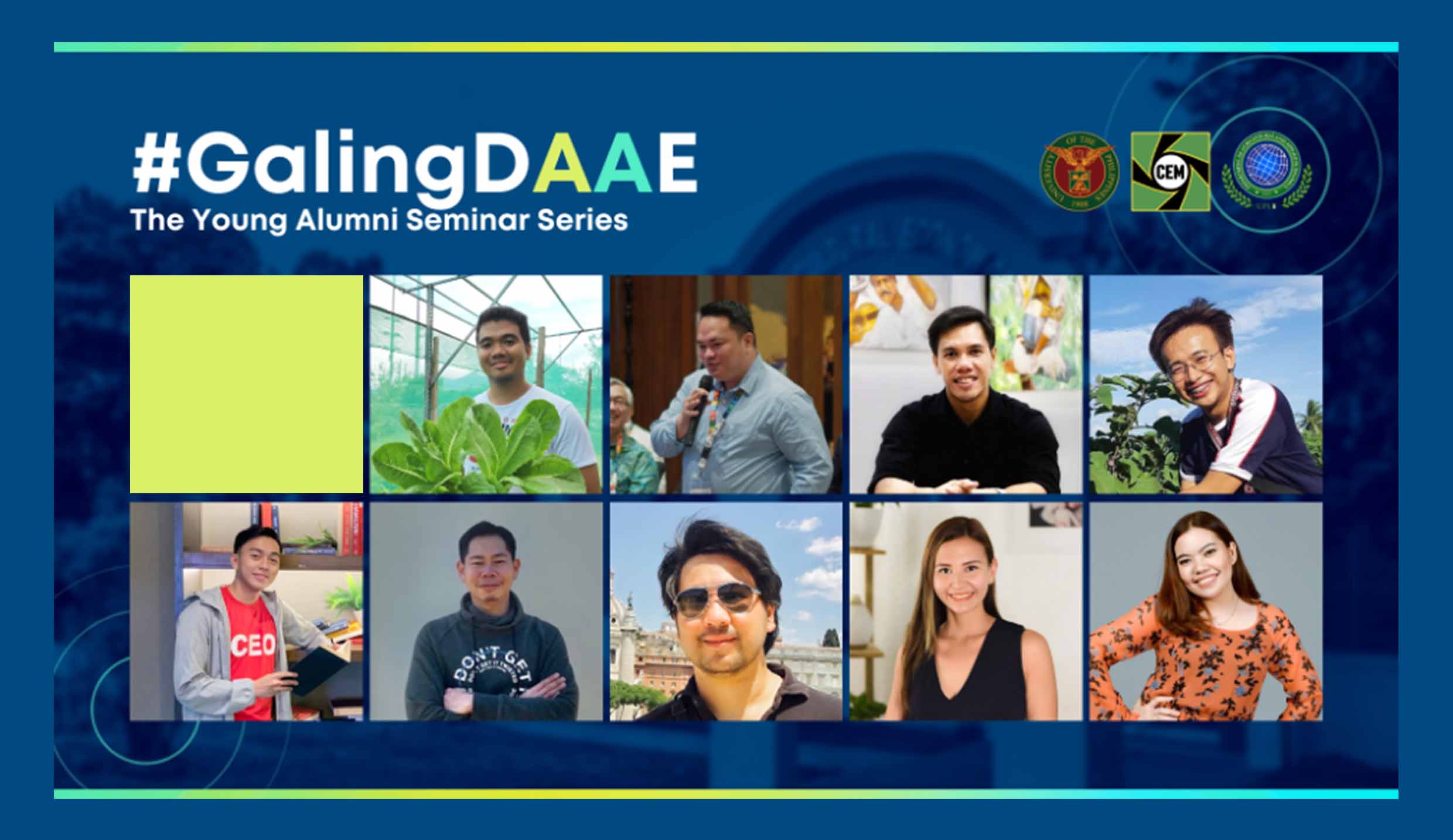 CEM-DAAE concludes #GalingDAAE: Young Alumni Seminar Series
Young alumni inspiring the students to focus on and aim for something "big."
This was the intention of the #GalingDAAE: Young Alumni Seminar Series that just wrapped up after its ninth episode.
The seminar series, spearheaded by the Department of Agricultural and Applied Economics (DAAE) of the College of Economics and Management, was launched on Oct. 7.
It was originally envisioned as a month-long series featuring alumni who are achievers in their own right every Thursday of the month.
However, its run was extended to five more episodes until Dec. 2.
The seminar series featured nine young graduates of BS Agricultural Economics (AgEcon) who are achievers in their own right.
The series was a crack at addressing the growing need to deal with the COVID-19 pandemic-induced discontent, boredom, and depression among students of agricultural and applied economics.
The DAAE faculty saw that the COVID-19 pandemic had stolen many learning opportunities from students.
Foremost among these is the feeling of accomplishment after going out in the field and talking or mingling with farmers and other members of the community.
This practical training exposes students to the realities faced by the stakeholders of the agriculture industry and serves as the NorthStar in their pursuit of a career after graduation.
The restrictions on physical movement and face-to-face interactions denied the students of these important breaks resulting in the constant and lingering question among many of them – "Who or what will I be after finally obtaining the degree I worked so hard for?"
DAAE decided to come up with this program with the young achievers as the latter are a wealth of practical experiences and life lessons that Gen Zs and post-millennials can easily relate to and identify with.
The AgEcon young achievers can inspire students to become focused and aim for something big.
The kick-off episode focused on the inspiring story of agri-preneur Angelo G. Tandang who called himself an average student and told his story of how the loss of their family income caused them struggles but eventually inspired him to put up, with his father, the now growing business, AGT Seedling Supply.
The second episode was the equally encouraging bits and pieces of Mr. Bon Urven P. Dampor's stint as the Bank of the Philippine Islanda (BPI) Marketing and Relationship Manager and Asia Region Head for Inward Remittance.
Bon emphasized the need to give back to the people, which he does through BPI's "Ilaw Para sa Tribong Subanon sa Mindanao: A Rural Solar Electrification Project for the IP Communities" in his hometown of Panaon, Misamis Oriental.
A different cup of tea was narrated by Antonio Jesus A. Quilloy, a professor, painter, budding sculptor, musician, and an author rolled into one. Rationalizing and maximizing his expected values in his every endeavor propelled him to be what he is now.
For Reymond Denver Q. Buenaseda and Tyrone Jasper I. Reodica, it is all about seizing the unexpected opportunities to put up their own businesses, CitrusFix.ph and Let Eat Go, respectively.
The idea of Citrusfix.ph came to him in a flash of inspiration when Denver did interviews for his thesis in calamansi marketing in Oriental Mindoro, while Let Eat Go is a pandemic-driven business vision come-to-life for Tyrone and his cousin.
The fourth and fifth segments of the seminar series were corporate-inspired as both of the speakers rose from the ranks in their own corporate worlds.
Adan D. Adan is now Bangko Sentral ng Pilipinas Bank Officer involved in risk assessments and financial profiling of banks while Ryan R. Cadacio is the Finance Operations Manager of SAP Philippines, Inc., a German multinational corporation engaged in developing enterprise software for managing business operations and customer relations.
"Empowered Women" is the best description one can give to the last but certainly not the least two inspiring speakers of #GalingDAAE.
Both women started at the usual employment ladder, gave their best shot through hard work, took in as many lessons as they can absorb, and worked even harder to put up their own business.
Gabrielle Marie C. Lagrimas is the owner of the high-end Gabrielle's Appetizers and Desserts while Giselle Alexandra Samantha R. Regino is the proud owner and chief executive officer of Noodleberry, maker of Made-to-fit Celebration Dresses.
She is also the brand manager of Newtrends International Corporation which carries Cross writing instruments, Sheaffer pens, and perfume lines. Both entrepreneurs are now well-connected to celebrities and renowned personalities in the country.
Indeed #GalingDAAE! A sequel therefore is in the offing! (Julieta A. Delos Reyes)