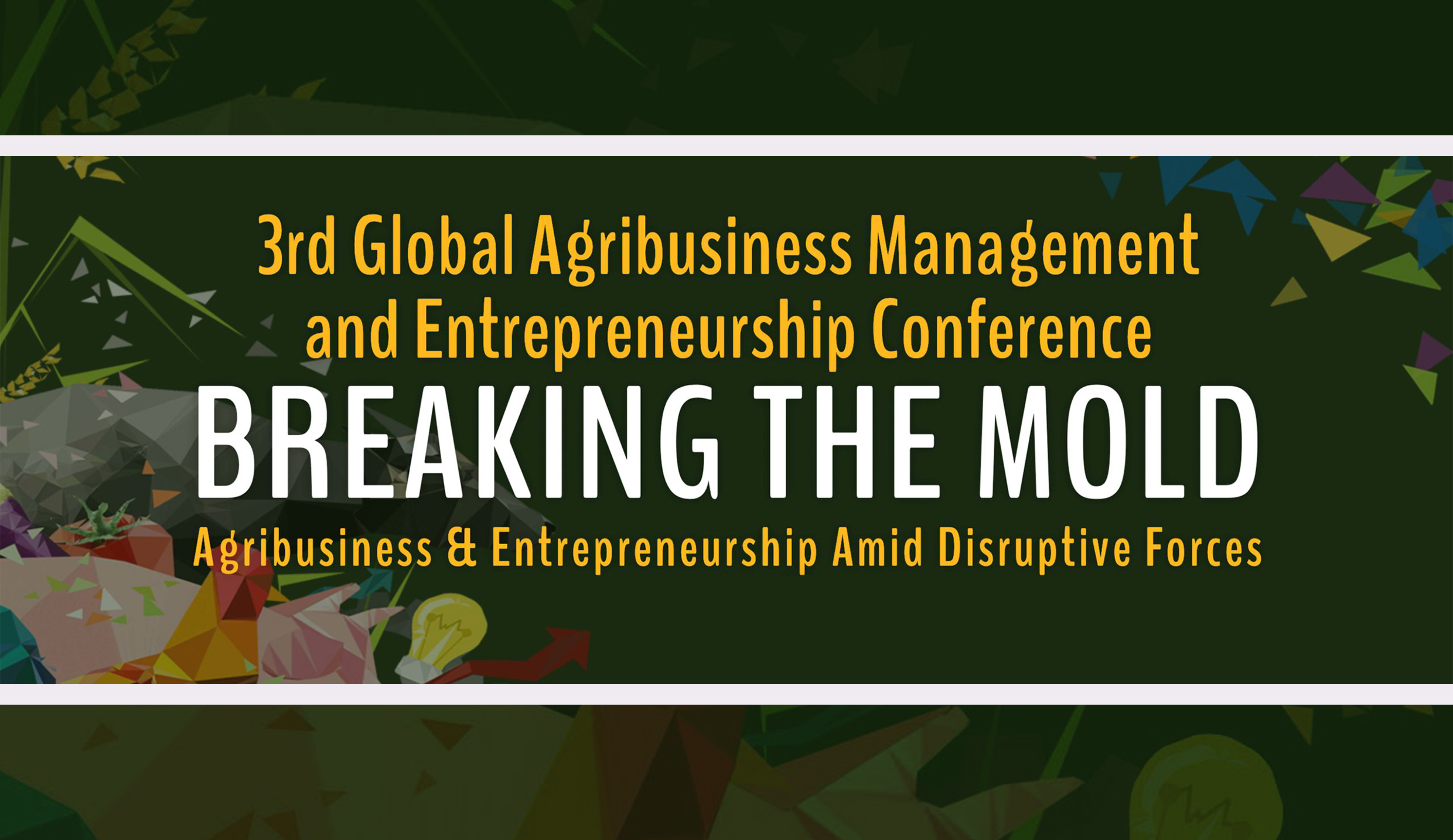 CEM DAME will break the mold for its 3rd GAME conference!
The Department of Agribusiness Management and Entrepreneurship of the College of Economics and Management, in partnership with the Southeast Asian Regional Center for Graduate Study and Research in Agriculture (SEARCA), International Food and Agribusiness Management Association (IFAMA), and CEM Alumni Foundation, Inc. (CEMAFI) will hold the 3rd Global Agribusiness Management and Entrepreneurship Conference (GAME 2021) on Nov. 18-19.
With the theme "Breaking the Mold: Agribusiness and Entrepreneurship Amid Disruptive Forces," the conference aims to gather academics, researchers, practitioners, policy-makers, and representatives from international agencies, NGOs, and industry and farmers' associations to tackle disruptions affecting the agribusiness and micro, small, and medium enterprises sector and possible strategies to attain growth and sustainability amidst the challenges.
The Father of Agribusiness from Harvard Business School, Dr. Ray Allan Golberg, is the keynote speaker for the first day of the conference.
Ms. Kati Tanninen of the Food and Agriculture Organization and Dr. Howarth Bouis of the International Food Policy Research Institute are the plenary speakers.
With them, the panel discussants including Dr. Glenn Gregorio, Mr. Howard Hall, Dr. J.Mark Munoz, Secretary of Science and Technology Fortunato Dela Peña, and Dr. Cvetana Ivanovna will talk about adapting agribusiness management and entrepreneurship education in disruptive times.
Mr. Gregory Banzon from Century Pacific Food and Mr. Ronald Daniel Mascariñas from Bounty Agro Ventures will be the plenary speakers for day two.
The subtheme "Emergent Business Models Using Disruptive Technologies and Innovation Processes: Strategies Towards Business Survival, Continuity and Competitiveness" will be discussed by the panel discussants Mr. Julio Sy, Mr. Roel Castro, Ms. Cherrie De Erit Atilano, Dr. Yukihiro Maru, Assoc. Prof. Joselito Florendo, and Mr. Henk Hermans. (Kyle Ramiel Dalangin)