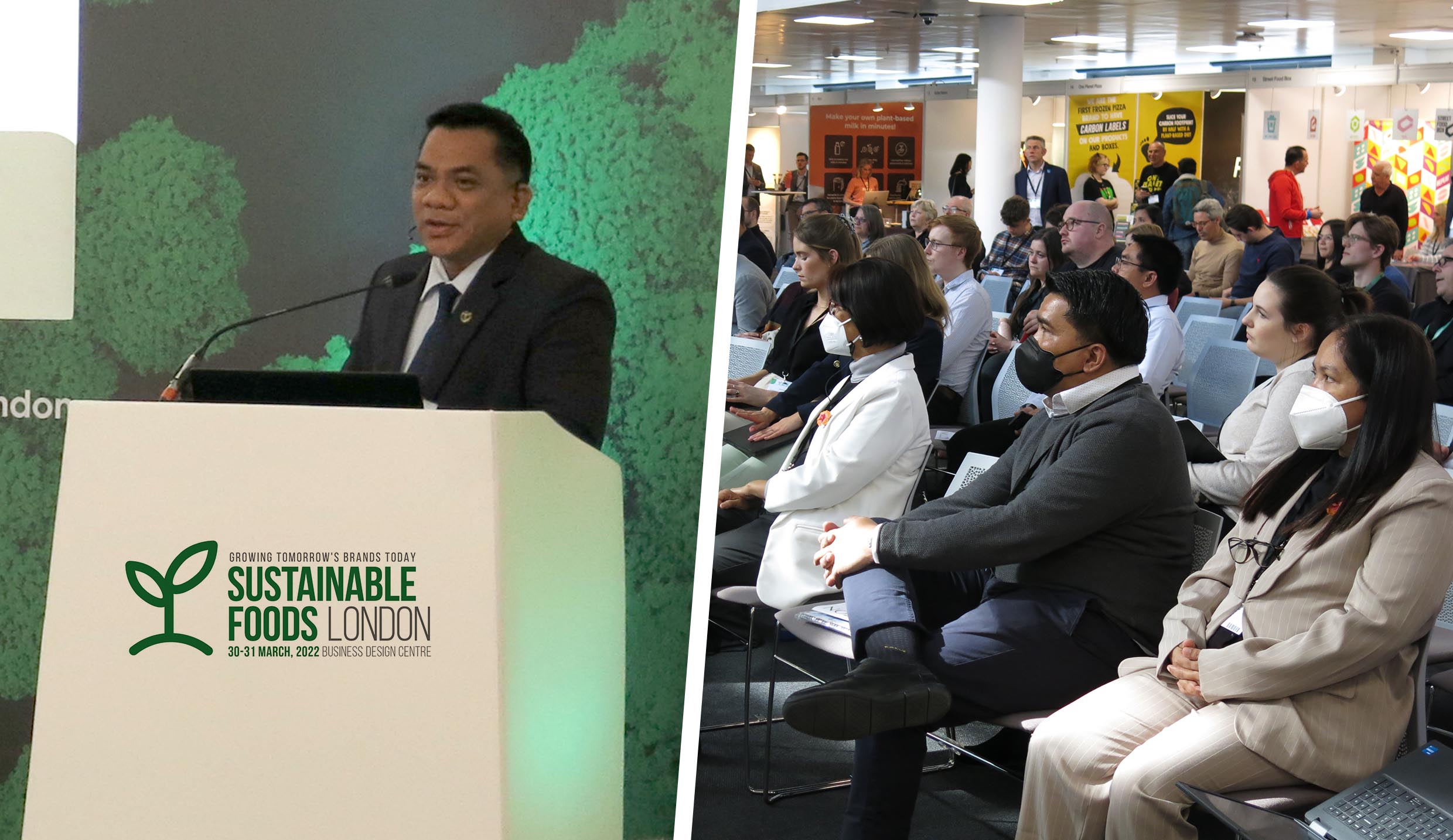 Chancellor Camacho asks UK conference participants to work with UPLB toward sustainability as a way of life
Chancellor Jose V. Camacho, Jr. enjoined future partners of UPLB to "work together as one global community to "ensure that sustainability will not only become a buzzword but a way of life; not just an ideal, but an actual state among nations."
Chancellor Camacho made this call as he concluded a presentation at the Sustainable Foods London Conference at the Business Design Centre in Islington, London on March 31.
He said, "we must take advantage of technologies that facilitate the paradigm shift toward sustainable living. Ideally, this change must occur at all levels of society – from the private individual to the governments, big businesses, and international bodies."
His presentation was titled "Sustaining food innovations under a strong university research and extension agenda." It is the first time he brought UPLB's rebranded R&E agenda, Accelerating Growth through One Research and Extension in Action or AGORA, before an international audience.
Chancellor Camacho's presentation gave a snapshot of a few of UPLB technologies and knowledge products for "a resilient, food-secure, and future-proof nation and to promote sustainability to achieve the Sustainable Development Goals (SDGs) of the United Nations."
He mentioned seven SDGs that UPLB has aligned itself with through AGORA. These are SDG 2 or Zero Hunger; SDG 4 or Quality Education; SDG 7 or Affordable and Clean Energy; SDG 11 or Sustainable Cities and Communities; SDG 12 or Responsible Consumption and Production; SDG 13 or Responsible Consumption and Production; SDG 13 or Climate Action; and SDG 15 or Life on Land.
Sustainable Foods London covered technologies and products on regenerative food and agriculture, food circularity, and alternative protein, among others.
UPLB also took part as the sole university-exhibitor in the exhibit held alongside the conference to feature food brands and supporting services.
The UPLB delegation also visited university partners, the University of Liverpool and the University of Reading, to discuss a partnership agreement and sign a memorandum of agreement, respectively, and visited Cambridge University and Oxford University.