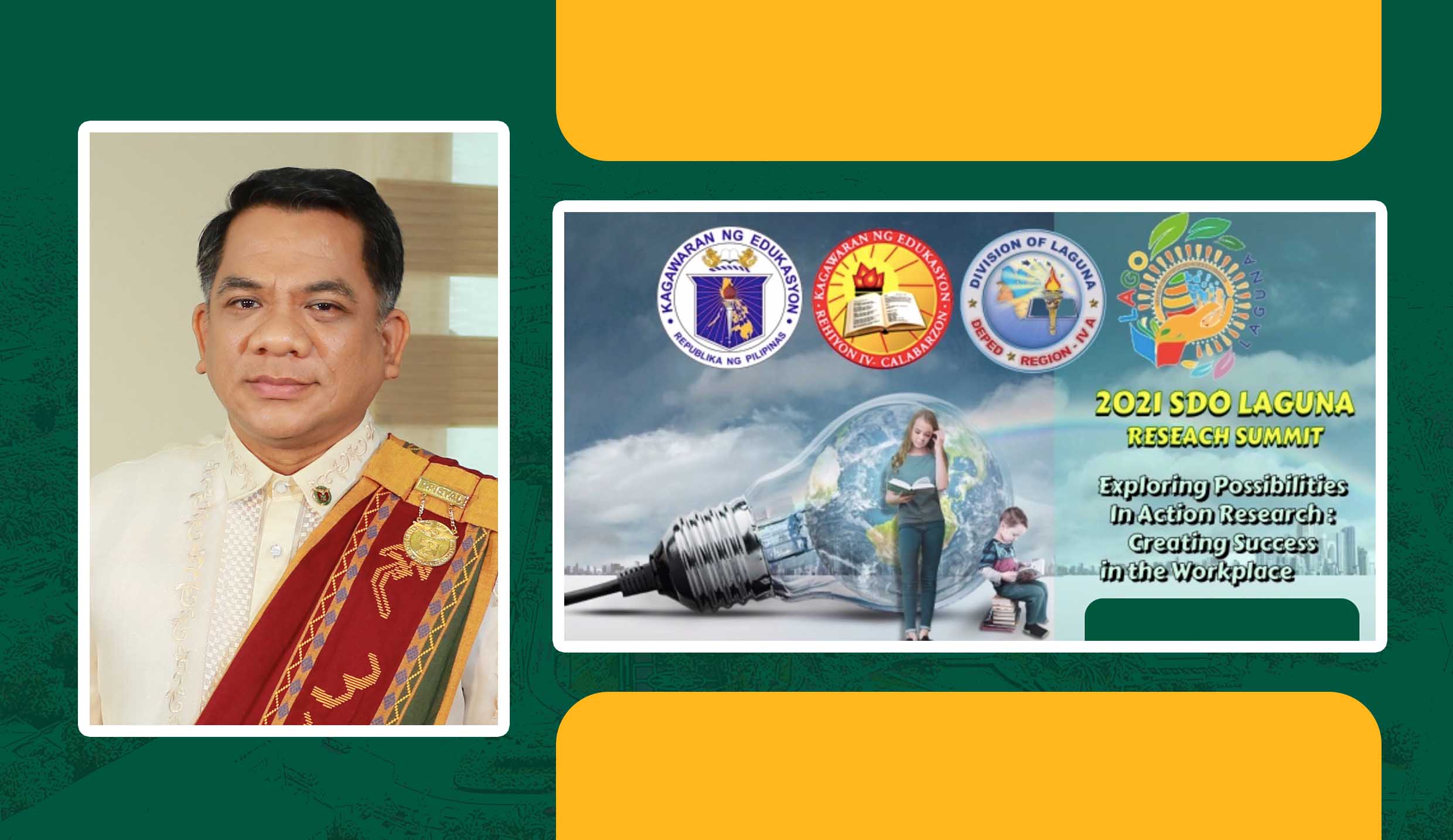 Chancellor Camacho recommends action research to DepEd Laguna
Chancellor Jose V. Camacho, Jr. guided teachers of the Department of Education (DepEd) through the action research cycle and discussed its purpose and benefits in the keynote address that he gave at the "2021 Schools Division Office (SDO) Laguna Research Summit" on Dec. 1.
The research summit had for its theme, "Exploring Possibilities in Action Research: Creating Success in the Workplace," and was conducted from Dec. 1-3 via video conference.
Chancellor Camacho also tackled the steps in conducting action research and pointed out lack of financial support and heavy teaching load to be among the challenges in doing research.
He encouraged the participants, among them teachers and education administrators to consider taking their master's and doctorate at UPLB. He also revealed that UPLB is preparing for a proposal to establish its own school of education.
"UPLB is also working on its proposal to create our own school of education – tentatively called College of Education and Learning Sciences – which is envisioned to produce competent elementary and high school teachers, who possess not only the teaching skills but also the subject matter mastery in biological and physical sciences, social sciences, and arts and humanities," Chancellor Camacho said.
He added that this is UPLB's way to help future-proof the country's basic education sector.
The program was formally opened by Dr. Elvira B. Catangay, officer in charge of the Office of the Assistant Schools Division Superintendent, who encouraged the participants to reflect on the strategies and innovative practices in making education relevant and appropriate for meeting the needs of the learners and the community.
Darwin S. Talambayan, EDD, chief of the School Governance and Operations Division of SDO Laguna, stated the purpose of the forum. The summit's objectives, he said, are to provide a platform for sharing innovative practices, to showcase the educational research initiatives, and to share the best practices and innovations towards transformative basic education during the new normal.
Dr. Marites A. Ibañez, CESO V and Schools Division Superintendent, tackled the theme of the forum and how it is a manifestation of the strengthened culture of research. She also challenged the participants to conduct innovative yet resource-driven research.
The plenary speakers for the forum included Dr. Allan D. Tipan and Mr. Wilson G. Centeno, both officials of DepEd 4A. (Kyle Ramiel Dalangin)
Aligned with our commitment to: