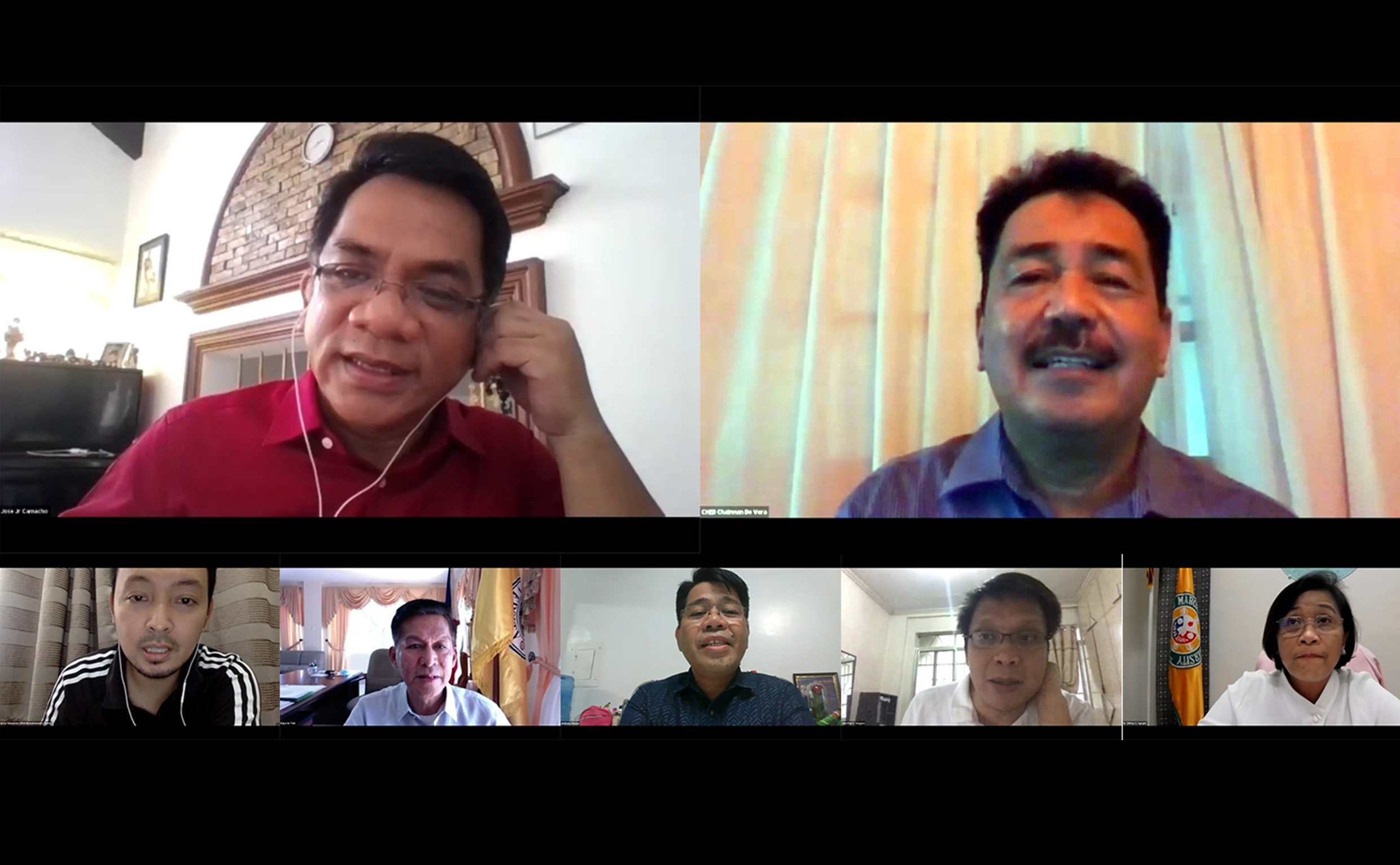 CHED chair, HEI heads discuss grad educ amid COVID-19
Issues surrounding higher education institutions (HEIs) amid the COVID-19 pandemic are often associated with the undergraduate level, with this sector comprising majority of students.
On April 22, graduate education finally took the spotlight as Dr. J. Prospero E. De Vera III, chair of the Commission on Higher Education (CHED), headlined a forum-webinar on the challenges and impacts of COVID-19 on this HEI sector.
Dr. De Vera said that HEIs, including their graduate schools, need to continue operations even while waiting for COVID-19 vaccine. This is by shifting to blended and flexible learning, with online learning playing an important part.
"We clearly need to resume operations to keep institutional viability and produce the needed human resource for the country," he said. "The problem of course, is that there is high level of uncertainty, and lack of data makes it difficult to formulate a calibrated response on the part of HEIs."
The CHEd chair said that in the graduate program, it will be easier to go into blended learning, with some public and private universities are already doing it. "But there are still a lot of public and private universities that will encounter problems and the challenge is how we train their faculty," he added.
Blended learning, according to Cambridge Dictionary, is a combination of traditional classroom lessons with lessons that use computer technology and the Internet.
Flexible learning combines online and offline learning systems and allows students to access lectures and activities at home, said Dr. De Vera in another virtual meeting as reported by UNTV News.
"Full connectivity, while we are addressing it, is not a pre-condition to flexible learning. It is part of the new normal that we must be nimble on how we navigate it," Dr. De Vera stressed, as he recognized the issue of Internet connectivity and access to devices among students and teachers.
"On the part of all the university presidents, you have to think differently in this time of crisis. You need to strategize and do out-of-the-box decision making" Dr. De Vera said.
"The advisories the commission issues are quite broad and quite expansive. It allows the universities to decide and adjust on their own," he continued, adding that these are not "one-size-fits-all."
"One of the key things that we should not do is to make policy directions for the whole country using Metro Manila only as the basis of our decisions," he said, in recognition of the varying COVID-19 situations in each province.
The UPLB Graduate School (GS) spearheaded the webinar that gathered together more than 60 participants from various parts of the country. Among them were six HEI administrators who served as forum reactors.
As the reactors shared their best practices and plans for graduate education in pandemic time, Dr. De Vera encouraged them to learn from one another, talk together, collaborate, and share resources.
"If we collaborate with other universities abroad and see their strengths, then how much more if we see the strength of our own universities in the Philippines," affirmed forum moderator Dr. Jose Camacho, Jr., dean of UPLB-GS and chair of CHED Technical Working Group on Graduate Education.
Dr. John Paul Vergara, vice president of the Ateneo Professional Schools, Ateneo de Manila University, identified the importance of incentives and funding as "right enablers" for such collaborations.
Dr. Glenn Alea, dean of the College of Science, De La Salle University, and Dr. Anthony Penaso, president of CARAGA State University, put forward the preparedness for online and blended learning of their respective universities.
For his part, Dr. Edgardo Tulin, president of Visayas State University, suggested that laboratory classes be held in the campus, while counterpart lectures be conducted online. Dr. Shirley Agrupis, president of Mariano Marcos State University, encouraged her fellow administrators to remain "decisive and effective without dismissing credible health risks of the pandemic."
The pandemic has given birth to a "new normal" in the society and to economic repercussions. As Dr. Camacho pointed out, "the Covid-19 pandemic is a game changer. It continues to reshape almost every sector, with the educational system as one of the hardest hit and severely affected. HEIs offering graduate education have been closed for more than a month now."
Joining the webinar was Dr. Jomar Rabajante, professor at the UPLB Mathematics Division and member of the UP COVID-19 Pandemic Response Team, who discussed biomathematical studies that he conducted on COVID-19 and the application of projections among HEIs. (Mark Jayson E. Gloria)
Aligned with our commitment to: