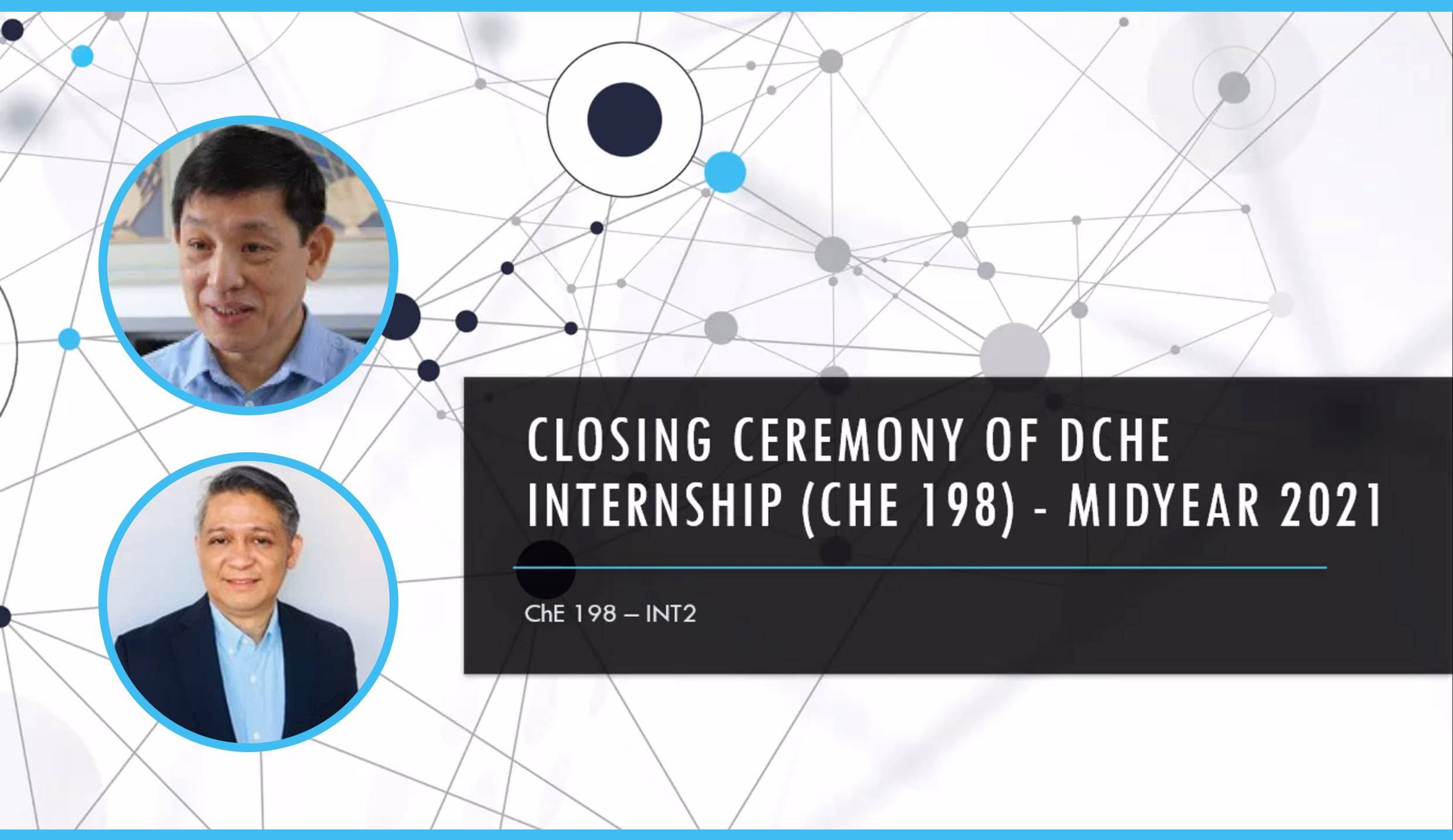 ChemEngg concludes first virtual student internship program
In a milestone event, the Department of Chemical Engineering of the College of Engineering and Agro-industrial Technology (DChE-CEAT), held online ceremonial closing programs for its first midyear virtual internship program held in partnership with Absolut Distillers, Inc. and Universal Robina Corporation (URC).
The program is the first of its kind in UPLB and is an initiative that opened opportunities for undergraduate BS Chemical Engineering students to apply classroom teachings in a real-world setting, albeit online.
The internship was composed of online lectures led by the companies' key persons informing the students about the industry's plant processes, as well as virtual tours that visualized the experience of working on site at the plant. A capsule research proposal about proposed improvements at the plant was submitted at the end of the internship as a final requirement.
In the closing ceremonies on August 17 and 19, Chancellor Jose V. Camacho, Jr. expressed his thanks to the companies for working with UPLB for this program and looked forward to future collaborations with them in research, curriculum development, and employment of UPLB graduates.
"Indeed, part of UPLB's future-proofing initiative is strengthening our ties with the industry. And we can achieve this by working with reputable companies like you in developing among our students the set of skills and proficiencies that will make them industry-ready," he said.
Engr. Gerardo Tan Tee, chief operating officer of Absolut Distillers, Inc., and Domingo Lazaro Carranza, human resources director of URC-Sugar and Renewables Group, were likewise positive about the partnership.
"We are happy that we are a part of your education. It is Absolut's dream to be of assistance to students," said Tee.
Carranza, on the other hand, recognized how URC's partnership with UPLB can develop more professionals who can contribute to reviving the sugar industry in the country.
The online internship program is a response to the current limitations imposed by the pandemic on the learning set-up and addresses the continuing need for students to take internships or on-the-job training as part of their requirement for graduation in the new curricula. (Jessa Jael S. Arana)