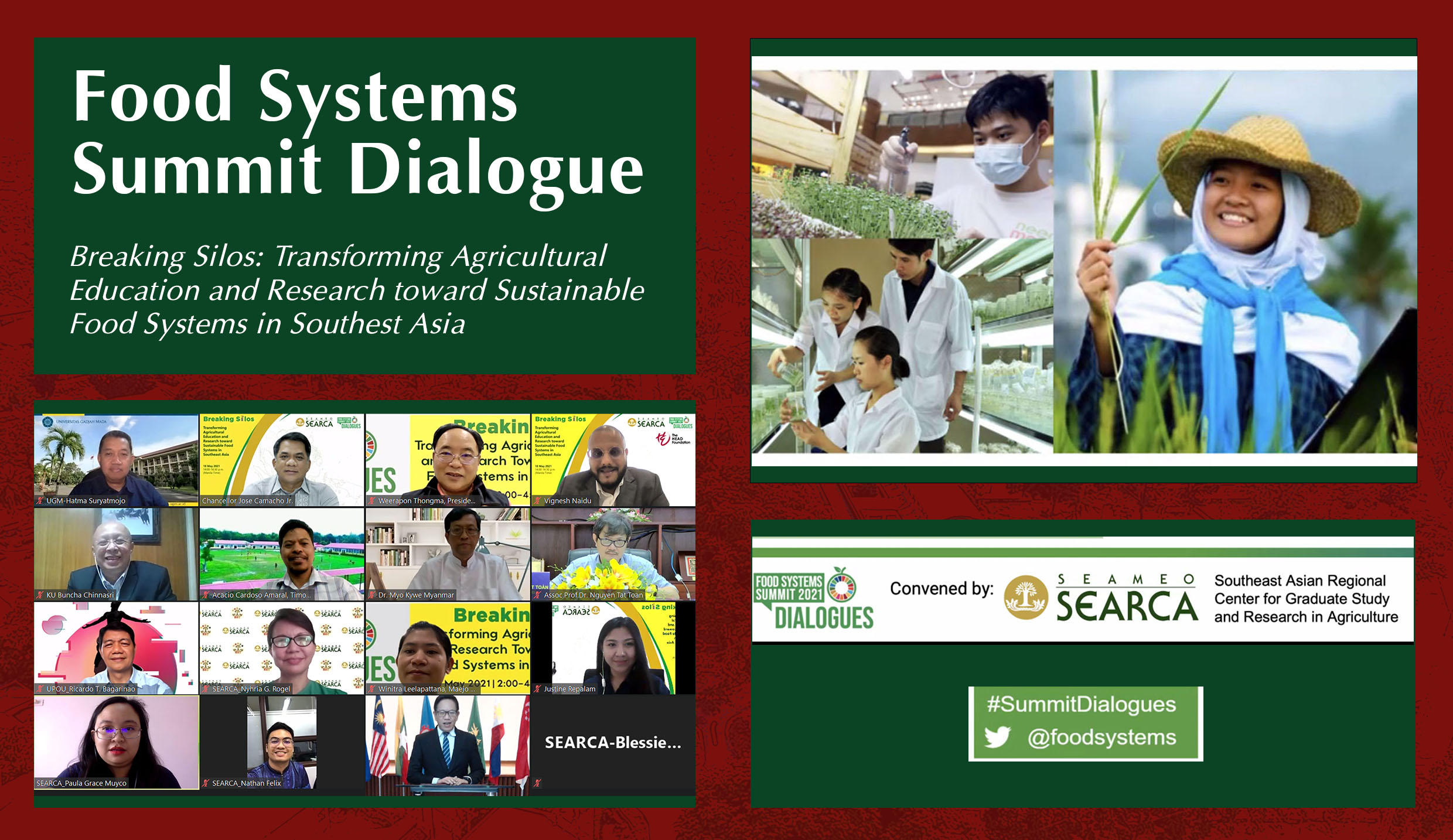 Collaboration across sectors highlighted at agri dialogue
Collective efforts from across the food value chain will be necessary to shift to a more sustainable mode of producing food, according to several researchers and educators at a dialogue hosted by the Southeast Asian Regional Center for Graduate Study and Research in Agriculture (SEARCA) on May 18.
Titled, "Breaking Silos: Transforming Agricultural Education and Research Towards Sustainable Food Systems in Southeast Asia," the dialogue was attended by representatives from international universities, colleges, research organizations, and public sector institutions which exchanged ideas about improving agricultural education through reforms in education, research, and governance.
The dialogue hosted simultaneous sessions on the various aspects of creating a sustainable food system, focusing on innovating curricular programs and pedagogical approaches, leveraging research for industry and community development, and determining directions for supportive and effective governance and policy-making.
The topic most discussed at the sessions was the need for actors along the food supply chain, from among the producers to consumers, to be involved in the work to change agriculture.
Dr. Shenggen Fan, chair of the College of Economics and Management at the China Agricultural University and who also served as one of the facilitators for the sessions, shared from their discussion that educators and researchers must work together to share their data and evidenced-based solutions.
"We have to work with the whole value chain players, starting from small-holder farmers, processors, informal traders, then finally the consumers, for nutrition. We need to embrace this food system approach to change our curriculum, to cover not just production or breeding or agronomy but also processing, machinery, trade, the infrastructure for the whole value chain, and nutrition and health," he said.
Chancellor Jose V. Camacho, Jr., who was also one of the facilitators, presented suggestions from the group that encouraged including multi-, inter-, and transdisciplinary perspectives in the agriculture curriculum, and contextualizing education not just by considering the needs of the industry but also by incorporating the local knowledge, cultures, and values of the community.
They also emphasized the need to recognize the empowerment of families, women, and youth in agricultural innovation due to their role in the household socio-economic and cultural environment.
"At the end of the day, we talk about food security for the well-being of our households," he said.
Dr. Bruce Tolentino, a member of the monetary board of the Central Bank of the Philippines and the facilitator for governance and policy, highlighted insights for the government sector to start from small projects and ensure their proper implementation and success, then use these projects to move forward.
"These small trials and victories that we accumulate will enable us to engage with challenges we face flexibly, particularly through the entire research, extension, and development chain," he said.
He further said that this approach will ensure that the government can invest in key public goods that will contribute to inclusive food security.
The independent dialogue was held in preparation for the upcoming Food Systems Summit 2021 organized by the United Nations. The culminating summit will be in September 2021 and will be preceded by a pre-summit gathering in July 2021. (Jessa Jael S. Arana)