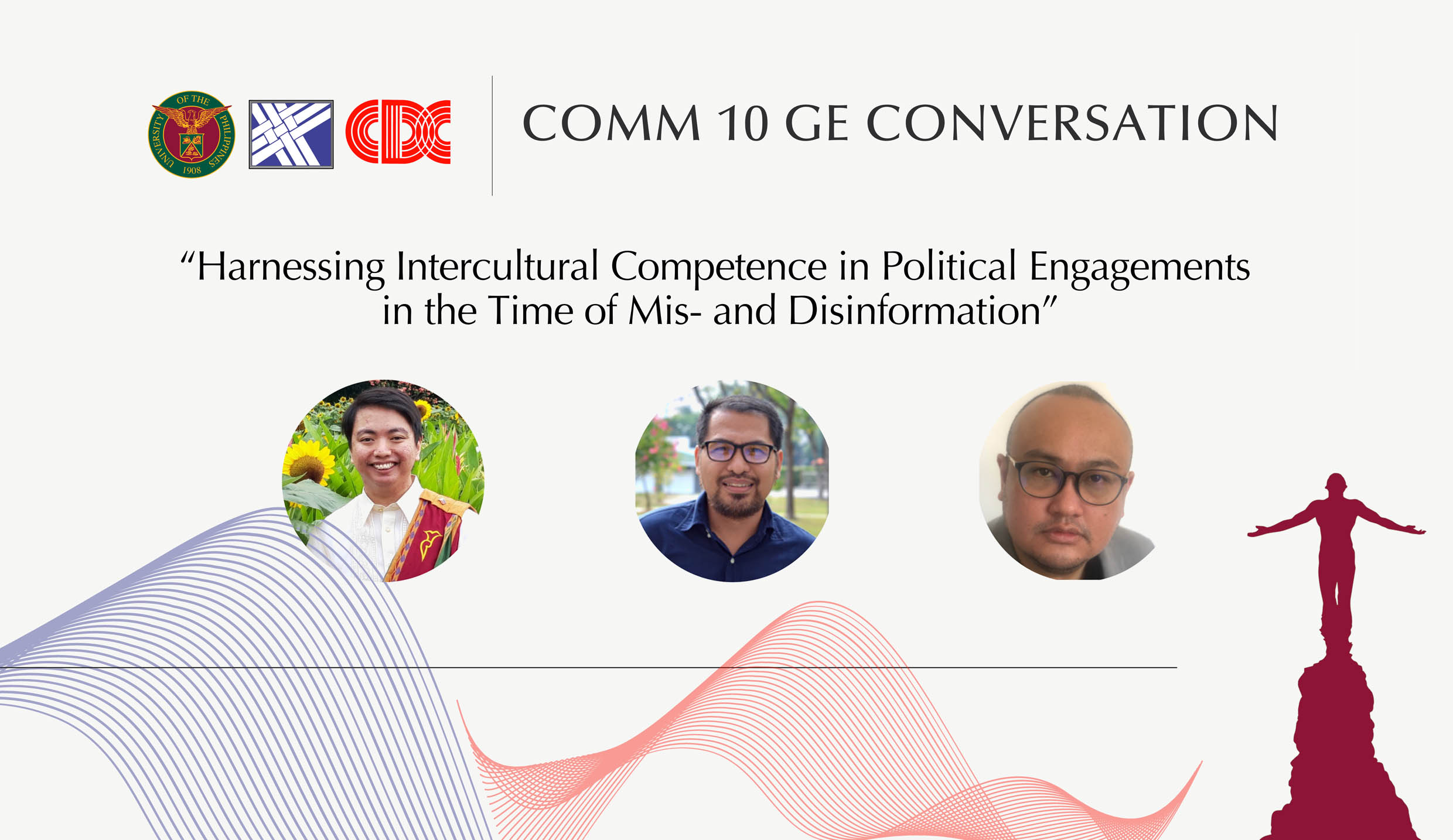 COMM 10 GE Conversation discusses countering mis- and disinformation
Have political and rhetorical awareness. Create spaces for dialogues. Make reasoning more data driven.
These are just some of the recommendations that faculty members of various universities put forward at the COMM 10 General Education (GE) Conversation entitled, "Harnessing intercultural competence in political engagements in the time of mis- and disinformation."
The GE Conversation was held on March 28 via virtual conferencing and livestreamed via Facebook.
The discussion was led by Charles Erize Ladia, an assistant professor teaching speech communication and rhetoric at the Department of Speech Communication and Theatre Arts, University of the Philippines Diliman; Dr. Jason Vincent Cabañes, a professor of communication and a research fellow at De La Salle University; and Dr. Nimrod Delante, a senior learning advisor at the James Cook University Singapore.
Using concepts in digital rhetoric and intercultural communication, Ladia discussed how young people used digital platforms to communicate their grievances and assert their rights as citizens in the process.
Dr. Cabañes shared a part of his upcoming journal article on the racially tinged COVID-19 digital disinformation. His lecture paid attention to two key socialities that fake news and political trolling online seek to weaponize: people's existing social narratives and their relationally embedded practices of media consumption.
Finally, Dr. Delante emphasized that communication experts and scholars have a pivotal role to play to combat massive misinformation and disinformation in the prevalence of justice, fair play, and common good.
During the panel discussion, both Ladia and Dr. Cabañes emphasized that social media platforms, influencers, and the advertising and public relations (PR) industry in the Philippines must be held accountable for the promulgation of disinformation.
Platforms are "public commons" and "it's an open secret who the trolls are" to ad and PR firms, according to Dr. Cabañes.
Meanwhile, Ladia encouraged the audience to "take back spaces of power" given to the influencers. "We own and give them the influence to be influencers," he urged.
When asked whether social media platforms must be regulated, Dr. Delante answered, "Why not?" He based his proposition on his experience in teaching in Singapore where social platforms are regulated.
He said that Singapore regulations forbid racist comments and people are informed about the language to be used online. Because of this, people are not only aware but also cautious of their actions online.
To be able to present counter narratives and rhetoric, Ladia suggested having political and rhetorical awareness of communication and engaging with different platforms. One must get out of his/her bubble to be critical about different topics and ideologies.
Dr. Delante pushed for making reasoning more data-driven and ensuring a lesson or idea is picked up from a dialogue with a family member or friend. "We can have this 'mahinahon at makabuluhang pag-uusap," he said.
A surprising revelation was divulged during the panel discussion: "facts are not persuasive anymore" and "civil education is elitist," according to Ladia and Cabañes, respectively.
Given this, Cabañes recommends that "spaces for dialogue" or "contact zones" must be created so Filipinos, who are divided and exploited by trolls, can talk and understand each other.
Dr. Mabini Dizon, a COMM 10 faculty member, provided a synthesis of the speakers' lectures. She also challenged both the teachers and students to apply intercultural competence in this period where mis- and disinformation are rampant.
The GE Conversation was organized by the course committee of the COMM 10: Critical Perspectives in Communication offered by the Department of Humanities-College of Arts and Sciences and College of Development Communication.
The event may be viewed at the UPLB Department of Humanities Facebook page. (Katrina Anne E. Blanco)