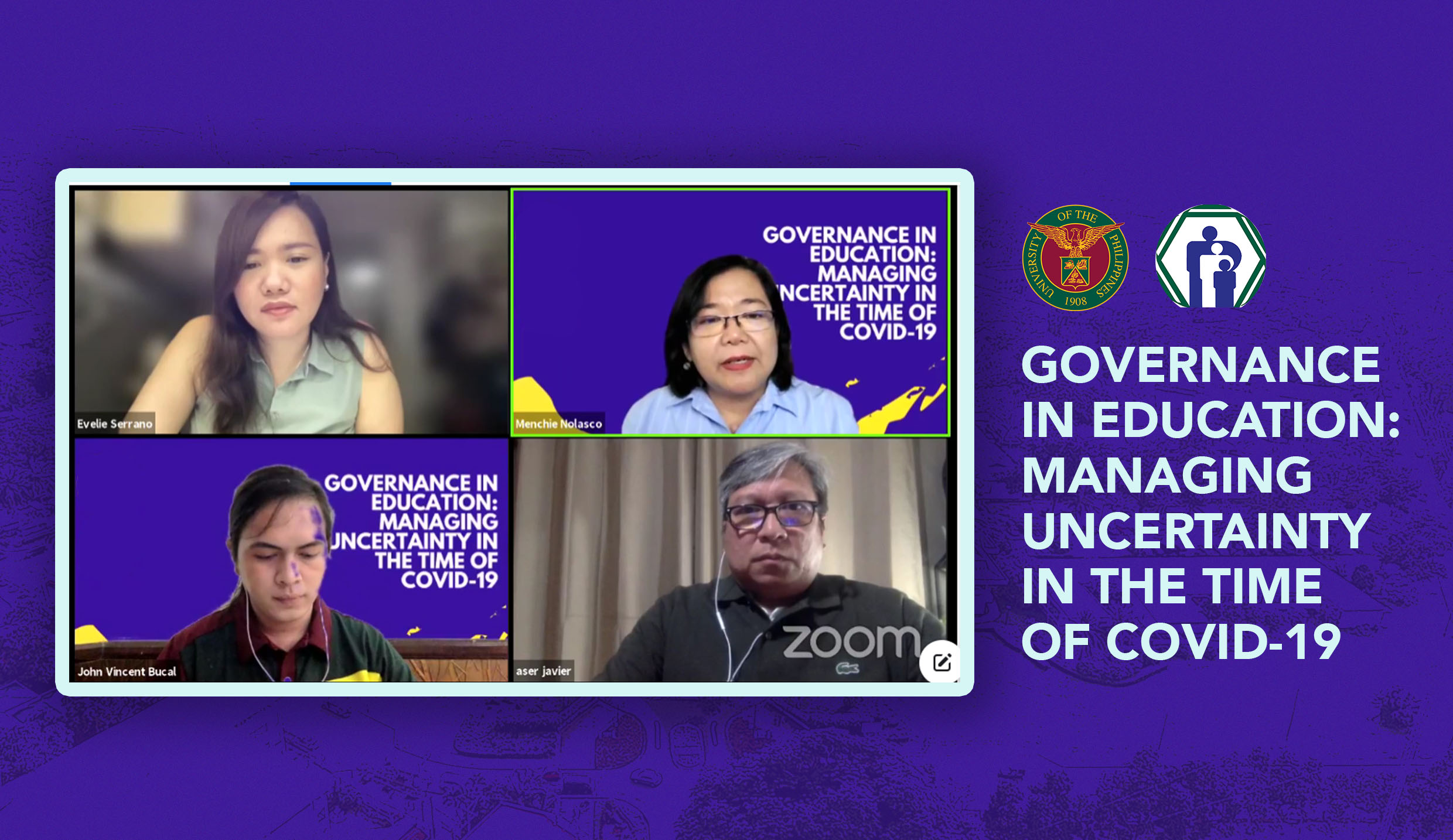 CPAf webinar features governance in education
A postgraduate class at the College of Public Affairs and Development (CPAf) hosted the webinar titled "Governance in Education: Managing Uncertainty in the Time of COVID-19" on June 21 via video conference and live streamed on CPAf's official Facebook Page.
CED 220 or Sociology of Education, a class handled by Dr. Evelie Serrano, held the webinar as one of the class activities. The webinar aimed to answer questions regarding remote learning, role of governance in education, moving past the challenges with limited resources, the glaring digital divide, and the education inequalities.
The webinar featured Carmencita T. Nolasco, a PhD Development Studies (DVST) student and a teaching fellow at CPAf and Dr. Aser B. Javier, a governance consultant and former CPAf faculty member.
Dr. Serrano, in her overview of the activity, said that the many challenges in the Philippine education sector have led us to ponder on the kind of governance we have.
Nolasco discussed the experiences of public elementary school principals in the midst of the COVID-19 pandemic. She shared several challenges identified by the school principals. "Despite these challenges, it's a very exciting time even in the midst of the COVID pandemic," she said. She believes that the plan for decentralization of public school services will provide additional resources and opportunities for public schools.
She also mentioned three themes of education governance that emerged from her study.
"Based on the activities and experiences of the four principals, governance means organizing systems and generating resources to make them work, communicating with stakeholders, and demonstrating leadership," said Nolasco.
For his part, Dr. Javier shared his FACEMASK concept to overcome the current challenges and uncertainties in basic education.
The FACEMASK concept refers to facilitator of learning, assessor of child-self-directed learning, community mobilizer for learning, enabler for love of learning, menu of education investments formulation, advocate BE-LCP (Basic Education-Learning Continuity Plan) to partner, strategic communication plan, and knowledge for distance learning competencies.
The three DepEd principals, who are also PhD DVST students at CPAf, were the webinar discussants. They shared the experiences of their respective school in managing uncertainties during the pandemic. They were Mr. Bernardo Cristino Altamira of Calauag National High School, Mr. Aris Barrago of Lamon Bay School of Fisheries – Quezon, and Mr. Joseph C. Hinanay of Atimonan National Comprehensive High School.
To close the program, Dr. Serrano reminded the audience about the reality of many Filipino children who lack the needed resources for online learning. Reflecting on Dr. Javier's presentation, she said that good governance in the education sector can be achieved through collaborative governance among actors, resourcefulness, tailor-fitting education based on the demands of the community, and implementing school-based communication plans. (Samantha Geraldine G. De los Santos)