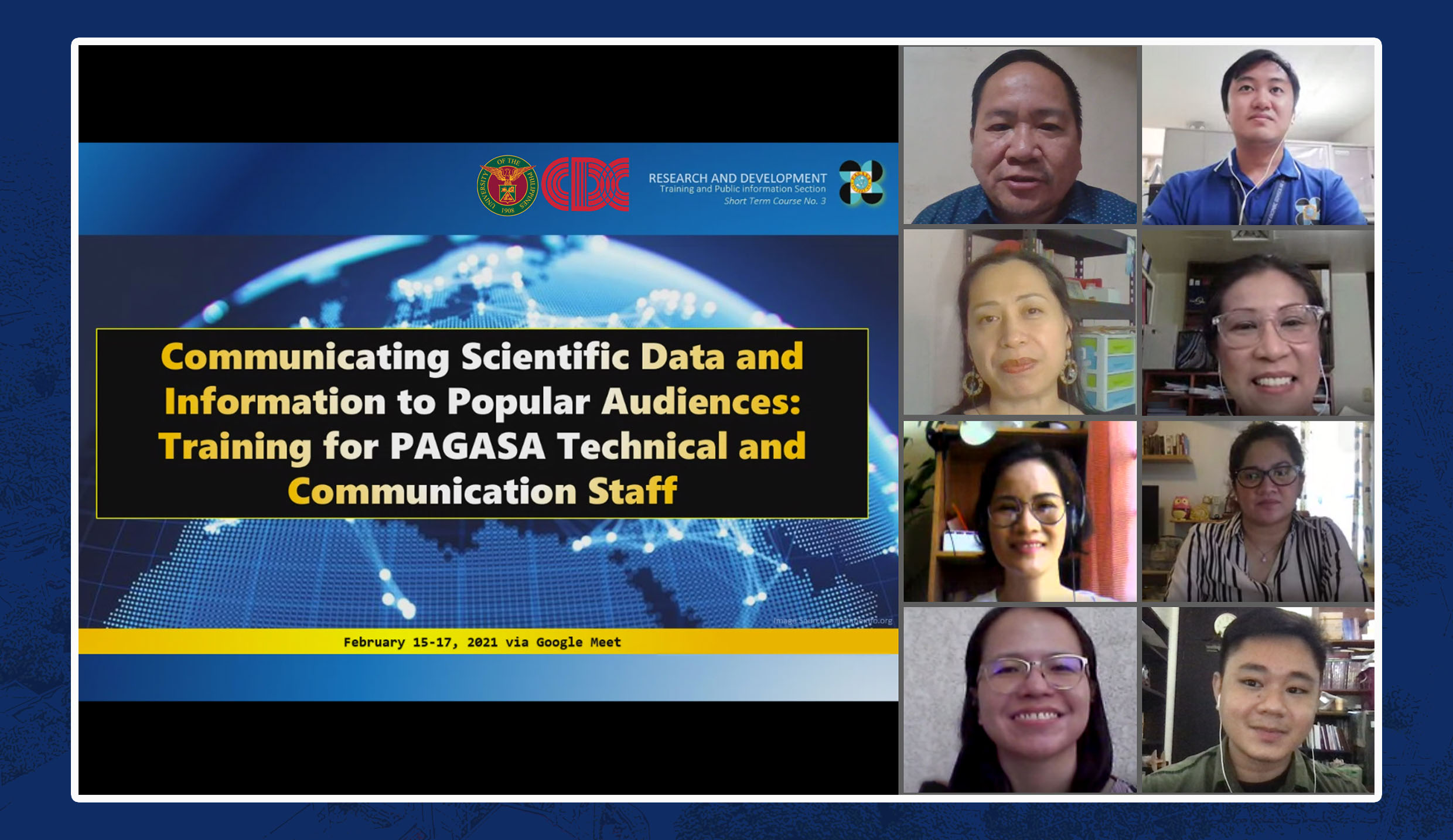 Devcom faculty train PAGASA technical staff on science journalism
As part of its extension and public service activities, the College of Development Communication (CDC) held an online training-workshop on "Communicating Scientific Data and Information to Popular Audiences" for technical staff of the Philippine Atmospheric, Geophysical, and Astronomical Services Administration (PAGASA) on Feb. 15-17.
The training was intended to capacitate the PAGASA technical staff, composed mostly of scientists and technicians, in effectively communicating to the public the technical information produced by its climatology, meteorology, space science, and astronomy departments.
In her opening remarks, faculty member and chair of the Department of Development Journalism (DDJ), Kabzeel Sheba G. Catapang thanked PAGASA for partnering with CDC through DDJ. She lauded the agency for its initiative to strengthen the capacity of its staff in communicating scientific and technical information to the public for a science-based policy and decision-making. She also said that DDJ and CDC are looking forward to more collaborations with PAGASA in the future.
Dr. Nathaniel T. Servando, chief of the PAGASA Research and Development and Training Division, gave a welcoming message where he emphasized the importance of bringing science closer to the masses, especially in communicating risks and crises during climatic disasters. This is crucial in ensuring public safety and in fulfilling the bureau's mandate, he said.
Servando also commended PAGASA's Training and Public Information Section for smoothly coordinating with DDJ in designing and conducting the training despite logistical difficulties due to the pandemic.
The academic staff who served as speakers were from DDJ and the Department of Development Broadcasting and Telecommunication (DDBT). Representing DDJ were Dr. Pamela A. Custodio, who handled the session on science writing and reporting; Jyasmin M. Calub-Bautista on popularization techniques; Aileen F. Macalintal on multi-platform reportage; and Miguel Victor T. Durian on social media management. Representing DDBT was its current chair Dr. Trina Leah T. Mendoza, who talked about broadcast writing and performance. Hands-on workshops followed each lecture session.
According to Joseph Marvin T. Lopez, PAGASA's coordinator for the training, the participants were eager to learn new approaches in communicating science to the public despite some online learning challenges they encountered. He also said that they were able to reflect on the areas that they needed to improve on in their current practice. They also hoped to learn more advanced lessons on the topics covered in future training opportunities.
DDJ-CDC welcomes requests for training on journalism and communication from other research and development agencies. (Miguel Victor T. Durian)
Aligned with our commitment to: