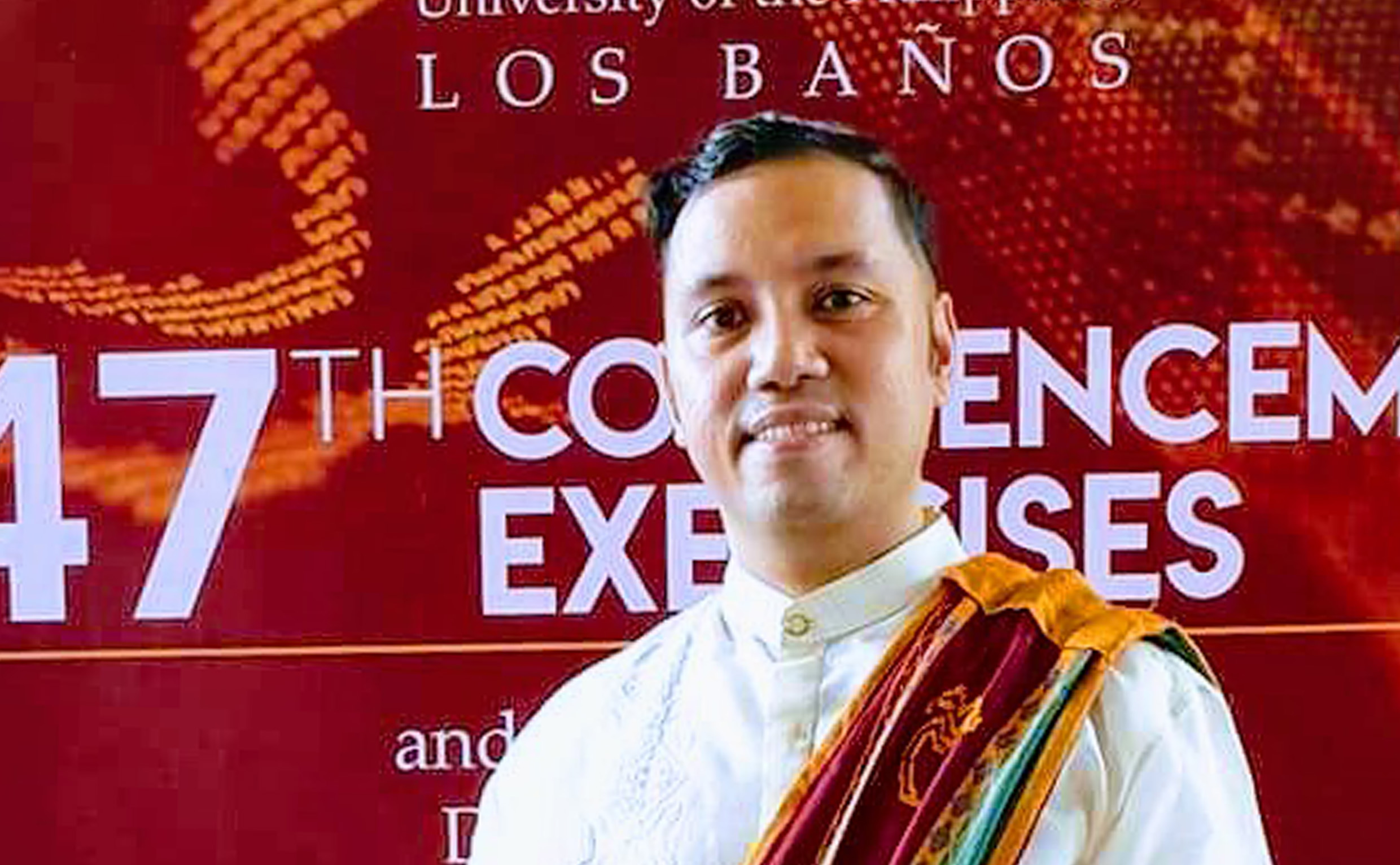 Dr. Remil Galay, 2020 Outstanding Young Scientist
He was called and chosen, and he responded.
Dr. Remil L. Galay returned to UPLB, his alma mater, as a new faculty member in 2016 under the UP System's Balik-PhD Program – a mechanism to encourage competent Filipino PhD holders living abroad to go back to the Philippines and teach in UP for good.
Amid more attractive offers in Japan, he did not hesitate to pack his bags and come home, bringing with him a treasure trove of knowledge, experiences, and credentials in veterinary science that he gained in the foreign land for five years.
Fast forward to 2020, Dr. Galay affirms that the call was worth heeding. He is now a mentor to aspiring veterinarians, an administrator at the college that molded him, and a lead researcher in projects of national importance.
Just this month, the National Academy of Science and Technology recognized his notable and promising contributions in veterinary medicine, earning for him the coveted Outstanding Young Scientist (OYS) award.
"I felt that I should return home so that I can contribute to the progress of our country," recalled Dr. Galay, who studied in Japan's Yamaguchi University from 2011 to 2015 for his Doctor (PhD) of Veterinary Science.
A UPLB-trained veterinarian who graduated cum laude in 2007 and ranked fifth in that year's licensure exam, Dr. Galay is a veterinary practitioner and scientist ahead of his time.
In college, he was fascinated by veterinary parasitology, a field that many students despise. He was one of the first students at the College of Veterinary Medicine to perform polymerase chain reaction (PCR), a method known for its precision in allowing scientists to study small sections of a DNA by producing large amounts of it.
His uncommon interest in studying parasites and his early exposure to molecular biology has led him to a research focus that only a handful in the country investigates – the molecular biology and biochemistry of ticks and tick-borne pathogens.
It is through studying ticks, locally called as garapata, down to their DNA, where Dr. Galay is able to identify how these parasites carry diseases to livestock and poultry animals, Filipinos' sources of protein and livelihood. He has also provided starting points by which these diseases could be controlled and how zoonosis, or the transfer of the disease from animals to humans, could be prevented.
Dr. Galay noted that while the study of ticks and tick-borne pathogens, and the application of molecular biology in diagnostics and biological studies are already established in other countries like Japan, the Philippines is yet to catch up on these global trends.
"Since there are still many gaps on tick research here in the country, I decided to build my research niche on it," he said.
In his Balik-PhD research grant, Dr. Galay and his fellow researchers from Kagoshima University in Japan detected tick-borne pathogens in cattle, water buffaloes, and dogs that were previously unknown in the country, namely Ehrlichia minasensis and Theileria orientalis.
They also found molecular evidence of zoonotic pathogens in animals, namely Coxiella burnetii in large ruminants and Rickettsia spp. in dogs.
He has also provided some answers on how ticks could be defeated, particularly by targeting their ferritin, an iron-storage molecule that protects ticks from iron toxicity in sucking the blood of their host.
Through his UP Enhanced Creative Work and Research Grant, Dr. Galay found that Anaplasma marginale, a tick-borne pathogen, can be detected in dairy cattle's milk. He added that there is still no evidence that it can be acquired by humans.
His study, funded by the National Research Council of the Philippines, on the other hand, showed evidence that ticks have developed resistance to chemical acaricides that the farmers use to control them.
Dr. Galay's long list of accomplishments and activities in veterinary research go on, all with the intent to help the country, not only its animal industry, but also in the area of public health, which urgently needs people of his expertise.
"Scientific findings are necessary in arriving at right decisions and directing us how we should go about this uncertain situation. We are in great need of scientists who can find the means to control the virus," Dr. Galay said.
In the scientific world where only a few are called, and even fewer choose to enter, Dr. Galay is certain that he followed the right path for himself.
"I find fulfillment in it. I believe it is where God is leading me and God gave me what I need to accomplish this life mission," the young scientist declared.
"I am also committed to serving my country through conduct of research and mentoring the youth who will become professionals, scientists, and leaders of the future," Dr. Galay ended. (Mark Jayson E. Gloria)