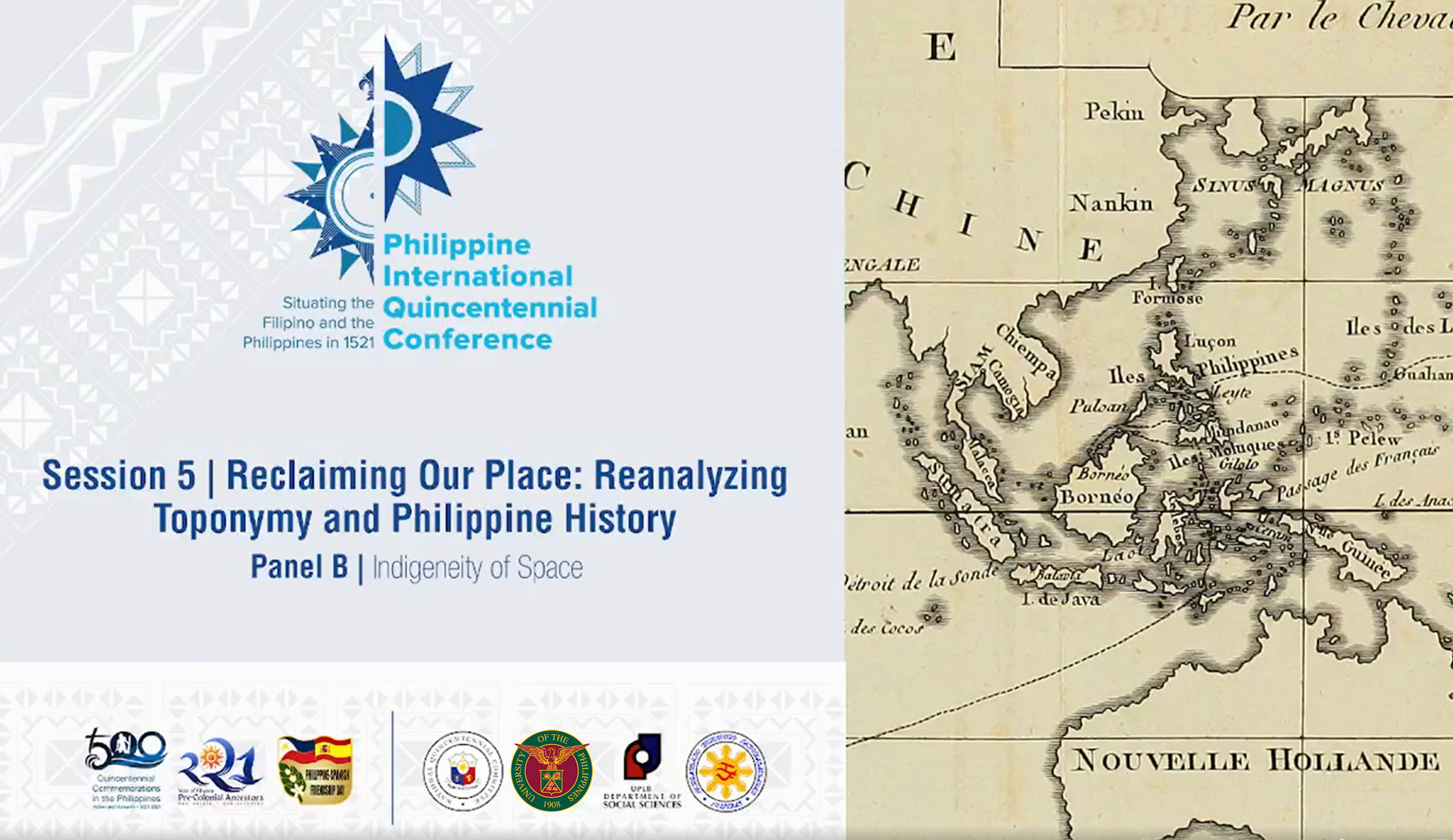 DSS convenes session 5 of the Phil. Intl. Quincentennial Conference
The Department of Social Sciences of the College of Arts and Sciences (DSS-CAS) collaborated with the Department of Foreign Affairs (DFA) and 15 other agencies to curate Session 5 of the Philippine International Quincentennial Conference (PIQC).
DSS hosted the fifth session of PIQC 2021, entitled "Reclaiming our Place: Reanalyzing Toponomy and Philippine History" on Nov. 15 and 16.
PIQC is an online conference to celebrate the quincentennial anniversary of the first circumnavigation of the world.
With the theme "Situating the Filipino and the Philippines in 1521," the conference tackled topics such as the victory of Lapu-Lapu in Mactan, the introduction of Christianity to the Philippines, and the first circumnavigation of the world.
In his opening remarks, Chancellor Jose V. Camacho, Jr. said that studying the origins of places in the Philippines creates a stronger sense of national identity for the Filipinos.
Session 5 was organized into Panels A and B, held via video conference and livestreamed on Facebook on Nov. 15 and 16, respectively. Almost all of the resource persons in PIQC Session 5 are faculty members at various UP constituent universities.
Panel A of Session 5, entitled "Filipinocentrism in Space," was moderated by Jervy Briones of DSS-CAS at UPLB.
Dr. Roderick Javar, also of DSS-CAS, presented the topic "Pagbura, Pag-angkin, Pagbawi: Tunggalian ng mga Gunita sa mga Toponima." Dr. Javar tackled the different circumstances in which Spanish colonizers were able to erase native culture and history by means of placemaking, and how modern-day Filipinos are able to reclaim their place in society without denying their past.
Ian Christopher Alfonso of the National Historical Commission of the Philippines discussed findings from his study on "Ancient Place Names of Northern Manila Bay Communities and their Spanish Reorganization."
Dr. Neil Martial Santillan of UP Diliman tackled "Mula Huluga at Kagayhaan Tungong Cagayan de Misamis at Cagayan de Oro: Pagpopook at Pagpapakahulugan sa Pangunahing Lungsod ng Hilagang Mindanao," which characterized the culture and context within which northern Mindanao was formed.
From UP Visayas, Ruchie Mark Pototanon talked about the nuances in the Filipino and Spanish languages that have influenced placemaking in the Philippines in his study "Do Spaniards have Bad Hearing: Rethinking and Correcting Narratives in Northern Panay."
Ruben Jeffrey Asuncion of DSS-CAS discussed "Nasyonalismo at Paggunita: Ang Kaso ng Pagpapalit sa Pangalan ng Larangan, Provincia de Misamis at Lubungan, Comandancia de Dapitan, 1914-1931." His presentation expanded on the idea of nationalism and on reclaiming the identities of communities and places from colonial influence.
Panel B of PIQC's Session 5 focused on the indigeneity of space with Veronica Alporha, also of DSS-CAS, acting as moderator.
João Paulo D. Reginaldo of UP Baguio, opened the conference with his discussion entitled "Old Settlements and Toponymy in Kayapa Valley." He discussed the history, toponymy, and identity of an ethnolinguistic group called I'uwak in Kayapa.
Jose Mathew P. Luga, also of UP Baguio, talked about the history and coloniality of the ancient place names of Baguio in "The Changing Landscape of Place Names in Baguio City, pre-1834 to 1946."
Bernardo M. Arellano III of DSS-CAS, tackled "Pamasang, Tacurong, Marbel, Dadiangas, at iba pa: Placemaking amid Filipino Settler Influx in Southcentral Mindanao."
He defined placemaking and how it affected the changing landscapes of Mindanao and presented case studies in placemaking and toponymy in Mindanao.
"Rethinking Place in Place Names: Exploring Other Territories of Philippine Toponyms with History and Geography" was the title of the presentation of Reidan M. Pawilen and Ryan Alvin M. Pawilen, both of DSS-CAS. They redefined the word "place" using a geographical perspective. They also said that place name research should be multidisciplinary.
Videos of the webinars could be accessed on the DSS Facebook Page. (Kyle Ramiel Dalangin and Kristel Hope Villafuerte)