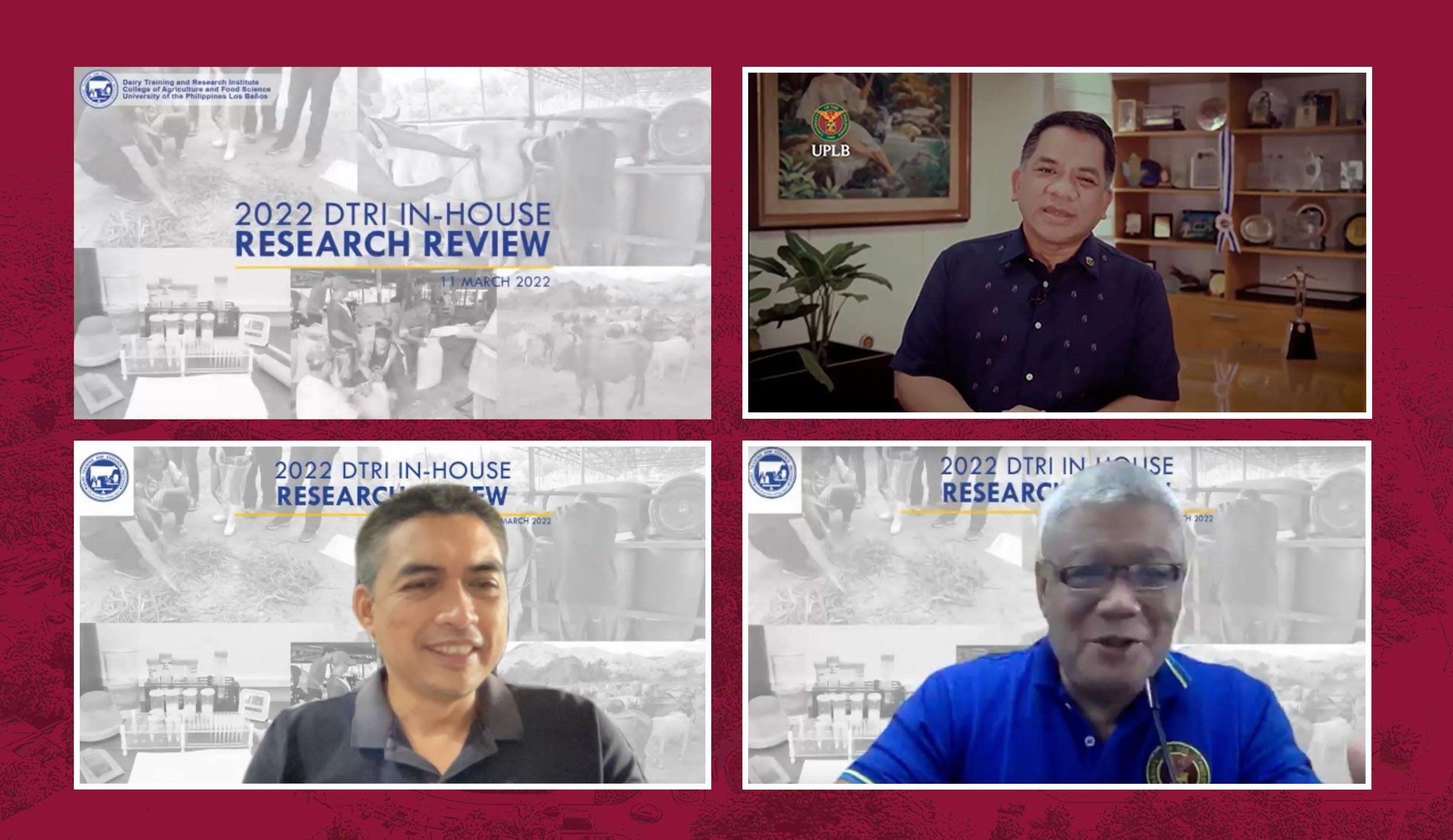 DTRI conducts in-house research review 
The Dairy Training and Research Institute (DTRI) of the College of Agriculture and Food Science (CAFS) conducted its 2022 In-house Research Review on March 11.
Held via virtual conferencing, the research review also awarded its best presenters.
The program was formally opened by Dr. Elpidio M. Agbisit, Jr., dean of CAFS, who commended DTRI in his welcome message and said that the program will help craft relevant researches for the dairy industry.
Dean Agbisit said that the research review will help in identifying the possible areas in which DTRI could collaborate with agencies and organizations in and outside the university.
Chancellor Jose V. Camacho, Jr. gave an inspirational speech expressing eagerness to know the results of the research review and to lend further support to DTRI for it to achieve its research, public service, and production goals.
He also took the opportunity to talk about the university's rebranded research and extension agenda, the UPLB AGORA or "Accelerating Growth Through One Research and Extension in Action."
According to him, AGORA is UPLB's official stand on research areas that it needs to focus on in order to help shape a future-proof agriculture, forestry, and natural resources sector while aligning them to the UN Sustainable Development Goals.
The research review tackled seven ongoing projects, two completed projects, and six project proposals, with three presenters bagging awards in their respective categories.
Dr. Maria Cynthia R. Oliveros and Ronela Angelika B. Narag were awarded as the best presenters for the ongoing projects category.
Dr. Oliveros presented the "Establishment of Farm-to-Consumer Milk Quality and Safety Assurance Systems"; while Narag talked about "Calibration and Optimization of Near Infrared Reflectance Spectroscopy for Nutrient Content Determination of Feedstuffs: A Tool for Reduced Feed Analyses Cost for Small-Hold Farmers and Government Research/Regulatory Institutions,"
Dr. Agapita J. Salces presented "Genetic Quality Assessment and Production Performance Evaluation of Dairy Cattle in the Philippines" and won as best presenter for completed projects category.
In his closing remarks, DTRI Director Amado A. Angeles highlighted that the in-house review is not only about presenting to external reviewers, but also asking for help from the collaborators in coming up with relevant projects and programs. This will help not only UPLB and the dairy industry, but also the farmers, he said. (Kyle Ramiel Dalangin)