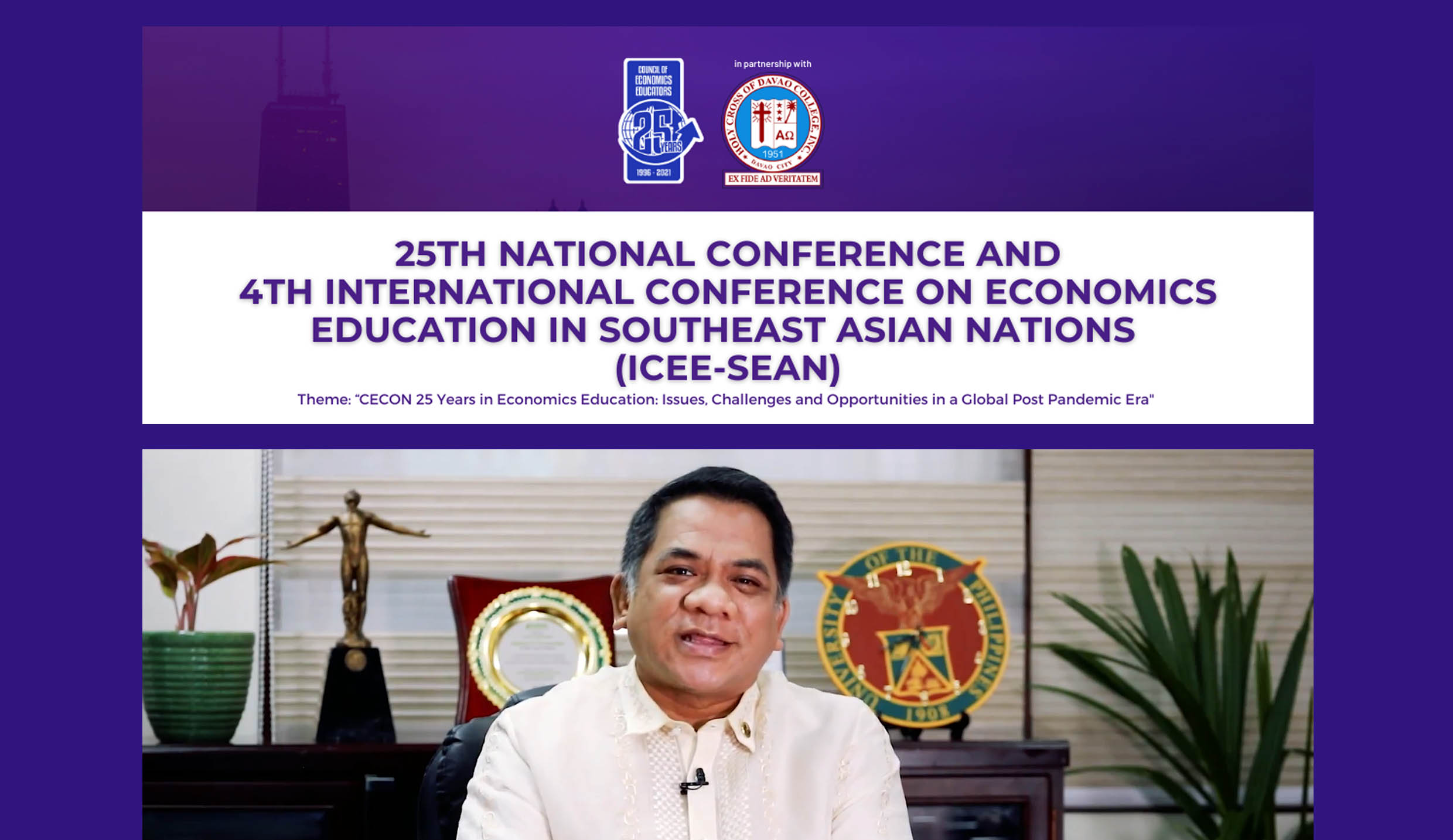 Economics education vital for responsible citizenship – Chancellor Camacho
Economics education is a foundation for developing a sense of responsible citizenship among the youth. This was one of the takeaways from Chancellor Jose V. Camacho, Jr.'s presentation at the 25th National Conference and 4th International Conference on Economics Education in Southeast-Asian Nations (ICEE-SEAN) on Nov. 26.
The conference had the theme, "CECON 25 Years in Economics Education: Issues, Challenges and Opportunities in a Global Post Pandemic Era" and included speakers from national and international organizations and schools in finance and economics management.
In his discussion about the issues and challenges of economics education in the country, Chancellor Camacho said that it can help the youth understand that resources are limited and must be managed well, may these be at the personal or organizational level.
Chancellor Camacho noted that economics teaching, such as what UPLB does, plays a part in "future-proofing" the country's next leaders in economics and financial literacy and will enable them to manage the country's material and financial resources and craft relevant advocacies.
He said that economics teaching needs to continue despite major setbacks, such as the COVID-19 pandemic.
During the sudden shift to flexible and remote learning, Chancellor Camacho remarked that economics courses showed flexibility and agility in the online set-up, since these do not require many laboratory classes and field work.
This, according to him, bodes well for the future of higher education in the country, which as the Commission in Higher Education (CHED) envisions, should incorporate more digital and non-digital technologies.
Chancellor Camacho also reiterated that there needs to be collaboration among stakeholders and ample support for information and technology infrastructure from CHED and the HEIs to help bring this vision to completion and ensure that "no students will be left behind."
"Amid all disruptions and the rapidly changing economy and society, economic education should never stop; and instead, it should continuously adapt to global and local forces that continue to reshape the way we do and think things," he said.
UPLB offers graduate and undergraduate degree programs in economics under the College of Economics and Management. UPLB currently has 295 BS Economics students and 365 BS Agricultural and Applied Economics students, with both courses attracting students from different parts of the country. (Jessa Jael S. Arana)