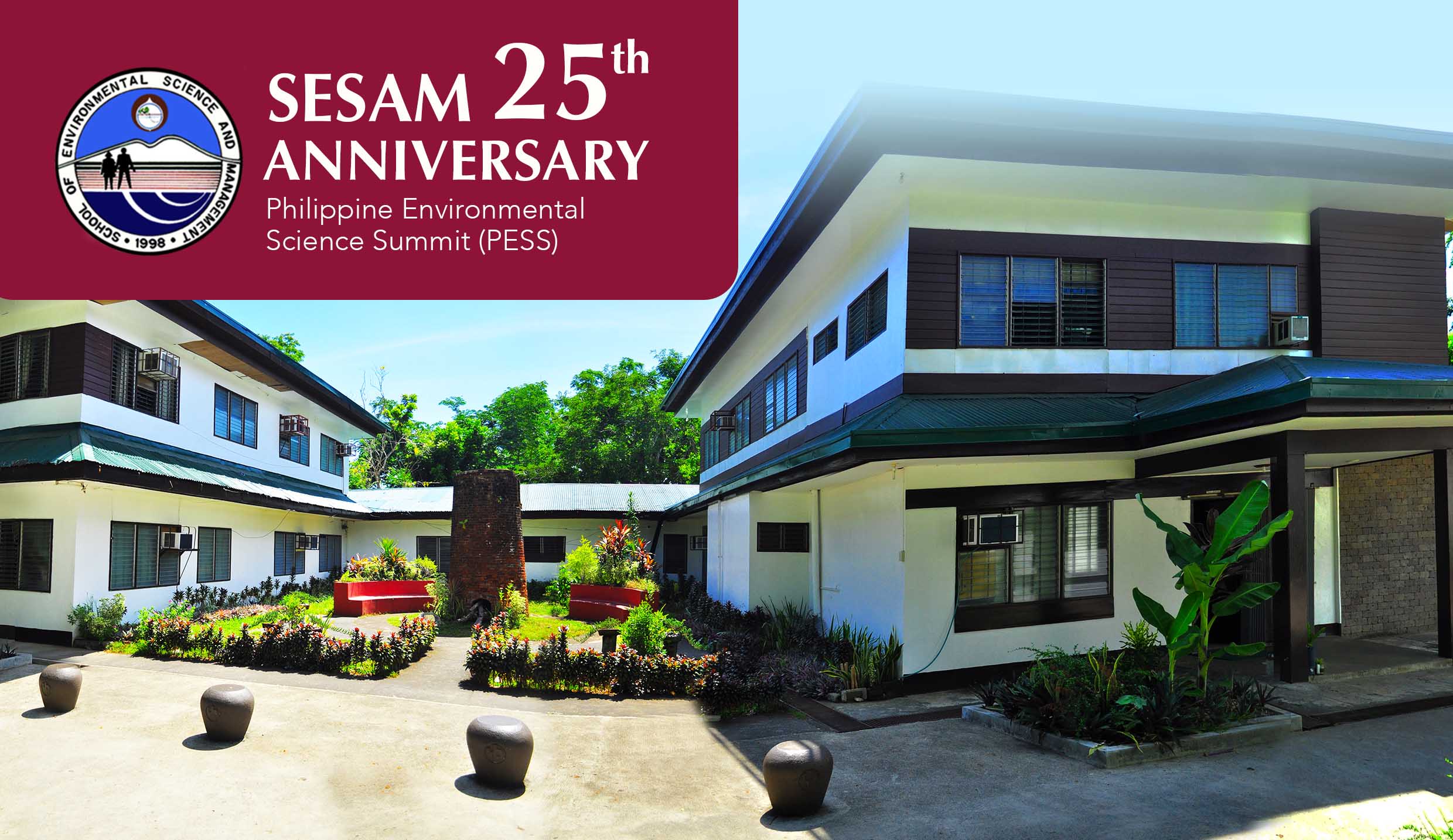 Environment conference kicks off SESAM's 25th anniversary
To celebrate its silver anniversary, the School of Environmental Science and Management (SESAM) kicked off their 7-month-long celebration with the Philippine Environmental Science Summit (PESS) on June 7 via video conference.
With the theme "Only One Earth: The Role of Environmental Science in Achieving Sustainable Development Goals (SDGs)," the event also commemorated World Environment Day on June 5.
In his opening remarks, Dr. Rico C. Ancog, dean of SESAM, recalled the 1972 United Nations Conference on the Human Environment in Sweden and emphasized the importance of highlighting the value of the environment and implementing a whole systems approach in addressing interconnected environmental issues. He also expressed his hope that the event would promote collaboration and partnership among higher education institutions.
Chancellor Jose V. Camacho, Jr. called the summit a promising venue for evaluation and dialogue on the implementation and realization of the National Environmental Action Plan of the Philippines. He also highlighted the opportunity to solidify the plan and present it to the incoming administration.
He recognized SESAM's contributions to creating a sustainable, inclusive, and environmentally conscious Philippine society through education, lifelong learning, research, and collaboration.
In a special message, UP President Danilo L. Concepcion likewise recognized SESAM's active leadership in environmental science for the past 25 years and said that their efforts benefitted higher education institutions in both the Philippines and the Southeast Asian region.
"As a national university, UP must take the lead in effectively wielding science, policy, and all their applications to ensure that we afford our country's future generation a healthy and balanced ecology," he added.
For his message of support, Dr. J. Prospero E. De Vera III, chairperson of the Commission on Higher Education, congratulated SESAM for leading the advancement of environmental integrity in the UP system for the past 25 years. He also hoped that the participants would be able to assess strengths and weaknesses, find common ground, and identify ways to attain the action plan of the Philippines from 2018 to 2040.
The plenary session started with the first plenary speaker, Dr. Ben S. Malayang III, a professor emeritus at Siliman University. He discussed the three strategic shifts for the Philippines to address a worsening climate crisis in the phase of shortened time.
Dr. Lourdes J. Cruz, national scientist and chair of Future Earth Philippines Program, tackled "Championing inter- and trans-disciplinal approaches: The Case of Future Earth Philippines."
She discussed the performance of the country in the United Nations SDGs and the role of universities in achieving it.
Their discussions were followed by an open forum where Dr. Malayang and Dr. Cruz entertained questions.
UP Diliman Chancellor Fidel R. Nemenzo discussed "The Use of Mathematics in Understanding Environmental Problems." He talked about the nature of mathematics and its different concepts. He said that math is an indispensable tool for understanding and solving world problems.
Dr. Nathaniel C. Bantayan, vice chancellor for research and extension, tackled "Advancing UPLB Research Agenda: Accelerating Growth through One Research and Extension in Action (UPLB AGORA)." He also discussed its four focus areas which are food security and sovereignty, one health, resilience and sustainability, and future communities and institutions.
Chancellor Nemenzo and Dr. Bantayan answered questions in an open forum after their discussions.
The morning session of PESS can be viewed on the UPLB SESAM's Facebook page. (Kyle Ramiel Dalangin)