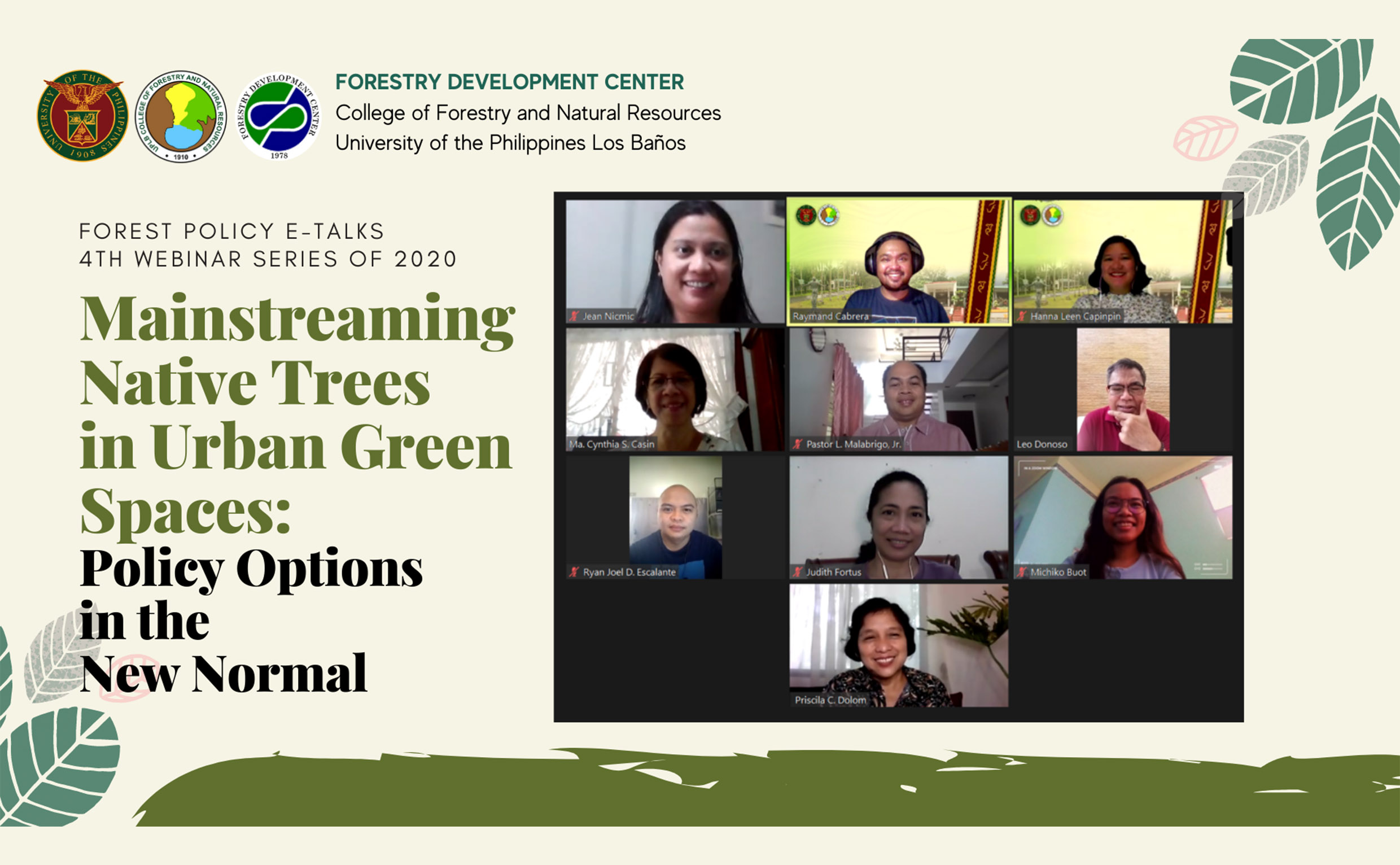 FDC webinar encourages use of native species in tree planting
How do we erase the mentality of "plant and forget?"
Pastor Malabrigo, Jr., chair of the Department of Forest Biological Sciences of the College of Forestry and Natural Resources (CFNR), posed this question, which refers to worst practices and failures in reforestation programs, during the fourth Forest Policy e-Talks on Sept. 10.
The said webinar edition entitled "Mainstreaming native trees in urban green spaces: policy options in the new normal" is part of the knowledge sharing series being conducted by CFNR's Forestry Development Center (FDC) in partnership with the Information Technology Center.
Malabrigo said that planting trees is only the start of reforestation, which, he said, "is only 10% tree planting and 90% tree nurturing."
Existing policies on planting of trees, such as House Bill 6930, otherwise known as the Family Tree Planting Act and Presidential Decree 1216 of 1977, which require subdivision owners to reserve an open space for parks and recreation, have no clear guidelines in their implementation and no provision for tree species matching, Malabrigo noted.
With this, he hoped that these existing policies will be studied and revised by integrating in them the use of Philippine native species for tree planting. Some of the Philippine native tree species are Kamagong (Diospyros discolor), Kalantas (Toona calantas), and Malabayabas (Tristaniopsis littoralis).
He also debunked the misconception that using exotic plant species in greening efforts increases biodiversity in the area. According to Malabrigo, exotic plant species will eventually have difficulty in producing fruits. He said that biodiversity will also suffer because the native fauna favors the native and not the exotic flora.
Malabrigo further highlighted the importance of native species, this time in the context of the New Urban Agenda.
Under this United Nations instrument, world leaders developed a city biodiversity index that assesses the performance of the building and management of cities as part of the 2030 Agenda for Sustainable Development. The goal of this biodiversity index is for cities to ultimately consider using native species over exotic species in improving public spaces.
During the open forum, a participant suggested a policy to create an environmental history in schools to make native species common knowledge for all. Another participant yearned for native species representation through schools and media.
Malabrigo favored both suggestions and called them "big steps" towards mainstreaming native species.
Dr. Priscila Dolom, director of FDC, added that one of the advocacies of FDC is to mainstream planting of appropriate tree species in the campuses of state university and colleges. FDC, which is CFNR's dedicated unit in forest policy research, is already drafting a proposal to study the existing policies on tree planting that need to be revisited.
More than 400 participants took part in the Zoom webinar, while almost 7,000 people were reached by its Facebook livestream.
To stay updated in the center's upcoming webinars, interested individuals may follow the official Facebook page of FDC. (Michiko Karisa M. Buot and Raymand Vincent C. Cabrera)