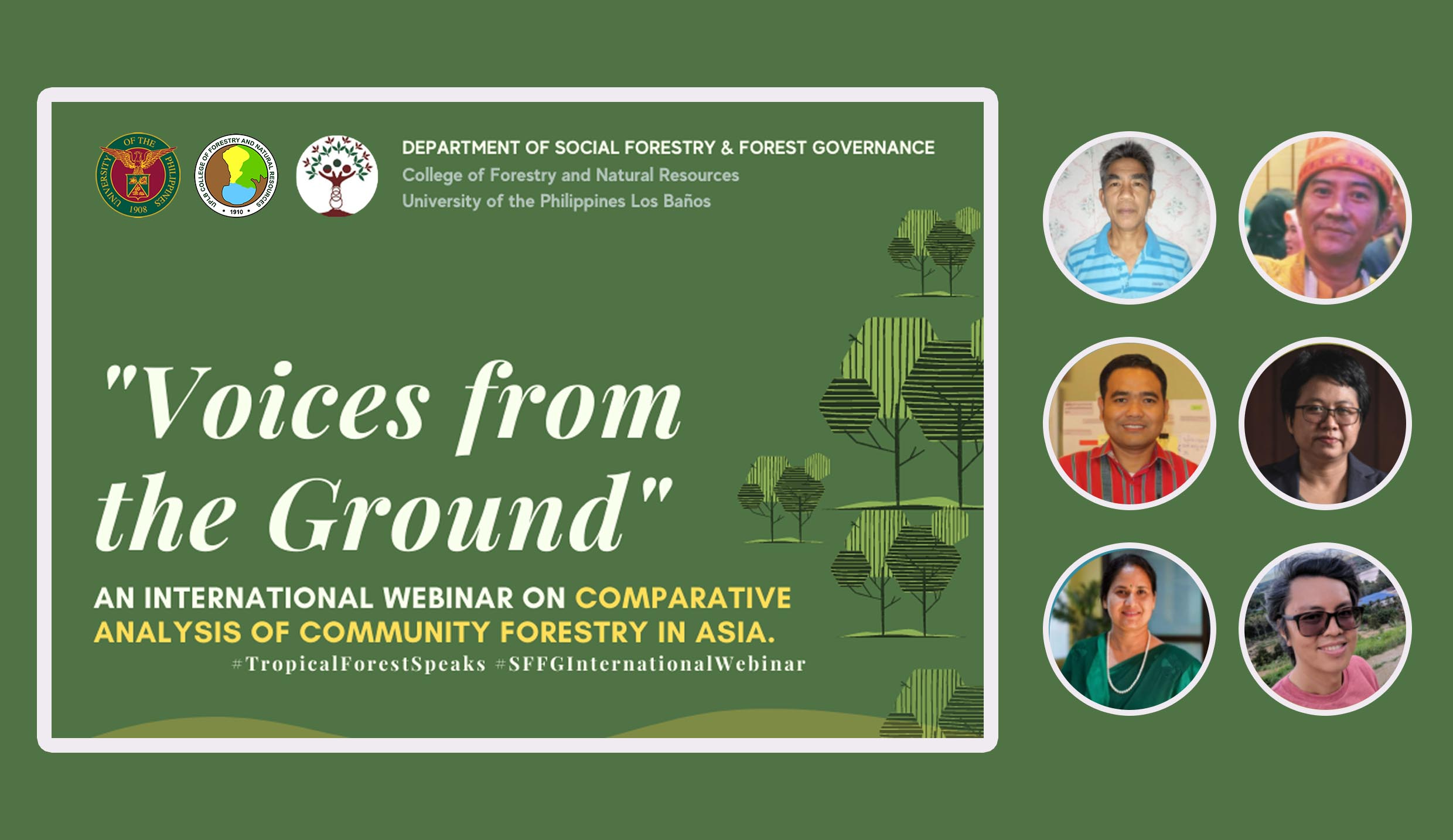 Forestry webinar amplifies voices from the ground
Forest conservation efforts straight from the farmers and forest communities were the focal point of an international webinar spearheaded by the SFFG 201: Comparative Social Forestry class on Dec. 9.
SFFG 201 is a graduate class under the Department Social Forestry and Forest Government of the College of Forestry and Natural Resources (DSFFG-CFNR).
With the theme, "Voices from the Ground," the webinar compared programs and initiatives for forest and community development across Asia through the testimonies and experiences of its stakeholder communities.
In her opening remarks, Dr. Analyn L. Codilan, associate dean of CFNR, recognized social forestry as a strategy for sustainable development of forest land and emphasized the importance of community participation and the involvement of local people in decision making for forest development.
In the webinar briefing, Dr. Juan M. Pulhin, faculty-in-charge and a professor at the DSFFG, said that the webinar aims to initiate dialogue among students, academics, governments and development organizations to promote the exchange of information about social forestry and community forestry. It also aims to explore the best practices of social forestry education to future-proof it against challenges similar or related to the COVID-19 pandemic.
The webinar featured panelists from the Philippines, Indonesia, Cambodia, Thailand, Nepal, and Malaysia who answered questions about their local efforts to protect their forests.
Valentin R. Descalzo, president of the Federation of Vista Hills, Kalongkong and Khakilingan Upland Farmers Inc., spoke about their experience in managing a 3000-hectare forest area through a Community-Based Forest Management Agreement with the Department of Environment and Natural Resources.
Adie Darmawan, chairperson of the Arsel Community Forestry in Indonesia, spoke about their struggle of protecting their remaining primary forest after part of it was forcefully converted into a palm oil plantation. They are now officially recognized by the government as the stewards of the remaining forests of Air Selumar and are managing it through sustainable tourism.
Sokunthea Nun, president of the Cambodia Indigenous Youth Association, spoke based on their country's community forestry strategies which puts great emphasis on people's participation and democratic processes. As part of promoting sustainable forest management, their organization aims to support and capacitate the indigenous youth to help them address their communities' needs.
Warangkana Rattanarat, program director of RECOFTC – The Center for People and Forests in Thailand, shared her insights based on their experiences in empowering local people for improved forest governance and sustainable forest management.
Bharati Pathak, chairperson of the Federation of Community Forestry Users, Nepal, shared about their experience as active participants in Nepal's policy-making for forest and environment management and in strengthening local participation in policy-making and protecting forests user's rights.
Gordon John Thomas, coordinator of the Natural Resource Management System of PACOS Trust Malaysia, spoke about their experiences in engaging and empowering indigenous communities in Sabah. Part of their approach is recognizing the value and effectiveness of traditional knowledge and indigenous groups' good practices and promoting these as a means of protecting and sustainably using natural resources.
The SFFG 201 class also presented about the social forestry contexts of the participating countries.
In his message, Chancellor Jose V. Camacho, Jr. recognized the important role of forest-dependent communities in the protection and sustainable use of forests and lauded the class's efforts in leading and organizing an international webinar based on this topic.
A recording of the webinar may be accessed online. (Jessa Jael S. Arana)