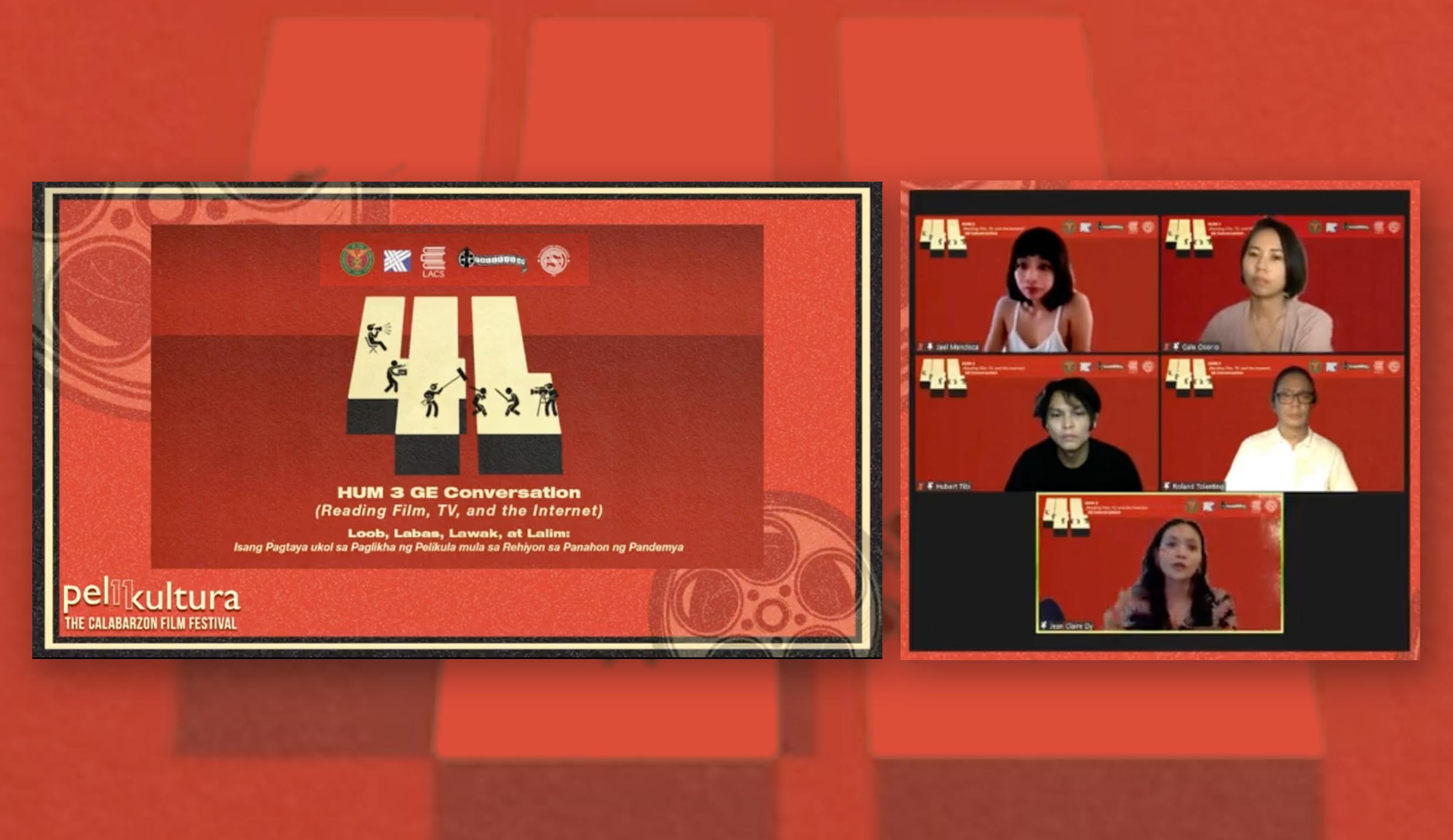 GE Conversation discusses regional filmmaking during pandemic
The Literary and Cultural Studies (LACS) Division of the Department of Humanities, in partnership with UPLB pelikuLAB and UPLB Com Arts Society, presented a HUM 3 GE Conversation that tackled regional filmmaking during the time of pandemic.
With the title "Loob, Labas, Lawak, at Lalim: Isang Pagtaya ukol sa Paglikha ng Pelikula mula sa Rehiyon sa Panahon ng Pandemya" (Inside, Outside, Extent, and Depth: A Review of
Filmmaking from the Region during the Pandemic), the GE Con is part of the lecture series of Pelikultura: The Calabarzon Film Festival 2021. Filmmakers were featured to discuss their experiences in filmmaking before and during the pandemic.
Hubert Tibi, a producer, editor, cinematographer, writer, and director, led the discussion by sharing behind-the-scenes and movie clips from his works. He talked about the process of creating his short film "Pabasa kan pasyon" which won the Best Screenplay in Cinemalaya Independent Film Festival 2020.
He also shared his experiences in producing an independent film during the pandemic. He reiterated that a filmmaker must be resourceful and brave for the sake of the quality of the film.
Gale Osorio, a film producer, talked about the struggles she and her team faced while producing a film amid the challenges of the pandemic. These challenges include costly health protocols, switching from live action to animation, delayed production, and even rehearsals during quarantine.
Jean Claire Dy, a filmmaker, writer, media artist, and educator, shared her personal background to the participants, highlighting the power of storytelling. She emphasized the role of filmmakers in preventing historical revisionism and encouraged them to show different narratives that reflect a community, despite the mainstream media's representation of them.
Dr. Ronald Tolentino, a faculty member at the University of the Philippines Film Institute, tackled regional filmmaking in the context of the pandemic. He started with the effects of the lockdown to the film industry, its effects on over 300,000 industry workers, and online platforms as a source of film revenue.
He also discussed the emerging contents of online films that consist of class and gender issues in the country. He said that regional cinemas are more minoritized than ever during the pandemic.
A synthesis by Dr. Dexter Cayanes, a faculty member at the Department of Humanities (DHum), ended the GE Con. He highlighted the passion and courage of the filmmakers, especially the four speakers, which he said led to the production of more quality films even during the time of pandemic.
Watch Pelikultura at the FB page of the UPLB Department of Humanities. (Kyle Ramiel Dalangin)