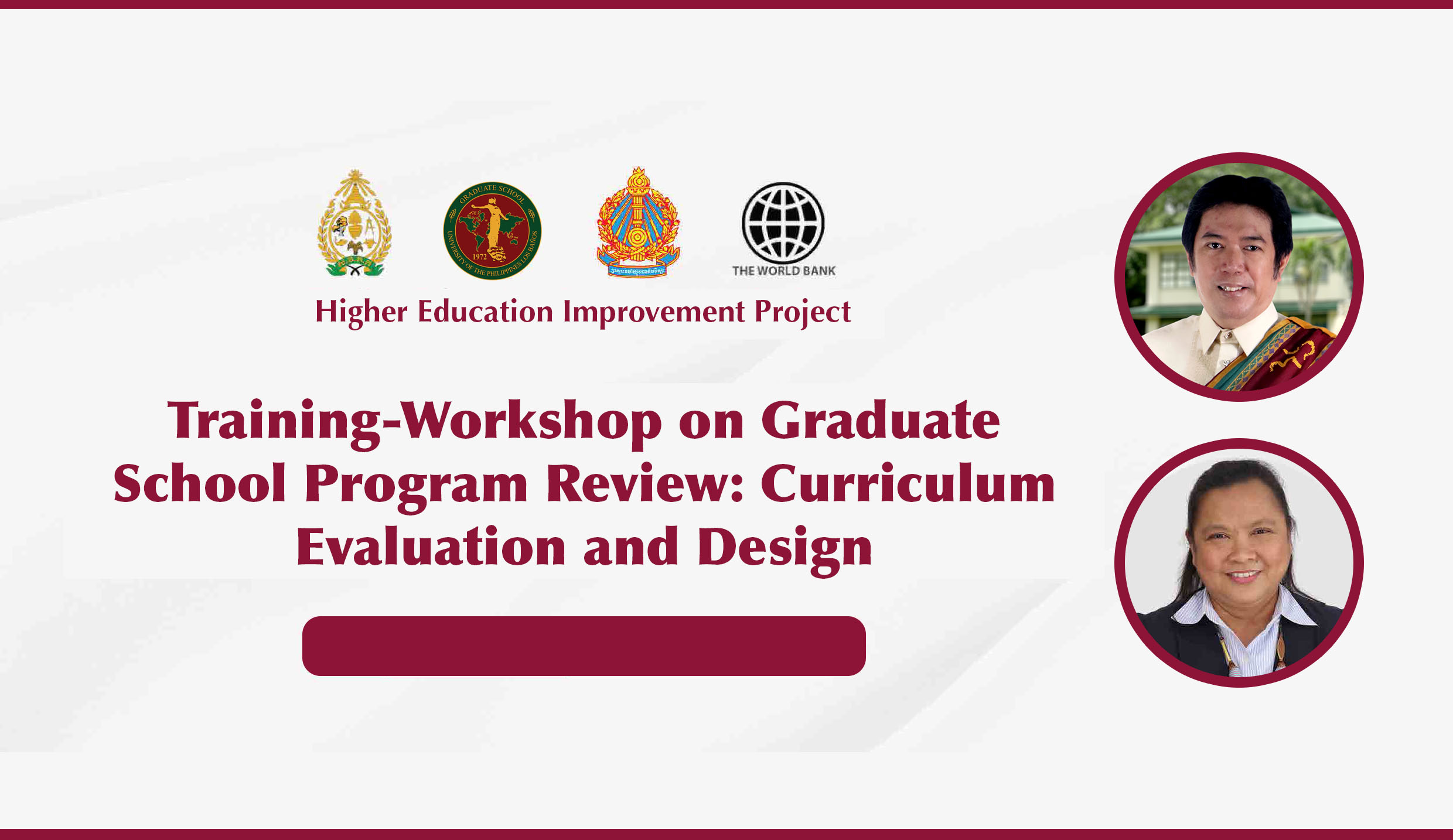 GS facilitates graduate program review
The UPLB Graduate School (GS), in partnership with the Royal University of Agriculture (RUA) of the Kingdom of Cambodia, held the "Training-Workshop on Graduate School Program Review: Curriculum Evaluation and Design" on May 30-31 via video conference.
This workshop is the third GS-led activity for the Higher Education Improvement Project (HEIP), which the World Bank funds.
In his opening remarks, Chancellor Jose V. Camacho, Jr. highlighted the importance of developing academic programs in accordance with the changing demands of the present and the future.
He shared about UPLB's initiatives in creating responsive graduate programs, including the launch of three new professional graduate programs: Master in Food Engineering, Master in Animal Nutrition, and Master in Clinical Nutrition. He also cited the creation of the UP Professional School for Agriculture and Environment (PSAE) in 2016 as a response to the growing demands of the agribusiness industry sector.
For his part, Dr. Huon Thavrak, vice rector for Administration and Public Relations of RUA, said that the workshop aims to enhance the quality of graduate programs at RUA and strengthen graduate education among ASEAN.
Dr. Nguon Samnang, dean of RUA Graduate School, meanwhile emphasized the importance of the workshop for their institution as it will help improve the quality and relevance of education and research in RUA.
Dr. Jomar F. Rabajante, dean of GS, recognized RUA's progress in improving its graduate programs and curriculum and expressed gratitude on behalf of UPLB for the opportunity to help the university.
The training-workshop included a benchmarking activity where both graduate schools presented their existing curriculum designing and approval processes. After the presentations, they discussed the rationale behind the designs, raised clarifications, and identified differences between their processes.
Dr. Greg T. Pawilen, director of the UPLB Office for Institutional Development in Higher Education, served as the resource speaker for the topics on the basics of curriculum design and proposal.
This was followed by drafting a curricular proposal where the participants identified the strengths and weaknesses of the existing curricular proposal processes and determined new curricula or programs.
Dr. Maria Cristeta N. Cuaresma, senior program head for Education and Collective Learning at the Southeast Asian Regional Center for Graduate Study and Research in Agriculture, served as the resource speaker for the second day. During her discussion, she shared about designing curriculums in agriculture and food sciences.
The first and second sessions of HEIP were held on Nov. 12, 24 & 26, 2021 and on Feb. 21-24. These tackled institutional outcomes, educational philosophy, program management, and quality assurance in designing graduate program curriculums. (Kyle Ramiel Dalangin)