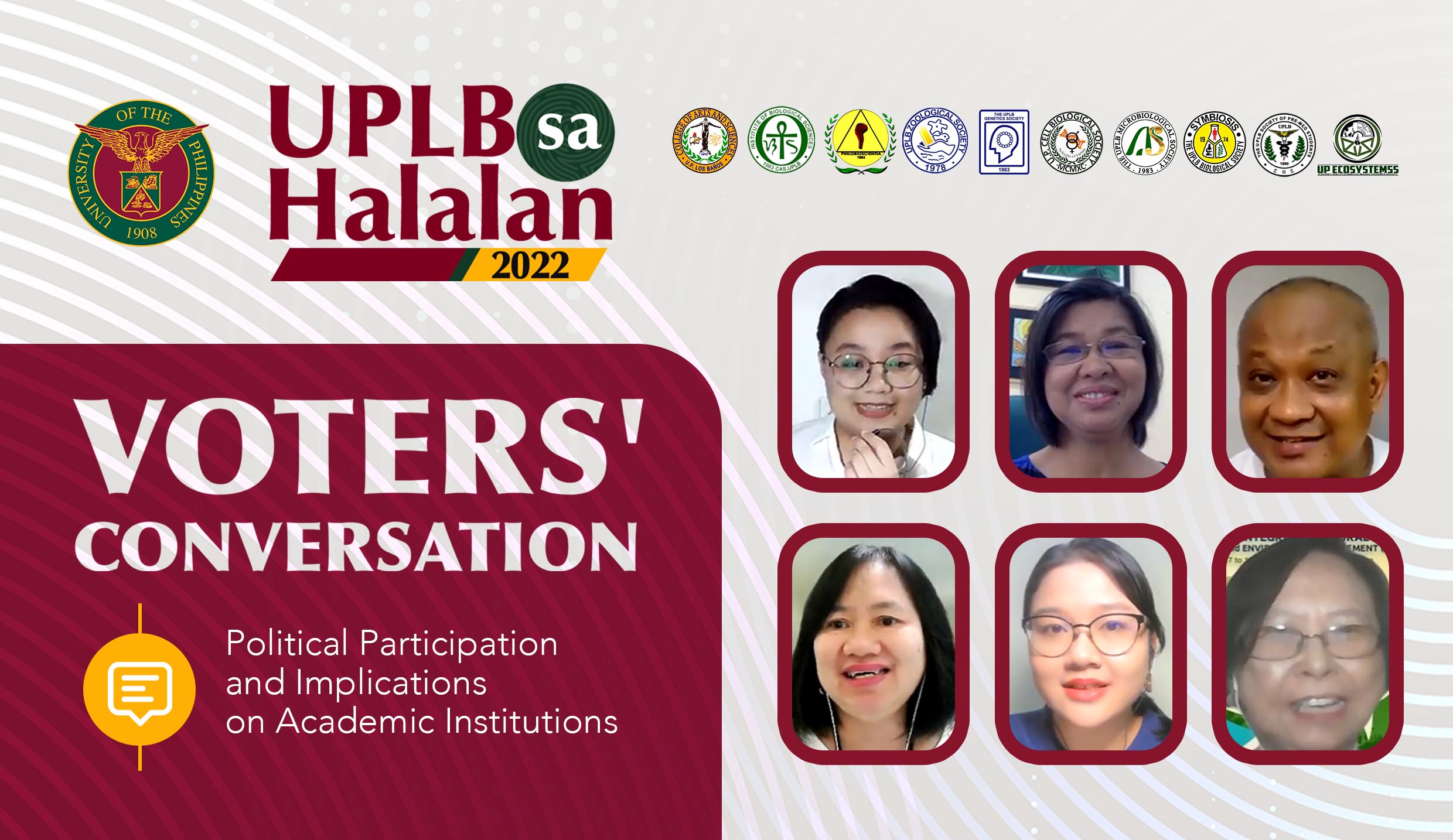 IBS leads discussion on implications of political participation on academic institutions
The Institute of Biological Sciences (IBS) of the College of Arts and Sciences (CAS) conducted the "Voters' Conversation on Political Participation and Implications on Academic Institutions" webinar as part of the UPLB sa Halalan 2022 series on Nov. 29 via video conference.
On behalf of the students, the representative of the IBS-CAS Student Council, Lyanne Iris Erlano, welcomed the attendees, speakers, and the guests to the webinar.
She encouraged the viewers to learn how to properly exercise their right to vote, saying that it is not only a responsibility, but also a privilege.
Dr. Vachel Gay V. Paller, director of IBS, enjoined voters to act based on facts instead of opinions. She also reiterated that voting means that the citizens are deciding the future.
In her opening remarks, CAS Dean Maribel Dionisio-Sese talked about the history of women's right to vote and to be voted as an electoral candidate. During the elections of 2022 in the country, it will be 85 years since women won for women's suffrage.
Lara Gianina S. Reyes, a faculty member at the Department of Social Sciences of CAS, presented a framework on how voters should think and take part in the incoming elections. She also tackled the different issues and challenges in Philippine elections.
Dr. Rommel "Pipoy" F. Linatoc, a faculty member at UP Manila, discussed the elections and its implications to the academic sector.
He highlighted the importance of academic freedom and the holistic learning which is also necessary in choosing the leaders of the Philippines.
Dr. Virginia C. Cuevas, Professor Emeritus, expressed agreement with both speakers and emphasized the harm caused by the patronage system that is still happening in the country.
She also discussed issues that the national government should take action on such as the economy, education, environment, and science, technology and innovation.
The UPLB sa Halalan 2022 series can be accessed on the UPLB Information Technology Center Facebook Page. (Kyle Ramiel Dalangin)