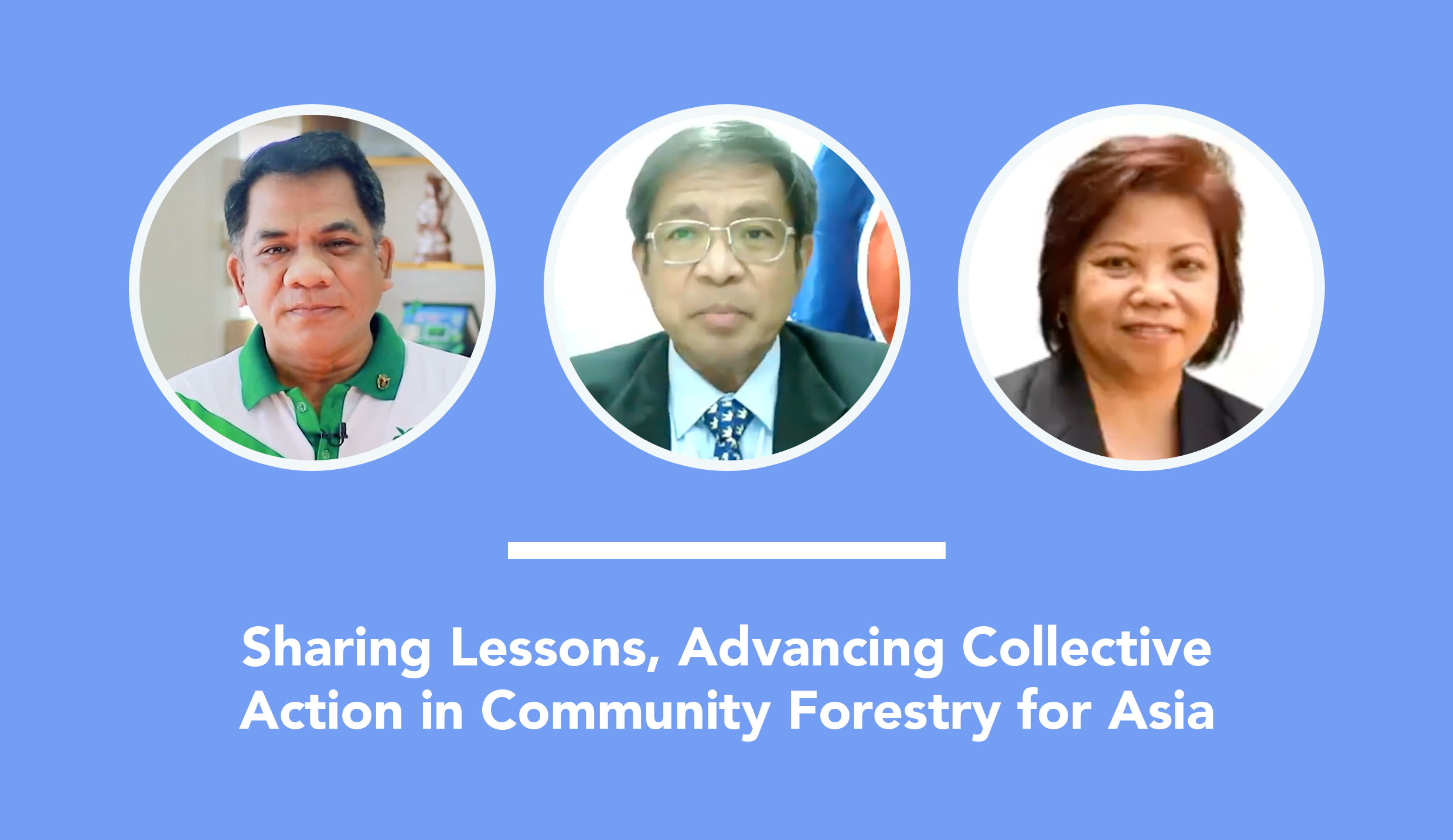 INREM inaugurates knowledge-sharing forum on sustainable forest management
Researchers and project implementers of social and community forestry (S/CF) can now get as much information as they need on S/CF as a development approach.
This is after the UPLB Interdisciplinary Studies Center on Integrated Natural Resources and Environment Management (INREM) inaugurated ShareCom for Asia, an online platform for sharing experiences and strategies on effective implementation of social and community forestry (S/CF) in a series of activities held on Sept. 15.
ShareCom for Asia or "Sharing Lessons, Advancing Collective Action in Community Forestry for Asia" aims to push forward tangible results and initiatives of S/CF projects as agendas for upland development by government and non-government organizations.
INREM intends for the online forum to be a permanent platform to provide limitless opportunities for collaboration among different institutions and actors that could lead to possible partnerships centered on improving the welfare of upland communities.
The inaugural forum kicked off with Part 1, entitled "Sharing and Learning," in which implementers of S/CF programs in various parts of the ASEAN Region shared their experiences, lessons learned, and best practices to the online audience.
The event formally opened with UPLB Chancellor Jose V. Camacho Jr., giving his opening remarks expressing his hopes that the forum, through its panel of experts and stakeholders, will attain the goal of using the fruits of the conversation as a foundation for collective action.
"We must future-proof our forests and their resources from exploitation and degradation, and one of the best ways to do so is to mobilize and empower the closest stakeholders who have the most to lose – our upland communities who are economically and socially dependent on these forest resources," Chancellor Camacho said.
Forester Marcial C. Amaro, Jr. assistant secretary for field operations of the Department of Environment and Natural Resources, gave the opening remarks on behalf of Environment Secretary Roy A. Cimatu.
For. Amaro highlighted the existence of five of the megadiverse countries in our planet being in Asia, namely: Malaysia, Indonesia, Papua New Guinea, China, and the Philippines; and of this megabiodiversity consisting mostly of forests as their habitats and a provider of ecological services for millions of people who live in the region. He emphasized the paramount importance of CF given the destruction that these forests have been facing.
Dr. Doris Capistrano, senior fellow at the Southeast Asian Regional Center for Graduate Study and Research in Agriculture (SEARCA), who gave the inaugural keynote message, discussed the status and prospects of CF in ASEAN and beyond. She commended the establishment of ShareCom for Asia, saying that S/CF can be an important element of an inclusive, integrated, local-level sustainable development model in which 'no one is left behind.'
The need, according to her, becomes tremendous as the region reopens from post COVID-19 lock-down and the need and opportunity to help ASEAN and the ASEAN Member State build back better on the path of inclusive green growth.
Dr. Capistrano's keynote message was followed by the sharing of S/CF experiences in different countries in the ASEAN Region and in Nepal.
The resource persons who shared their experiences were Dr. Juan M. Pulhin, project leader of the study on Retrospects and Prospects of CBFM in the Philippines; Bharati Pathak, chairperson of the Federation of Community Forestry Users Nepal, Dr. David Ganz, executive director of RECOFTC, a non-profit organization that has inked more than 30 years of work with people and forests; Dr. Delia Catacutan, principal scientist and acting country representative for the Philippines of the Center for International Forestry Research-World Agroforestry; Dr. Takeshi Ueda and Thierry Liabastre of the Environment, Natural Resources and Agricultural Division for Southeast Asia of the Asian Development Bank; and Mohammad Sidiq, strategic area manager for SFM and coordinator for Papua and West Papua Provinces of Indonesia.
Part 2, entitled "Advancing Collective Action in Community Forestry for Asia" featured the turnover from UPLB of the Community Forestry-Based Method Atlas, an output of the project led by Dr. Pulhin on CBFM to the DENR-Forest Management Bureau. UPLB was represented by Chancellor Camacho and DENR, by Asst Sec. Amaro.
Part 2 will be a regular feature of ShareCom where seed projects will be given or turned over to upland communities or governments that can be monitored over time to see whether these are able to achieve their target.
ShareCom through Dr. Rose Jane Peras also launched the SHARECOM FOR ASIA website with URL at sharecom.uplb.edu.ph.
Synthesis and the closing remarks of the event was given by Dr. Pedcris M.Orencio, program head of Research and Thought Leadership of SEARCA. Dr. Orencio said that the forum provided lessons from the S/CF that are critical factors for success.
The event, he said, will not only further guide collective action, development efforts, and sustainable policies but will also shape leadership roled ore enhance institutions and government programs for S/CF.
At the inaugural forum held virtually were 250 participants via Zoom and livestreamed via the Facebook page of the College of Forestry and Natural Resources (CFNR). The video has now earned 1,900 views and may still be viewed at the said Facebook page.