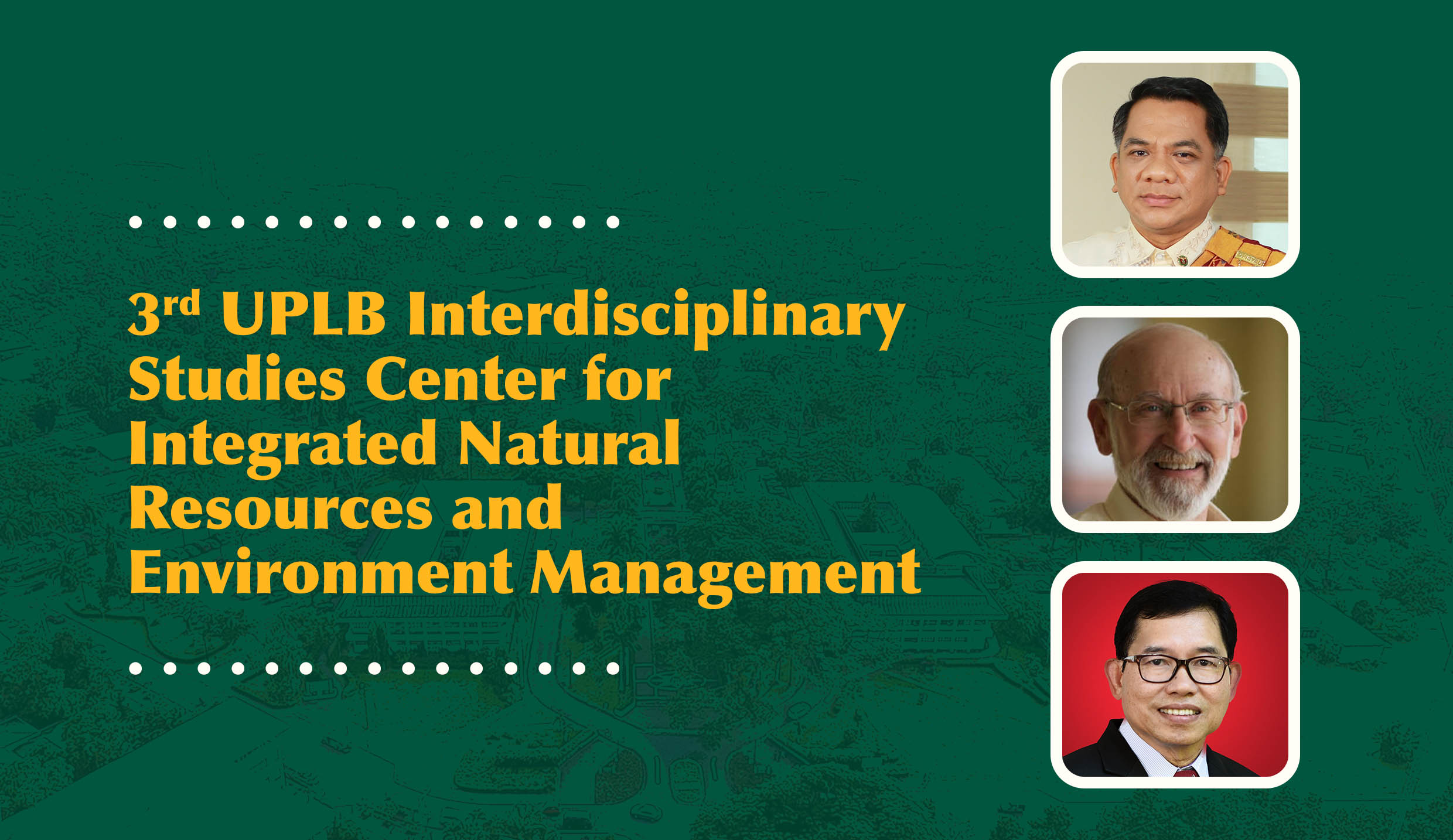 INREM int'l forum tackles ecosystems restoration, resilience-bldg, sustainable devt
The UPLB Interdisciplinary Studies Center for Integrated Natural Resources and Environment Management (UPLB-INREM) provided stakeholder-participants an opportunity to share knowledge, experiences, and ideas on ecosystems restoration, resilience-building and sustainable development of natural resources in the Asia-Pacific region.
This happened at the 3rd International Conference on Integrated Natural Resources and Environment Management or INREM 2021 that was held virtually on Nov. 17-19.
The participants, numbering an average of 400 daily, included leading international and local experts, researchers, academics, students, local government representatives, practitioners and other stakeholders in the field of INREM.
The conference also provided opportunities for the participants to become part of the network of communities practicing INREM in the Asia-Pacific region.
It was organized into plenary and parallel sessions, presenting of the Molawin Award to local government units (LGUs) that excelled in the practice of INREM, giving of awards to paper and poster presentations, and the three-minute thesis (3MT) pitch and undergraduate INREM research.
With the theme "Advancing Ecosystems Restoration, Resilience and Sustainable Development through INREM," the forum tackled sub-themes on lake and river basins, landscapes and seascapes, small islands, and rural-urban areas and their interrelationships.
The papers and discussions tackled policy and governance, biophysical assessment, waste management, common pool resources, socio-economic analysis, pollution and environmental degradation, human settlements, and indigenous knowledge system on natural resource management.
Ecosystems Restoration, Resilience-Building and Sustainable Development
On the first day, Dr. Dennis Garrity, chair of the Board of the Global EverGreening Alliance, delivered the keynote speech, "Code Red and Code Green: Reflections on the Future of Landscape Restoration."
Other speakers on the first day were Dr. Rex Victor Cruz of CFNR who talked about the "River-Basin Approach to Integrated Ecosystems Restoration for Resilience and Sustainable Development: Issues and Concerns;" Angelique Songco, site manager of the Tubbataha Reefs Natural Park and World Heritage site, who shared the story on "Sustainable Seas: The Tubbataha Experience;" and Professor Bart Reinholdt Johnson of the University of Oregon, who discussed, "A City-Landscape Approach to Regional Sustainability and Climate Resilience."
Dr. Cora van Oosten, project manager of the Wageningen University Research, spoke about "Landscape Governance – from Analysing Challenges to Capacitating Stakeholders."
Professor Andrew Gosler of the University of Oxford shared knowledge on "Ethno-ornithology: Towards a Global Voice for Biocultural Diversity."
The talk on "Building Sustainable and Resilient Future of Small Islands under Climate and Ecosystem Changes" of Dr. Osamu Saito, principal policy researcher of the Institute for Global Environmental Strategies (IGES), capped the plenary sessions on the first day of the conference.
Present on the first day and at the opening ceremony were Chancellor Jose V. Camacho Jr.; Dr. Juan Pulhin, INREM chair and Academician, and Dean Marlo Mendoza of the College of Forestry and Natural Resources (CFNR).
More presentations on INREM
Knowledge sharing continued on the second day with presentation of papers on more INREM topics, namely: "Contaminants of Emerging Concerns in the Environment: Occurrence, Effects and Treatment," by Professor Diana Aga of the University at Buffalo, New York, USA; "Nested Environmental Models for Integrated Lake Basin Management: An Example from Tonle Sap Lake, Cambodia," by Dr. Chihiro Yoshimura, associate professor at the Tokyo Institute of Technology, Japan; and "The Aquatic Macrophyte Biosorption System (AMBS) for River Restoration and Rehabilitation," by Professor Macrina Zafaralla of the College of Arts and Sciences of UPLB.
The plenary talk on the third day featured Dr. Laura David's "Marine Protected Areas are Investments, Too" and Dr. Wilfredo Licuanan's "Insights into the Organization of Reef Seascapes in the Philippines. Dr. David is a professor at UP Diliman, while Dr. Licuanan is a professor at the De La Salle University.
INREM-oriented organizations also presented papers. These include the Forest Foundation Philippines, Philippine Council for Agriculture, Aquatic and Natural Resources Research and Development, Asia Pacific Network for Global Change Research, Center for International Forestry Research-World Agroforestry Centre, and the UP Resilience Institute.
There were also paper presentations from three research teams: two on INREM-UPLB projects entitled, "Community-Based Forest Management" and "Integration of Traditional and Modern Bioproduction Systems for a Sustainable and Resilient Future Under Climate and Ecosystems Changes," and one from the 7-LAMPS Program of CAS-UPLB in collaboration with Oceana-Philippines.
LGU INREM champions
One of the conference highlights was the giving of the Molawin Award to LGUs that are implementing interdisciplinary programs that uplift the health, wealth, and well-being of their constituents and the environment.
The Molawin Award symbolizes the resilience and sustainability of these LGU INREM champions as exemplified by their implementation of INREM approaches.
The awardees were General Nakar in Quezon province; Masbate City in Masbate; Leganes in Iloilo; and the province of Agusan del Sur.
Dr. Nathaniel C. Bantayan, vice chancellor for research and extension, delivered the closing remarks.
The conference was conducted with the financial support of the Forest Foundation Philippines, PCAARRD, Oceana-Philippines Tan Yan Kee Foundation, Inc. and UPLB.
As a modality for environment and natural resources management and development, INREM espouses integrative, holistic, systemic, and participatory and transdisciplinary approaches and tools in promoting the twin goals of sustainable economic development and environmental stability.
INREM-UPLB was established to enhance UPLB's status as an internationally recognized leader in the discipline of INREM. (Adelaine Arganda and Catherine C. de Luna)
Aligned with our commitment to: