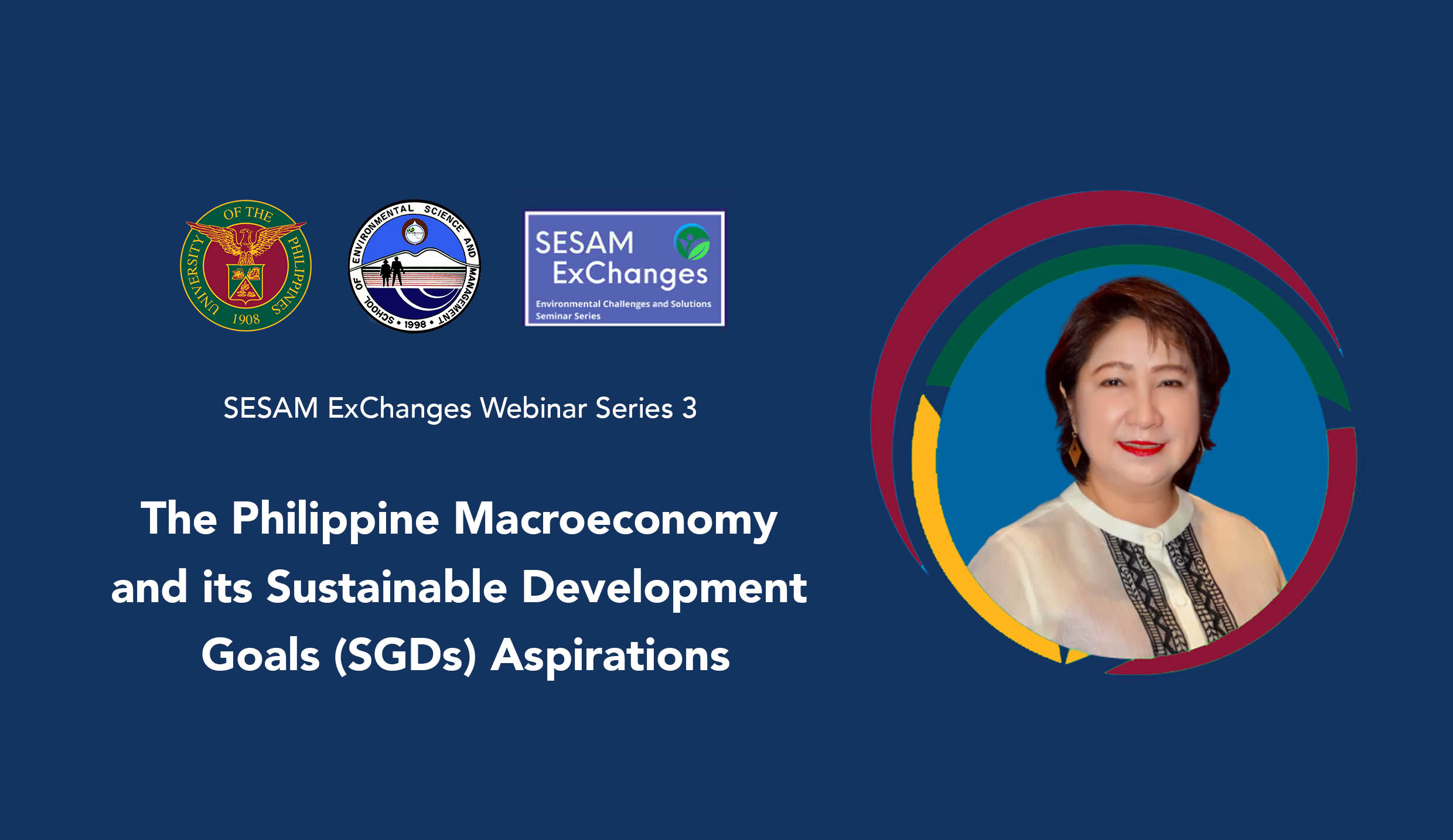 NEDA Usec highlights environment and health in economic recovery
Economy is intertwined with health and the environment. This was just one of the few points laid out by Dr. Rosemarie Edillon, undersecretary for policy and planning of the National Economic Development Authority (NEDA), during a webinar on Feb. 8.
The webinar entitled, "Philippine Macroeconomy and its Sustainable Development Goals (SDGs) Aspirations," explored the current macro-economic conditions of the country in relation to the attainment of the SDGs, especially those that concern the environment.
Dr. Edillon said that achieving the SDGs was in-line with the country's own aspirations represented in the AmBisyon Natin 2040. NEDA has also incorporated the SDGs into the strategies in the Philippine Development Plan.
In her report about the status of environment-related SDGs, she said that the NEDA gave special emphasis on SDG 12: Sustainable Consumption and Production.
Quoting from the United Nations Environment Programme, she said that SDG 12 is a holistic approach to minimizing the negative environmental impacts from consumption and production systems while promoting quality of life for all.
She also identified SDG 12 as the most interlinked among all SDGs, wherein accomplishing it would also accomplish all 17 SDGs.
Dr. Edillon said that the SDGs and the Philippine economy faced major setbacks with the onset of the COVID-19 pandemic, resulting in losses across economic sectors. Agriculture also continued to suffer more losses in 2021 due to the African Swine Fever. She said that these have accumulated to about 12% loss in the gross domestic product.
Increasing domestic demand and low domestic production has also led to rising inflation in recent years. "The most robust way to address this inflation is to have economic recovery," said Dr. Edillon, citing the need to increase domestic production.
"Mataas ang ating domestic demand because we have remittances coming from abroad, but if it will not be addressed by domestic production, then we're just looking at inflation going up, which will be very detrimental to the welfare of the very poor, yung mga walang natatanggap na remittances. Di nila kayang tugunan yung matataas na prices," she said.
Dr. Edillon then discussed the NEDA's 10-point policy to accelerate and sustain social and economic recovery.
This includes having more accurate metrics about the health status of communities, increasing vaccination efforts and building up the health system capacity, more consistent implementation of risk-based policies for economy and mobility, education, and domestic and international travel, facilitating the shift to the new normal through digital transformation, and building resilience with a proposed pandemic flexibility bill and having medium-term preparation for pandemic resilience.
In the last part of her discussion, she introduced the National Innovation Agenda, an upcoming initiative about supporting innovation in the country through proper governance. This is supported by the Philippine Innovation Act or RA 11293 which provides directives in financing for innovation, infrastructure, policy, and culture which will create a more dynamic innovation ecosystem.
Dr. Edillon said that this dynamic innovation ecosystem has four goals: pro-active, smart and innovative people, a strong and competitive economy, collaborative and reliable institutions, and an efficient and sustainable environment.
Among these four goals, she said that achieving the first one is the most important because having pro-active and innovative people would ensure that the country will always be able to innovate solutions for any problems in the future.
Preceding her discussion, Chancellor Jose V. Camacho, Jr. highlighted in his opening remarks UPLB's efforts to align with the global goals of the SDGs through its research and extension agenda, Accelerating Growth through One Research and Action (AGORA).
Chancellor Camacho reiterated UPLB's commitment to contribute to the SDGs by crafting relevant research and extension programs founded on the AGORA's four pillars of food security and sovereignty, resilience and sustainability, future cities, and One Health.
This webinar is the third in SESAM's ExChanges Webinar series and can be watched on SESAM's Facebook page. (Jessa Jael S. Arana)