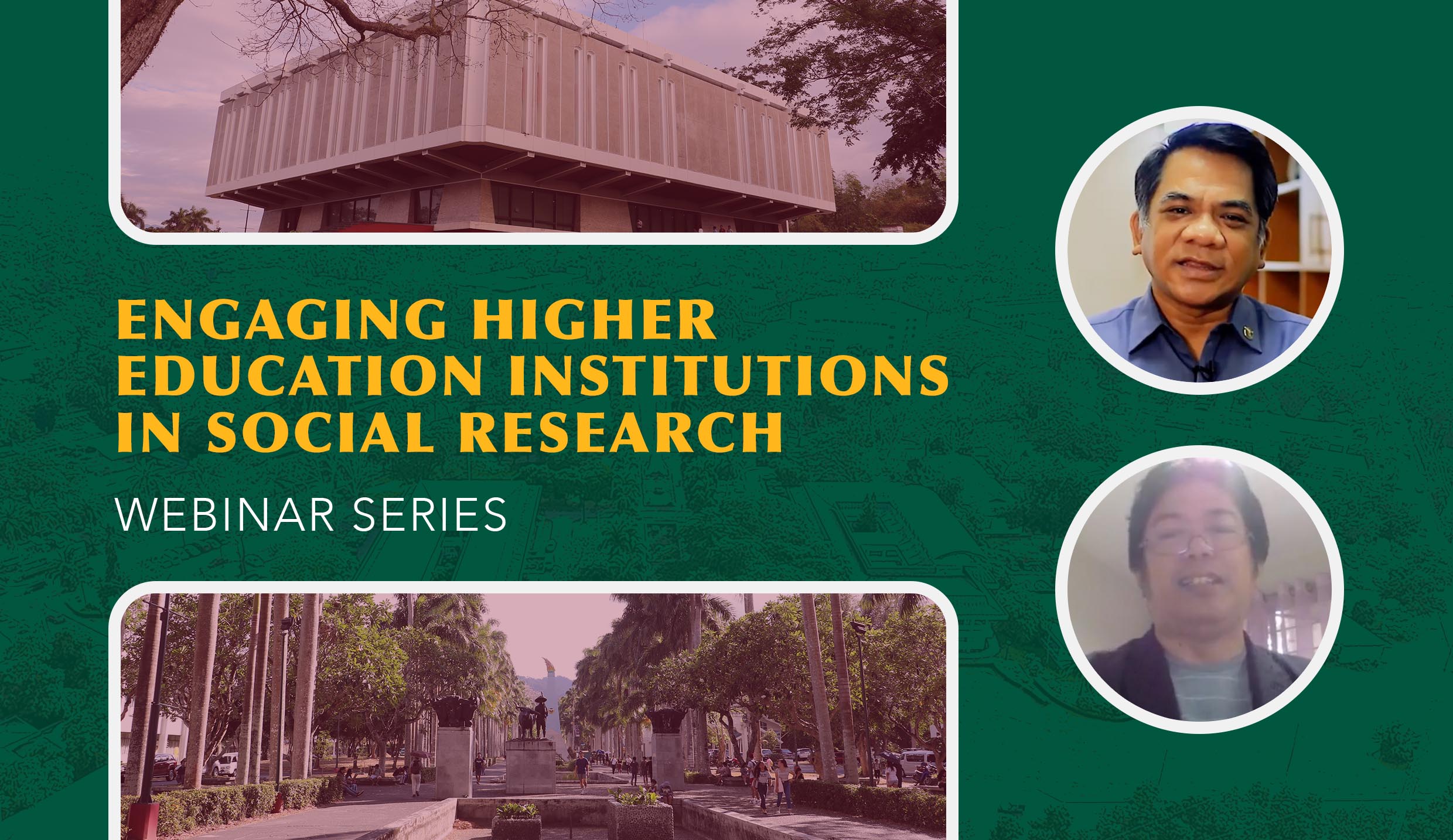 OIDHE conducts webinar series on social research for 27 HEIs
The number of attendees of the webinar series of the UPLB Office of Institutional Development in Higher Education (UPLB OIDHE) on pursuing social science research shows the great need for higher education institutions for more knowledge in conducting social science research.
To encourage colleges and universities to pursue social science research, the UPLB OIDHE launched the webinar series entitled "Engaging Higher Education Institutions in Social Research" for higher education institutions (HEIs) across the country on Aug. 26.
Six hundred eighty participants from 27 HEIs and from the Department of Education attended the webinar, with 280 joining the live session via Zoom and 400 viewing it through Facebook.
Chancellor Jose V. Camacho, Jr., who gave an inspirational message in the launching program, expressed his hopes that the webinar will further enhance the participants' knowledge and skills, and inspire them to engage and be proactive in conducting research collaborations with government agencies and civil society organizations.
Explaining the importance of social research against the backdrop of the global pandemic, Chancellor Camacho said that it is even more important as institutions continue to introduce and advocate public health interventions targeting the people's behavior and attitude for the safety of all.
Dr. Greg Pawilen, OIDHE director, who has been spearheading a number of other learning events for HEIs in the recent past, said in his opening remarks that he believes that it is UPLB's sacred duty to contribute to the creation of new knowledge and to develop solutions to different social problems in the country.
According to him, although UPLB is known as a science university, it also recognizes the important role of the social sciences and the contribution of social scientists in nation building.
"As the country's national university, UPLB wants to share the joy of doing research and collaborate with all HEIs in developing a positive research culture or social science in our country." Dr. Pawilen said.
Sharing their wisdom and expertise as resource speakers in the webinar are faculty members of the College of Arts and Sciences, namely: Rowena P. De Guzman, Nancy M. Landicho, Girlie Nora A. Abrigo, Dr. Augustus T. Añonuevo, Dr. Mark Oliver Llanco who is also the director of the UPLB General Education Program.
Dr. Mark O. Balendres of the College of Agriculture and Food Science and Dr. Rufo Gil Z. Albor and Dr. Teri-Marie P. Laude of the College of Human Ecology are also among the resource speakers.
The opening day of the webinar series was attended by participants representing the Department of Education and the following HEIs: University of the Philippines, Don Mariano Marcos State University, Catanduanes State University, Pangasinan State University Bayambang, Dr. Filemon C. Aguilar Memorial College of Las Piñas, Saint Scholastica's College Manila, Wesleyan University Philippines, Negros Oriental State University, Palawan State University, Camarines Norte State University, San Pedro College of Busines Administration, Bulacan State University, Isabela State University, University of Nueva Caseres, Olivarez College Parañaque, Naga Hope Christian School, Department of Education, Manuel S. Enverga University, Miriam College, Philippine Military Academy, UP Diliman, Mariano Marcos State University, Bohol Island State University, Phinma University of Ilo-ilo, Lorma Colleges San Fernando La Union, University of Southeastern Philippines, Eastern Samar State University, and Urdaneta State University.
The webinar series is staggered across four days on Aug. 26 and 27 and Sept. 2 and 3. The recorded webinar sessions are available for post-event viewing on the UPLB OIDHE Facebook Page. (KEAraguas)