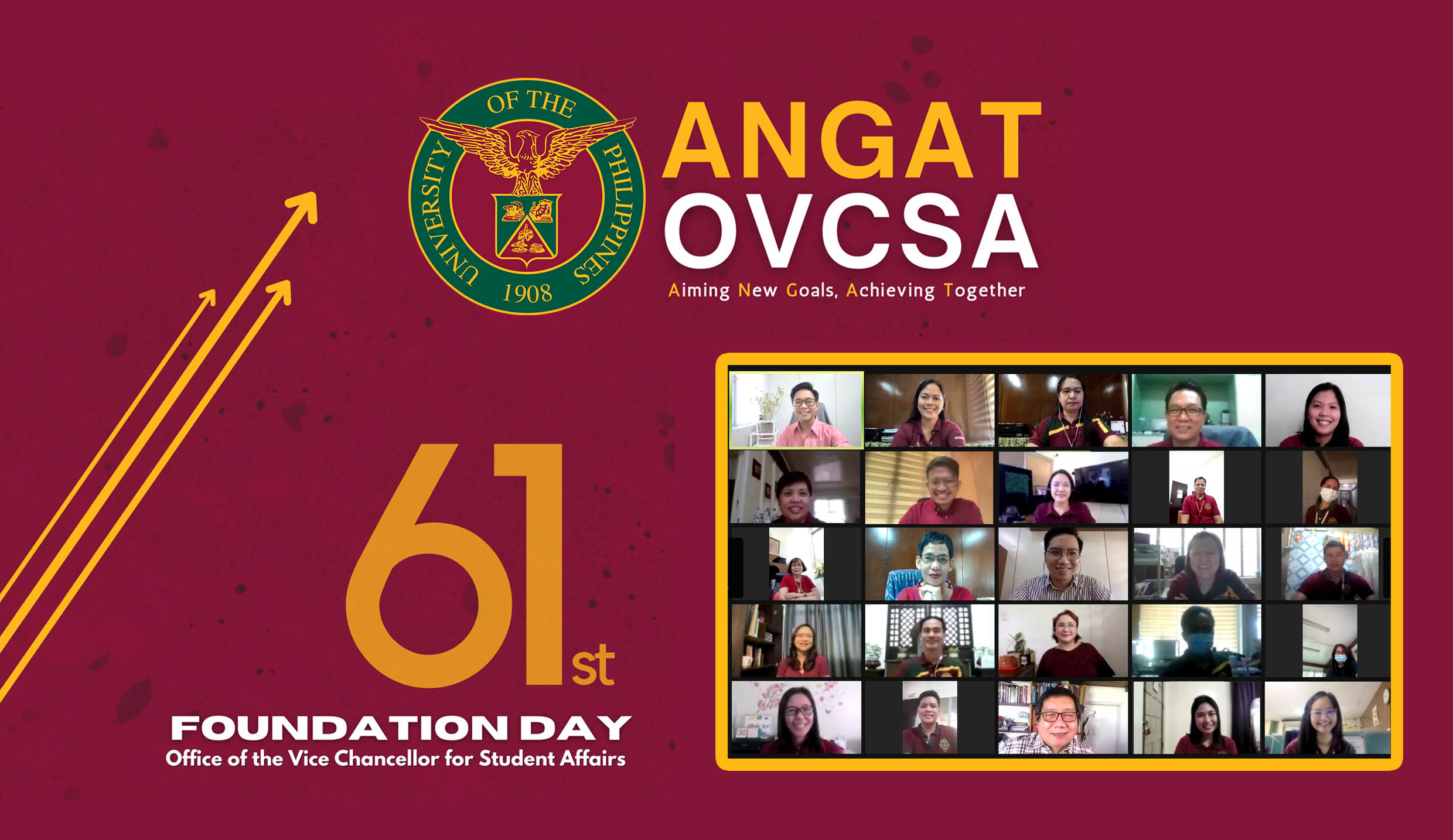 OVCSA marks its 61st Foundation Day
The UPLB Office of the Vice Chancellor for Student Affairs (OVCSA) commemorated its 61st Foundation Day on June 30 via video conference. Themed "ANGAT OVCSA: Aiming New Goals, Achieving Together," the celebration served as a recognition of employees who have dedicated their service to the Office and the University.
Chancellor Jose V. Camacho Jr., in his opening remarks, linked this year's theme to the core values of UPLB that are essential in promoting a future-proof university.
He stressed that the role of OVCSA is crucial in addressing the needs of the students during these trying times, especially when it pertains to financial needs and mental health concerns of the students during these trying times. Chancellor Camacho expressed support to OVCSA's programs and initiatives.
Vice Chancellor for Student Affairs Janette H. Malata-Silva sees the event as both a time for celebration and remembering; and the theme, both a challenge and a promise.
OVCSA officials consider the present situation as an opportune time to serve with integrity and compassion. "Walang iwanan pagdating sa serbisyo para sa mga iskolar ng bayan, para sa unibersidad at para sa bayan," said Vice Chancellor Silva.
Former directors, heads, and project development associates of the units of the then Office of Student Affairs were recognized for their contributions along with the volunteers for OVCSA's COVID-19 initiatives.
Service awards were also given to employees who have been serving for more than five years. Robin Botones, Cory Mariano, and Rafael Talag, all from the Office of Student Housing (OSH), were acknowledged for their 35 years of service, while Jenette Lory Estabillo of the Office of Scholarships and Grants and Bernardo Pasukin of OSH were posthumuously awarded for serving 10 years and 35 years, respectively.
Reggie Solis of the Research, Communication, and Information Technology (RECOMMIT) unit was named 2021 OVCSA Outstanding Individual Contract of Service Awardee.
The online program concluded with a message from Assistant to the Vice Chancellor for Student Affairs and OSG Director Jickerson Lado, who remarked that "no matter how elevated we are, we should always be grounded," an allusion to the importance of OVCSA's recent elevation and the prospect of a collective aiming and achieving of new goals while at the same time remaining conscious and sensitive to the needs of the students the Office serves.
Hosted by Director Mark Lester del Mundo Chico of the UPLB Office of Public Relations and former head of the then Student Organizations and Activities Division, the event was organized by the OVCSA Socials and Selection and Recognition Committees. (Rogelio P. Panuelos, Jr. and Marcelina C. Miranda)