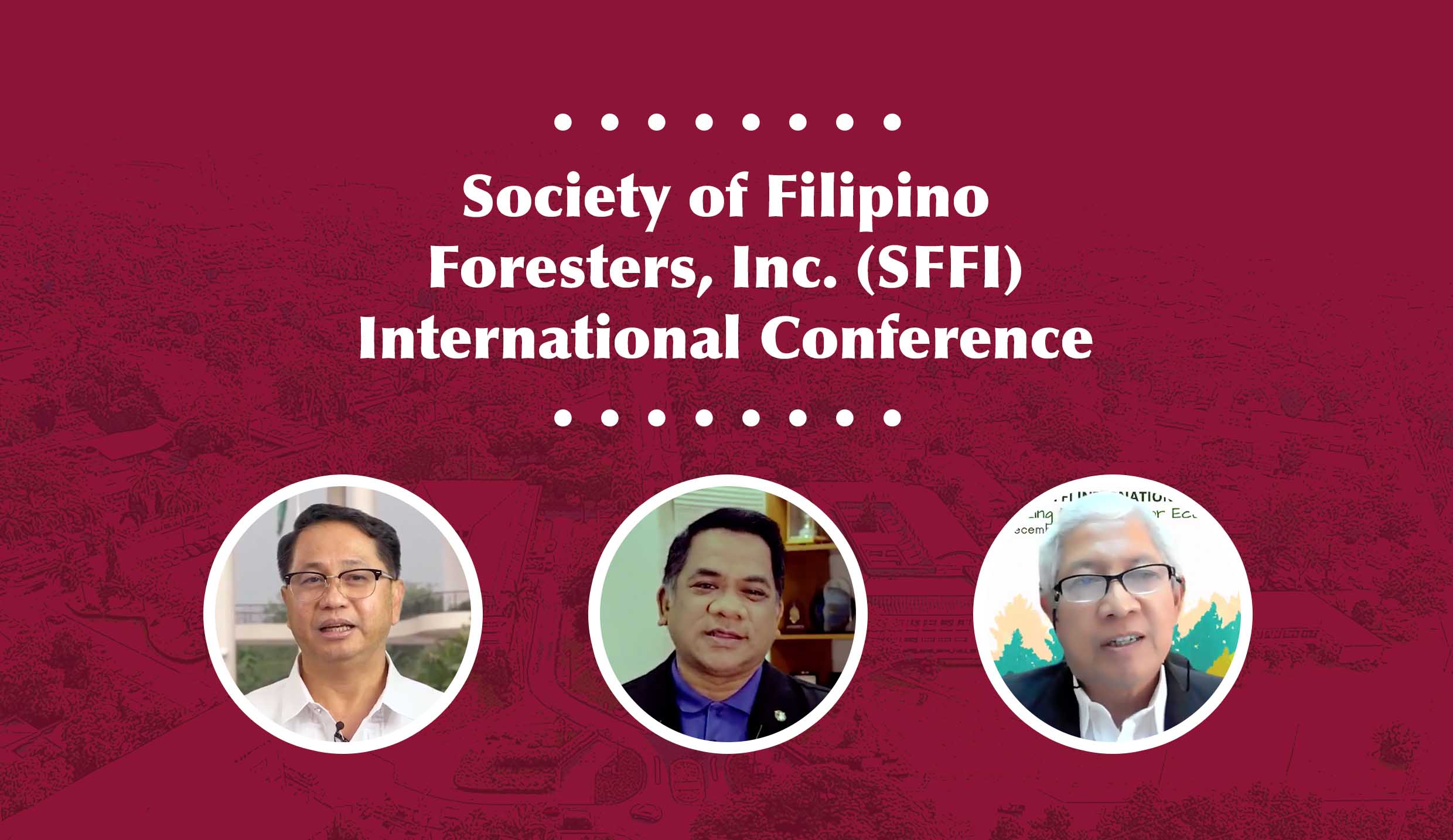 PH foresters weigh in on economic recovery at 1st international conference 
More than 800 members of the Society of Filipino Foresters, Inc. (SFFI) came together for their first international conference held virtually on Dec. 2-3 to discuss topics that revolved around the theme "Optimizing Forestry for Economic Recovery."
The conference featured 18 speakers led by Dean Marlo D. Mendoza of the College of Forestry and National Resources (CFNR) who served as keynote speaker.
Prior to being the dean of the CFNR, Dean Mendoza served as the national coordinator of the National Greening Program, director of the Forest Management Bureau, and undersecretary for policy and planning of the Department of Environment and Natural Resources (DENR). He discussed how to optimize forestry for economic recovery.
Dean Mendoza presented permanent solutions that could be pursued for economic improvement, such as passing the national land use bill and building a sovereign wealth fund from natural resources utilization, among others.
The conference featured three panel discussions and three thematic workshops.
In his message to the SFFI, Chancellor Jose V. Camacho, Jr. discussed UPLB's commitment to the future-proofing initiatives of forests under the new research agenda "UPLB AGORA" or Accelerating Growth through One Research in Action.
According to Chancellor Camacho, forestry and natural resources research is a strong foundation of the research pillar on resilience and sustainability.
He also said that UPLB is passionate about pursuing this research agenda as the forestry sector holds great potential in contributing to the Philippine economic recovery from the pandemic.
"Sustainable forest management is the way through which this can be achieved so that our forest resources are used in the best and most efficient way toward the development of local communities while ensuring there remains enough to sustain future generations," Chancellor Camacho said.
UP President Danilo L. Concepcion also gave a message to SFFI where he said that it is possible to move the economy forward without sacrificing the environment.
President Concepcion expressed confidence that participation in the conference will bring inspiration in helping enhance the forestry sector's contribution to forest resources and that it will result in more collaborative efforts to advance the field and practice of forestry.
The opening day was also attended by representatives of the SFFI national council as well as its executive committee members. Also in attendance were Dr. Dixon T. Gevaña, director of the Training Center for Tropical Resources and Ecosystems Sustainability; Forester Tommy T. Valdez, national council president of SFFI; and Hon. Neria A. Andin, chairperson of the Professional Regulation Commission-Professional Regulatory Board for Foresters.
Hosted by Forester Emmanuel A. Umali, secretary general of SFFI, the two-day event was held in partnership with the UPLB-TREES.
It was held via video conferencing application and streamed on the UPLB TREES Facebook page. (KEAraguas)