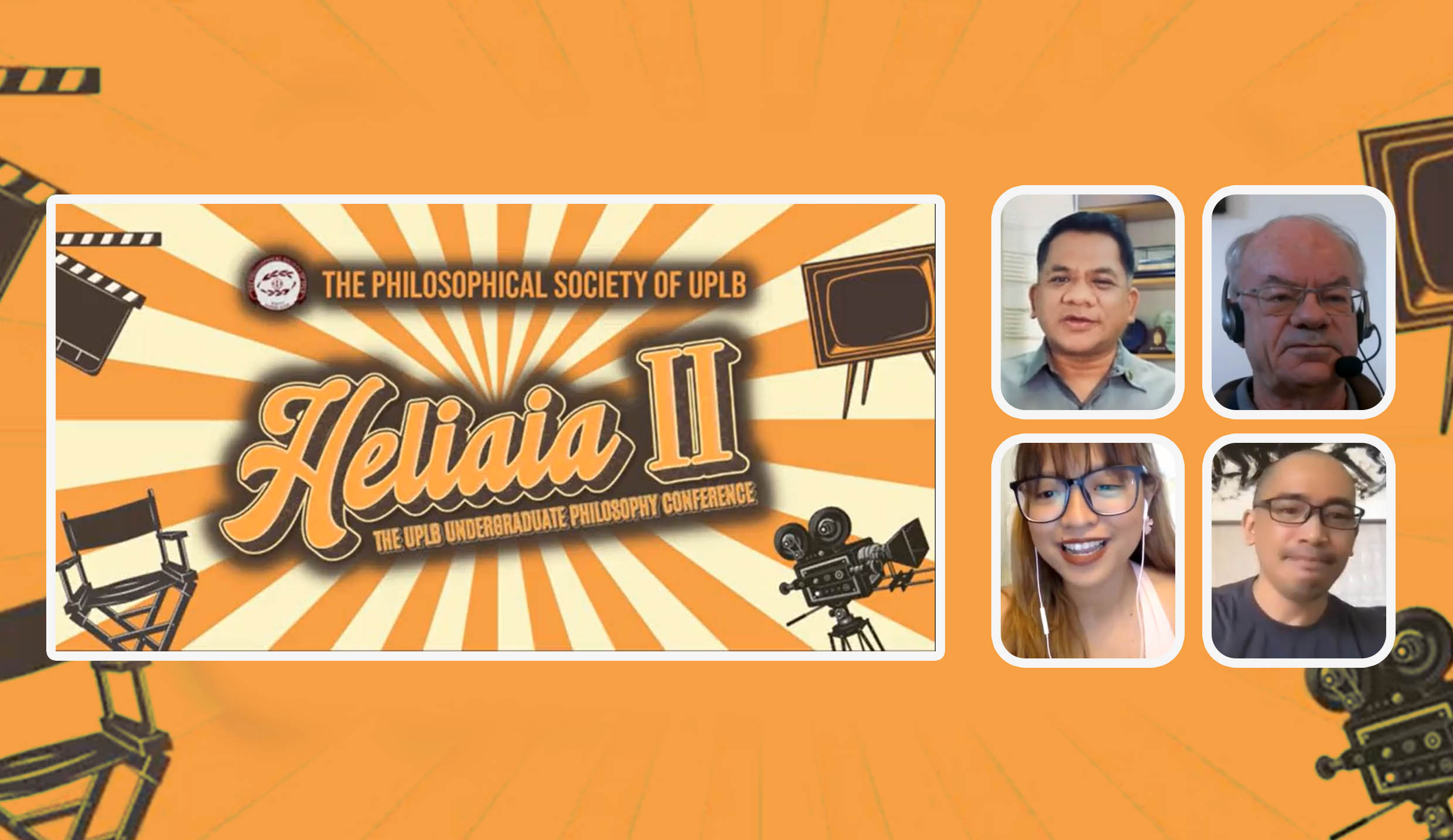 PHILOSOC holds an international philosophy conference
The Philosophical Society of UPLB (PHILOSOC) held HELIAIA II: The UPLB Undergraduate Philosophy Conference in cooperation with the College of Arts and Sciences (CAS), Department of Humanities (DHum), and the Philosophy Division.
The conference, held on May 7 via video conferencing, had the theme "Freedom in Retrospect" for its second installment.
Krissah Marga Taganas, assistant professor at DHum, gave the opening remarks. She pointed out that the theme presented the opportunity to examine different views of freedom and how it affects our social, political, and moral life.
Taganas expressed her hopes that the event would highlight the role of philosophy as a tool in the service of the Filipino people.
In his special remarks, Chancellor Jose V. Camacho, Jr. said that the meaning of freedom differs among individuals and that it is both a condition and an understanding. It allows people to have the opportunity to speak and act without hindrance.
"It is important that the idea and value of freedom must be closely examined, redefined, and defended anew by each generation," he added.
Dr. James Franklin, an Australian philosopher from the University of New South Wales, was the guest speaker. He discussed philosophical questions about freedom, free will, primary threats to liberty, and political freedom. He also talked about the importance of having philosophical skills in solving conflicts in different subjects.
Wilhelm P.J. Strebel, PhD, assistant professor of philosophy at the Ateneo de Manila University (ADMU), discussed "Stoic Freedom in Retrospect and Nietzsche's Philosophy of the Future," where he tackled Nietzsche's notion of the horrific cosmos and how an understanding of freedom is historically conditioned.
Franz Guiseppe F. Cortez, PhD, a professor of philosophy at the University of Santo Tomas (UST), discussed "The Classroom as a Locus of/for Democracy."
He talked about different instances wherein Filipino students rallied for better governance and were shut down by the government, democratic society, and democratic education.
"Education is necessary, even if insufficient, in our unending work of democratizing our world," Cortez said.
A roundtable discussion followed on democratic education, definitions of freedom, and political freedom.
Presentation of abstracts followed, namely on the following: "Alienation of Nature: An Application of Marx's Theory of Alienation to Natural Environment by Joshua P. Baldevieso of Notre Dame of Marbel University; "Only Practicality Can Justify Sex Work: Bridging Issues of Urgency and Agency in Feminism" by Aristotle Cedric A. Baluyot of UPLB; "Pagdadamayan Hanggang Kalayaan: Pasyon, Revolution, and Wojtylan Participation" by Kaira Millen B. Catacutan of UP Diliman; "Pagmemeron at Hindi-Pagbigkas: Tungo sa Pagpapalaya sa Peminismong Retorika" by Jancem Angela Merici Labong of UP Diliman.
Mark Joseph T. Calano, PhD, an associate professor at the Department of Philosophy of ADMU, discussed "Pilosopiya, Kilos-Tao, at Pangingilatis" as one of the plenary speakers.
According to Calano, only humans can seek the truth, and philosophy is an endless search for the truth. "Wag kalimutang manindigan sa totoo, lalo na sa mundong 'yung hindi totoo ay nagpapanggap na totoo," he said as he ended his discussion.
"Do not forget making a stand for the truth, especially in this world where lies pretend to be the truth."
Dr. Remmon E. Barbaza, an associate professor at the Department of Philosophy of ADMU, reflected on freedom by Heidegger and Meister Eckhart. He said that freedom is not a right but a responsibility wherein we have to set things free. He also talked about technology and how it is freedom or enslavement.
The roundtable discussion that followed tackled technology and hindrances to freedom.
Presentations from representatives of various universities ensued: "On the Other Side of the Fence: Philippine Politics and Utilitarianism' by Jaye Vee A. Magpili of UST-Manila; "Democracy and Education: Prospects and Perspectives in Freire's Pedagogy" by Joshua Jose R. Ocon of San Carlos Seminary-Makati; "Strengthening Kastrup's Case from the Psychedelic States Against Physicalism through the Transcendental Thomist Analysis of the Dynamism of Intellect and Will" by Mark Steven A. Pandan of Holy Name University; and "An Understanding of Liberation and Restorative Justice through Hornedo's Idea of Freedom" by Adrian James C. Zamora of UST-Manila.
The event director, Ryan Dave Fabreag, delivered the closing remarks. He thanked the participants and guest speakers and expressed his hopes that the event would become an avenue for more philosophers to shed light during the dark times.
The HELIAIA II: The UPLB Undergraduate Philosophy Conference may be viewed on the FB page of The Philosophical Society of UPLB. (Kyle Ramiel Dalangin)