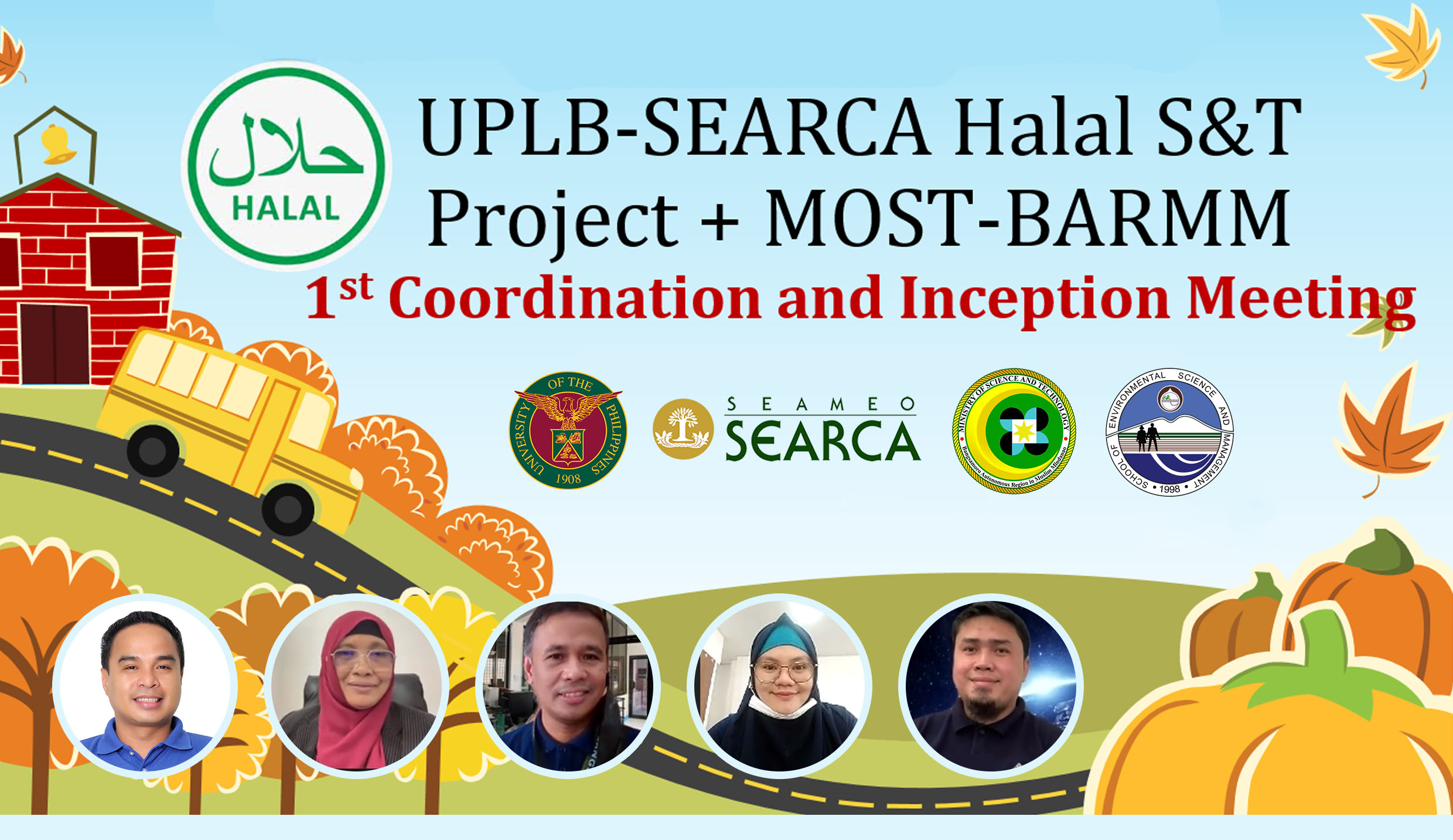 SEARCA, UPLB consult BARRM on Halal S&T Knowledge Center
Halal is a growing and promising global market valued at USD 2.5 trillion in 2020, largely in the food industry.
To help the country and Southeast Asia (SEA) get a big slice of the pie, UPLB and the Southeast Asian Regional Center for Graduate Study and Research in Agriculture (SEARCA) have come together to lead in advancing Halal S&T by establishing the virtual one-stop open-access Halal S&T Knowledge Center for Southeast Asia in the Philippines.
The project entitled, "Conceptualizing Halal Industry and One Health Ecosystem as an Emerging Innovation for Growth and Development: Establishment of the Halal Science and Technology (S&T) Knowledge Center for Southeast Asia in the Philippines (Phase 1)," also consulted recently key personalities of the Bangsamoro Autonomous Region in Muslim Mindanao (BARMM).
Participating in the meeting were the Minister of Science and Technology (MOST) of BARMM, Engr. Aida Silongan; MOST-BARMM OIC Executive Director and chief of the Technical Management Division, Nasrodin Buisan, RCh; Rugaya Abdullah, RCh, head of the Halal Standards and Verification Laboratory; Engr. Moamer Tabara, and some regional Halal technical personnel.
Dr. Yusuf Sucol, project leader and UPLB focal person on Halal, led the planning and facilitated the discussions. Dr. Sucol is a university researcher at the School of Environmental Science and Management (SESAM) and is concurrent co-Chair of the UPLB Climate and Disaster Risks Studies Center (UPLB-CDRSC)
The meeting kicked off with the project's presentation followed by the presentation of Halal-related programs and projects of MOST-BARMM. A short workshop followed to discuss the MOA and Terms of Reference.
The Halal S&T Knowledge Center, to be hosted by UPLB with support from SEARCA, is only one aspect of the plans in pursuit of the project's objective.
Recognizing the interdisciplinary nature of Halal research, the project also incorporated the concept of One Health into its mandate to highlight the interface and interconnectedness of Halal ecosystem and zoonoses in the context of climate and environmental changes.
The project aims to partner with the Philippine Halal Export Development and Promotion Board (PHEDPB), Philippine Halal certification bodies and accreditation authorities, private sector, SEARCA consortium member-universities, national and local Halal research institutions, and state universities and colleges (SUCs) that offer Halal short course programs and conduct Halal research projects in Mindanao.
PHEDPB is composed of the Department of Trade and Industry, Department of Agriculture, Department of Science and Industry, Department of Health, Department of Tourism, Department of Foreign Affairs, National Commission on Muslim Filipinos, Bangko Sentral ng Pilipinas (BSP), and the Mindanao Development Authority.
Halal, as a farm-to-fork process, is defined as "lawful or permissible" under Shariah (Islamic Law). The Halal logo, usually seen on the packaging of some products and on signs of some establishments, is beginning to become a benchmark of quality and safety.
Halal standards and certification cover a wide range of market products including, meat and poultry, food manufacturing, food retailing, restaurant chains, food service industry, tourism industry, health supplements, pharmaceuticals, cosmetics, personal care products, banking and finance, and logistics and shipping. (Yusuf A. Sucol)