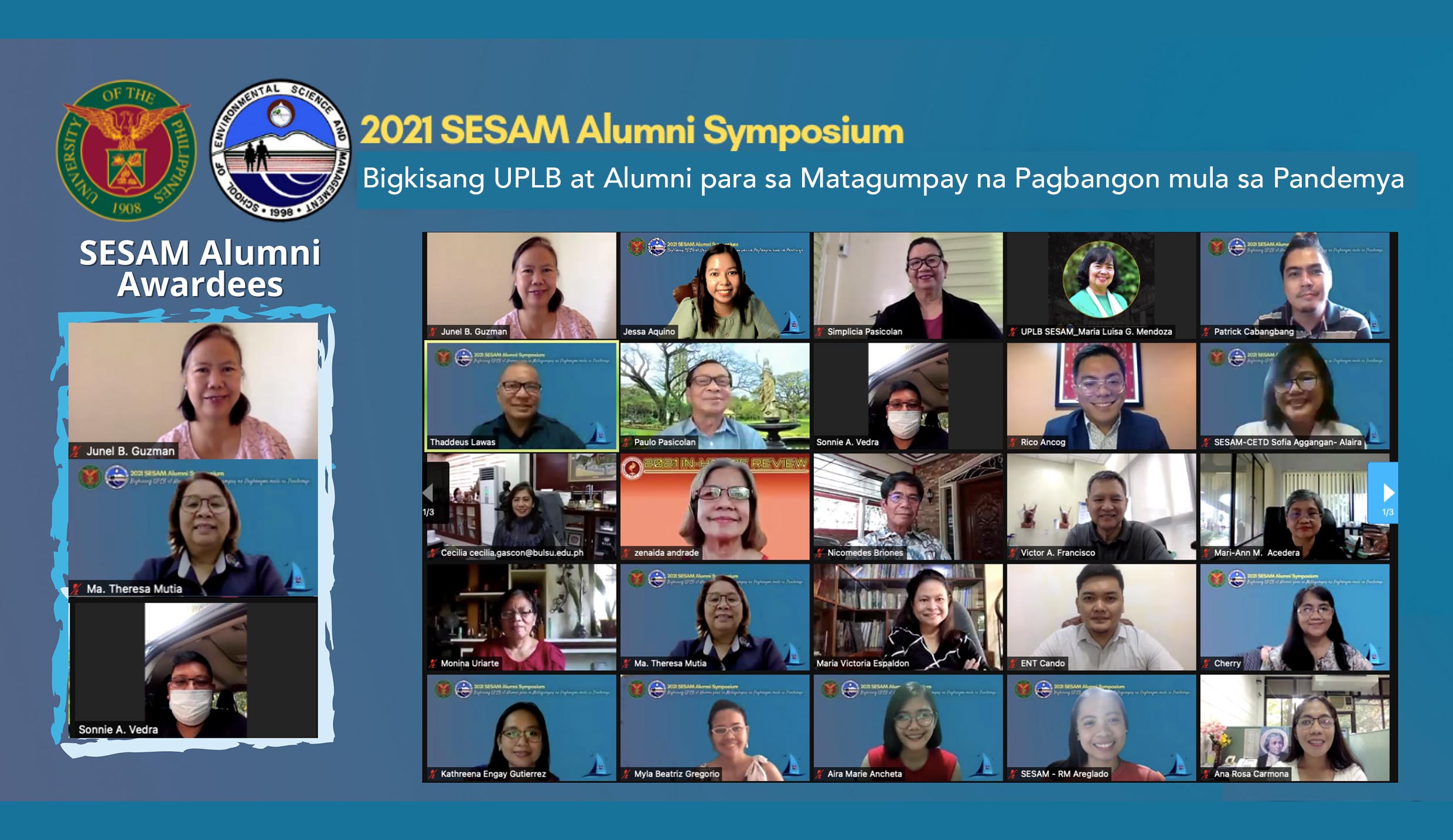 SESAM holds symposium for outstanding alumni and to explore academe-government-industry collaboration
The UPLB School of Environmental Science and Management (UPLB SESAM) virtually conducted its 2021 Alumni Symposium on Oct. 19 with a theme adapted from that of the 103rd UPLB Loyalty Day Celebration "Bigkisang UPLB at Alumni para sa Matagumpay na Pagbangon Mula sa Pandemya."
SESAM Dean Rico C. Ancog extended his utmost gratitude to the alumni, saying that as the country's premier and pioneering institution in environmental science and management, it takes pride in having produced many dedicated environmental professionals and leaders.
He stressed the essence of the SESAM alumni and the impact of their work on both the local and global levels, which he said, inspires its current students to champion the environment.
Chancellor Jose V. Camacho, Jr. congratulated the three recipients of the SESAM Outstanding Alumni Award and expressed his sincere gratitude to the alumni for their unwavering support to the University.
He said that SESAM has cultivated and nurtured a vibrant community of alumni and noted with pleasure the holding by SESAM of a panel discussion on academe-government-industry collaboration.
Awarding of distinguished SESAM Alumni
Dr. Ancog presented the three recipients of the 2021 SESAM Outstanding Alumni Award, namely: Dr. Junel B. Guzman for academic leadership; Dr. Maria Theresa M. Mutia for government service; and Dr. Sonnie A. Vedra for research.
Dr. Guzman, vice president for research development and extension of Cagayan State University (CSU), was awarded for her academic leadership that led to a strengthened research and development and extension program of CSU. Dr. Guzman championed her university's research and extension work in providing strong science-based decision-making in northern Philippines.
Dr. Mutia of the National Fisheries Research and Development Institute-Freshwater Fisheries Research and Development Center (NFRDI-FFRDC) was recognized for her distinct and distinguished contributions to research and development on freshwater fisheries in the Philippines. She provided dedicated government service resulting in a growing culture of research in NFRDI that has been instrumental in strengthening the government's agri-industrialization and fisheries program.
The third recipient, Dr. Vedra, is a professor at the Mindanao State University-Naawan Campus. He was recognized for his active research leadership in the field of environmental management and for being a prime example worthy of emulation among his younger peers in engaging in active research and extension work in Northern Mindanao.
The Awards Search and Nomination Committee was headed by SESAM Professor Emeritus Enrique P. Pacardo and had for its members Dr. Alex Madrigal, former regional director of DOST-Region 4-A and Dr. Ramon M. Docto, president of Palawan State University.
Panel discussion
A panel discussion was held on "Strengthening Environmental Management and Governance through Academe-Government-Industry Collaboration." It was facilitated by Dr. Nicomedes D. Briones, former dean and professor at SESAM. The panelists were Dr. Cecilia N. Gascon, president of Bulacan State University; Dr. Mari-Ann M. Acedera, director of the Marine Resources Research Division, DOST-PCAARRD; Dr. Julius Alfonso C. Sabularse, vice president for operations, ALDIZ Incorporated; and Dr. Alexander R. Madrigal, former regional director of DOST Region 4A.
According to Dr. Gascon, meeting the needs of the people requires understanding of sustainable and innovative solutions. With science and emerging technologies and innovations being discovered in academe, its role is very crucial in achieving sustainable development.
Dr. Acedera presented CRADLE or the Collaborative R&D to Leverage Philippine Economy Project of the DOST which fosters collaboration between academe, government, and industry. CRADLE aims to create synergistic academe partnerships to nurture the growth of Filipino companies.
Representing the industry sector was Dr. Sabularse who explained the different government agencies and their role in the crop protection and fertilizer industry, namely: the Fertilizer and Pesticide Authority as the regulatory agency, the Philippine National Police for safe transport and storage of controlled chemicals, and the LGUs as partners in technology transfer.
Dr. Madrigal shared stories about programs implemented by DOST Region 4A and their relevance to the micro, small, and medium enterprises. These include cleaner production, energy audit, infrastructure audit, among many others, which revolve around the idea of industrial ecology.
To cap off the discussion, Dr. Ancog highlighted the importance of linking the projects and programs of academe to industry and to the government agencies. This is in line with the aim of finding solutions that may be brought down to the community level.
Also held during the event was the oath-taking ceremony for newly elected officers of SESAM Alumni Association, namely: Dr. Mari-Ann M. Acedera, president; Paulo Pasicolan,vice president; Sofia A. Alaira, secretary; Cherry S. Padilla, treasurer; Dr. Evaristo Nino T. Cando III, public relations officer, Dr. Ma. Theresa M. Mutia, auditor; and Victor Francisco, business officer. Capt. Mauro W. Barradas, president of UPLBAA, administered their oath of office.
The event was attended by SESAM students and alumni from the Philippines and abroad.