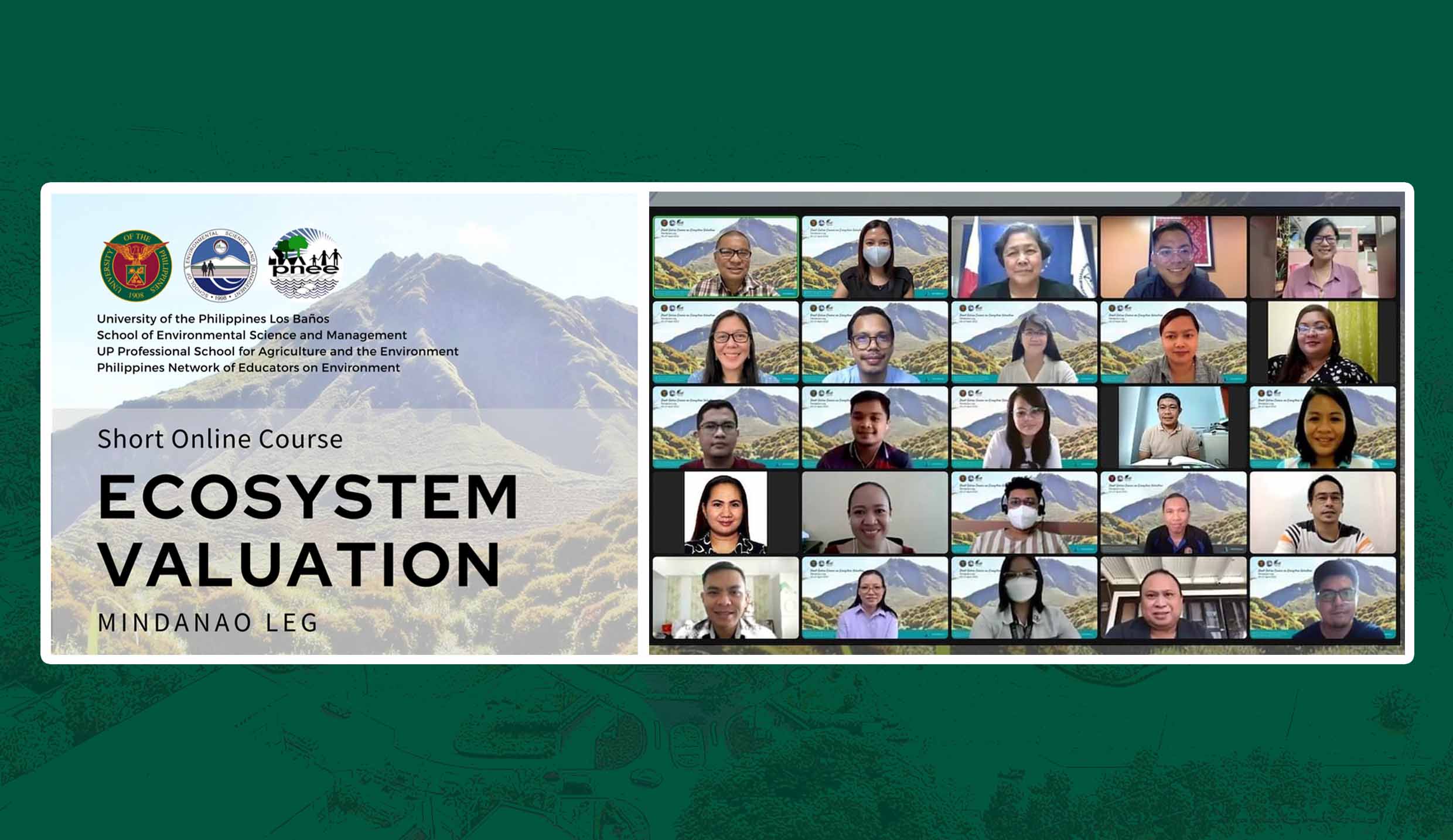 SESAM, UP PSAE, and PNEE collab for Ecosystem Valuation course
Three powerhouse institutions, UPLB School of Environmental Science and Management (SESAM), UP Professional School for Agriculture and the Environment (UP PSAE), and the Philippine Network of Educators on Environment (PNEE), came together to collaborate in conducting a short course on the Ecosystems Valuation Training last April 25 to 27.
The three-day workshop held online focused on the areas of Mindanao and was exclusively attended by members and representatives from the academe, local government personnel, national government agency staff, and private professionals based in Mindanao.
Chancellor Jose V. Camacho, Jr. commended the Continuing Education and Training Division (CETD) of SESAM, the UP PSAE, and the PNEE for organizing the training course. In his message, Camacho said that UPLB recognizes and applauds the training initiative and assured them of UPLB's support of their goals and endeavors.
"We hope that our collaboration will continue to flourish as we advocate for national environmental education together. UPLB, UP PSAE, together with the PNEE hope to help transform Mindanao into a sustainably developed and future proof region," Camacho said.
Dr. Maria Catalina T. de Luna, Director of the Off-Campus Programs of the UP PSAE, shared that UP PSAE aims to be the catalyst for development in Mindanao by accelerating the necessary human resource capacity of the region not only in the industry sector but in higher education institutions as well including government and non-government organizations, agencies, as well as the civil society.
"By being responsive to the community of diverse interests will not only provide higher education opportunities to students by offering graduate programs but will likewise provide lifelong learning opportunities to support human resource developments in the region," de Luna said.
The three-day workshop had four sessions that discussed different areas of interest:
Undersecretary Mercedita A. Sombilla, of the National Economic and Development Authority (NEDA) Regional Development Group, introduced the basic concepts of the economics of natural resources.
Dr. Marites M. Tiongco, faculty member of the School of Economics of the De La Salle University discussed cost-benefit analysis.
Regression Analysis was discussed by Dr. Lara Paul A. Ebal, faculty member from the Institute of Statistics of the UPLB College of Arts and Sciences.
The last session was methodologies for economic assessment, which were covered by faculty members Dr. Canesio D. Predo, from the College of Forestry and Natural Resources (CFNR); and Dr. Jessica Villanueva-Peyraube and Dr. Rico C. Ancog, faculty members from SESAM.
SESAM Dean Dr. Rico C. Ancog hopes that the event will reach out and explain the value of ecosystem valuation as a framework and as a tool to clearly understand the relationship between development and the environment.
"We hope that it can also steer and spark the interest for us to collaborate in future research projects that are truly meaningful for Mindanao," Ancog said during his welcome remarks.
Over 30 participants actively participated online. In attendance are delegates from the Davao Medical School Foundation, Inc.; Department of Environment and Natural Resources (DENR); Local Government Unit representatives from Baliangao, Marawi City, Tarragona, and Davao Oriental; Mindanao State University at Naawan and Iligan; National Government Agencies (NGAs); Bureau of Fisheries and Aquatic Resources (BFAR); Northwestern Mindanao State College of Science and Technology; Southern Philippines Agri-Business and Marine and Aquatic School of Technology (SPAMAST); ARM Skills Management Consultancy Services; and University of Science and Technology of Southern Philippines. (KEAraguas with information from SESAM website