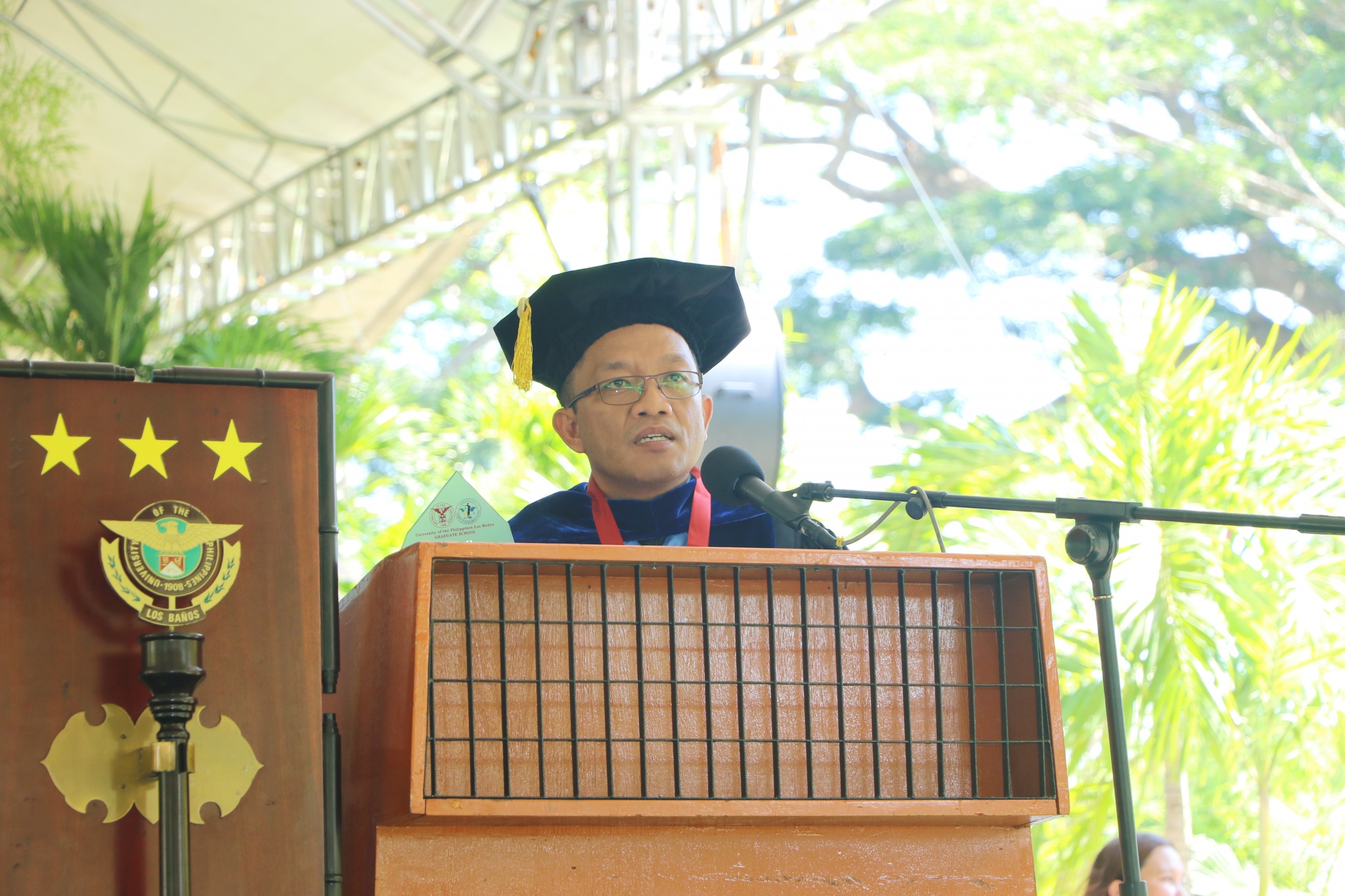 The Speech of Reynold Caoili, Top UPLB PhD Graduate
Distinguished guests, administrators, faculty members,  families, friends,  my fellow candidates for graduation,  ladies,  and gentlemen  good morning.
It certainly  takes  a strong  determination to realize  a vision  in life. Similarly,  the completion of this study entailed the involvement and participation of a number  of people  who come from diverse  contexts  but who  are  connected  by the  aim  of  improving  the  life  of those  who  are poor like me but desirous  to become  somebody.
Today,  we get to remember  reportorial  presentations in class,  the late-nights still awake because we are still not done with our persuasive research   study  due  for  critiquing.  The  ever  hectic  schedules   we  are caught up with because of other commitments. We have also had our moments  of  procrastination. But  what  overpowers those  are  the  hard work  we have  put through  to finally  be here  and receive  the symbol  of our sacrifices.  We all got to finish it together!
With all these realizations,  it is but proper  for us to finally express our gratitude  to the people  and the institution  behind  our success  today. They  deserve  the  recognition just  as  much  as  we  do.  These  are  the people  who honed  us to become  our better  selves  and worked  hard so we could achieve our dreams.
I feel immensely grateful to those whom I had the pleasure  to work with during  the  completion   of  my  dissertation.  First,  the  chair  of  my Guidance Committee,  my adviser,  my mentor,  Dr. Delfin C. Suministrado for the  unending  support.  Sincere  appreciation is also  extended  to the members  of my guidance  Committee.   I would like to thank you all for the enriching  feedback  that  hastened  the accomplishment of my research work. Your insightful  suggestions and comments  contributed  a lot to the preparation and realization  of my study.
I would  also  like to thank  all my professors, my batch mates,  the GS Family,  the IAE family  and my base-unit  the AMD family  for all the support in my 3-years stay in the university.
The journey  I had in the most prestigious institution  of the country, the University  of the Philippines was really  a great  opportunity.  Yes, all the  people   in  the  academe   were  so  influential   in  making   this  PhD journey  a success.  Aside from the knowledge imparted  on me by my professors,  it thought me how to be creative,  patient,  persistent,  diligent, flexible and strong to face the challenges of university  life.
I would  like  also to extend  my gratitude  to my institution  where  I get my bread and butter in order for my family lives, the Mariano  Marcos State  University.  It is indeed  with pride  and honor  to stay in this school where  I finished  my BS and  MS  degrees  and now  serving  with dignity the academe.  The administration never failed to inspire me push through with  this  professional enhancement  journey.  This  is  also  for  you  my beloved  Alma Mater.
Also, I am indeed so blessed  to be given the opportunity  to be one of the only few ERDT scholars. God is so good! Because without this scholarship, I may not be able to push through with this study.
And of course, not to forget the biggest sources  of my strength-  my family  (my  wife  Saly  and  our  3 little  children  Sean,  Syed  and  Shanel) who  serves  as my inspiration  to work  hard.  Indeed,  it was not easy for me to be away  from  you,  but  thinking  all of you while  I was  in school motivated   me  to  be  stronger  and  make  this  dream  come  into  reality because  'this is all for you.' Nobody  has been more significant  to me in the pursuit  of this degree  than  YOU!  I know  you are proud  with what  I have accomplished. My award today is definitely yours, too.
Most of all, I give my endless gratitude to God Almighty who orchestrated the  realization  of this  cherished dream.  He  equipped  me with  strength   and  wisdom   so  I  can  endure   and  hurdle   all  sorts  of difficulties  during  this  extremely  demanding phase  of  my  professional life.
Lastly,  my  fellow  graduates,  let  us  not  forget  to thank  ourselves because  through  it all,  we  made  it.  It was  our  efforts  that  brought  us here.  It was because  our great  desire  to finish this chapter  that we are now  in this  memorable event  with  the  people  we  love  and  the  people whom we owe much.
This may be the end of something  significant,  but today also marks the fresh  start of something  far greater  than what  we have  left behind! As  we  go  back  to  our  respective  institutions and  families  and  as  we continue  our journey we should  not forget as "lskolar  ng Bayan", that we have our share to contribute  to our fellow Filipinos for a better future.
Congratulations to all of us!
Thank you and May God bless us all!