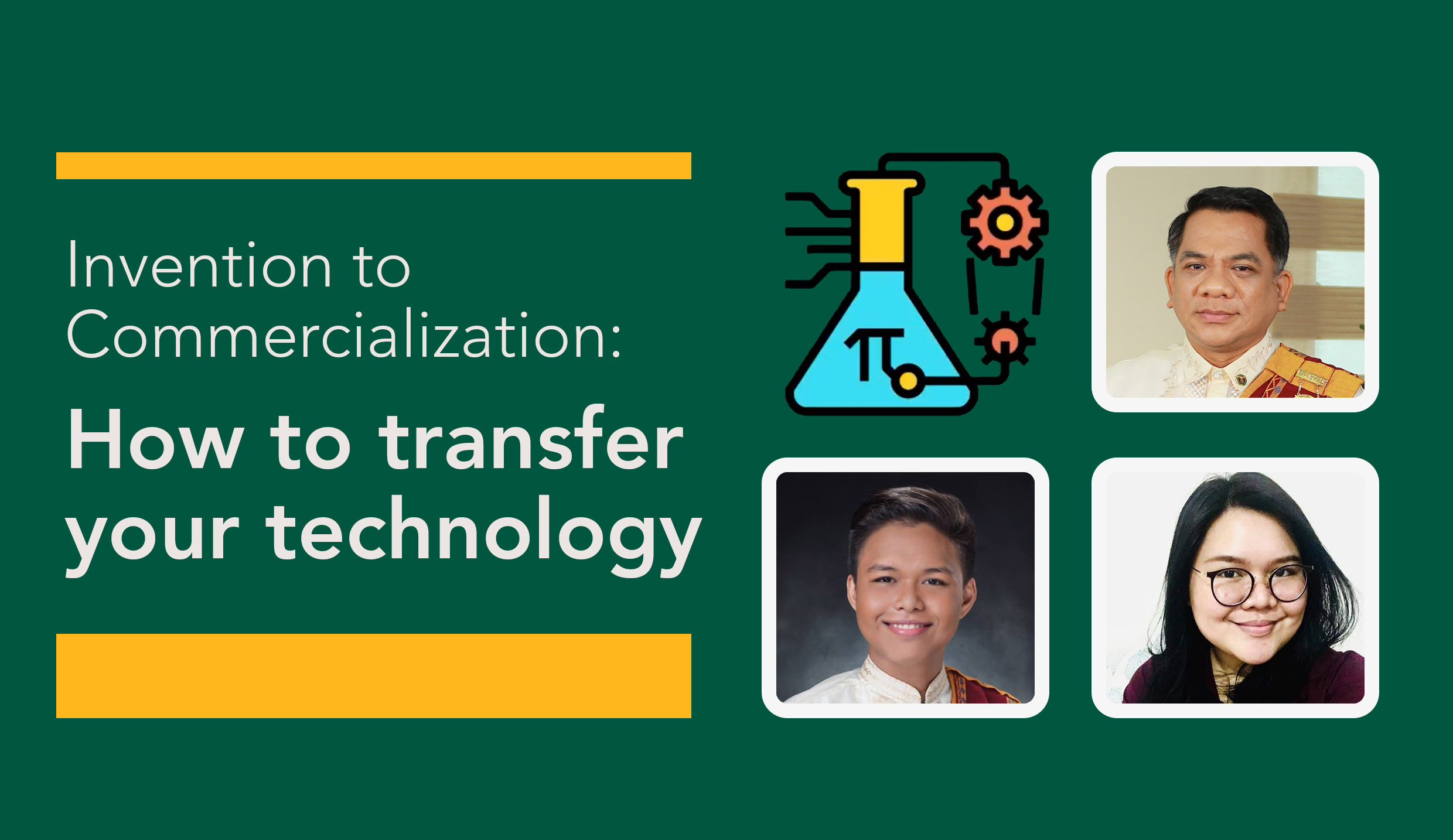 TTBDO leads tech transfer and commercialization webinar
Researchers, inventors, and other university constituents were advised on how to transfer the technologies they have developed and were given tips on the commercialization process at a webinar organized by the Technology Transfer and Business Development Office (TTBDO) on Nov. 26.
The learning activity, entitled "Invention to Commercialization: How to Transfer Your Technology," was held in partnership with the Southeast Asian Regional Center for Graduate Study and Research in Agriculture (SEARCA).
In his welcome remarks, Chancellor Jose V. Camacho, Jr. discussed the efforts made by TTBDO in line with the quest to future-proof research, innovation, and resource generation in UPLB.
"We have engaged the deans to form the innovation and entrepreneurship committees for the 11 colleges and schools, which will be integral to the new Hubs and Spokes program of TTBDO," Chancellor Camacho said.
He added that the program will mainstream innovation and entrepreneurship in UPLB and will train certified technology transfer officers and business development officers across colleges.
"At this time when strong global and local forces are disrupting the economy and society, we need to aggressively make the most out of UPLB's assets. It is high time to bring them closer to the farmers, the consumers, and partner companies we can trust," Chancellor Camacho concluded.
In the first session, Engr. Aldrex L. Aviso, TTBDO lead intellectual property officer, presented the UPLB Technology Transfer and Business Development Manual.
"We are developing the manual to help researchers in UPLB and other academic institutions to be able to transfer their innovation and technology from research and development institutes to the private sector," said Aviso.
The manual intended for faculty, researchers, students, and technology adopters includes the backgrounds of TTBDO and technology transfer, Intellectual Property (IP) management processes, and other activities related to business development.
The manual was developed under the "SEARCA-UPLB Technology Transfer and Business Development Manual and Capacity Building Project."
Jalyza Maye M. Jalbuena, TTBDO Technology Transfer Officer, discussed the technology transfer and commercialization process in the second session.
In her talk, Jalbuena highlighted the pre-commercialization activities conducted by TTBDO for technologies that are ready for commercialization.
"We study the invention and its marketability by requesting potential users, consumers, producers, and investors to give their feedback and suggestions regarding the invention. This is also when we encourage them to utilize and purchase the invention by letting them know its benefits," said Jalbuena.
To learn more about the UPLB Technology Transfer and Business Development Manual and the technology transfer and commercialization process, watch the webinar at the TTBDO Facebook Page. (John Glen Sarol)