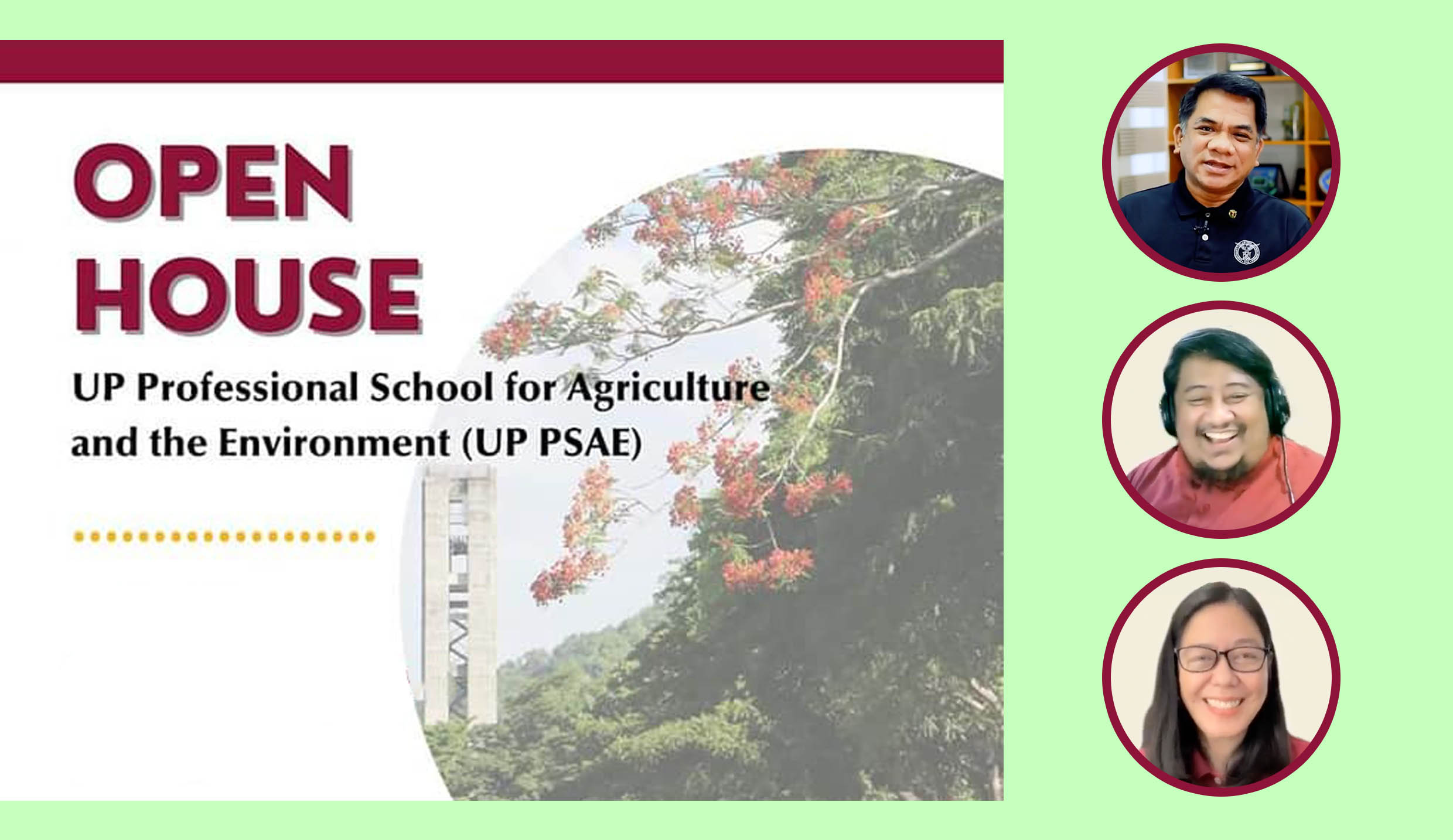 UP PSAE opens its "house" to more than 50 potential students
The challenges of the pandemic and remote learning did not hinder potential students from attending the UP Professional School for Agriculture and Environment or UP PSAE's virtual open house on Sept. 25.
Chancellor Jose V. Camacho, Jr., who gave the welcome message during the event, said that UP PSAE aims to train current and future Mindanao-based innovators and leaders in agriculture and environment.
He expressed his hopes that the number of students of UP PSAE will continue to grow and expand as he envisions them to form a network of experts and leaders who will work closely with local governments, industry, civil society organizations, and the development sector who are working in Mindanao's agricultural communities.
The event also featured representatives from among the UP PSAE implementers, alumni, and students who shared their experiences under the UP PSAE, namely: Dr. Loucel E. Cui, head of the Instruction Division of the School of Environmental Science and Management (SESAM); Elorde S. Crispolon, Jr., a graduate in MS Entomology; and current students, Leo Gene Solamo, PhD Environmental Science and Sheila Kylene A. Tawas, MS Environmental Science.
Albeit done virtually, UP PSAE successfully opened its doors to potential students who are interested in its programs based on the online interaction with them.
Faculty members from different colleges introduced UP PSAE's current and future offerings such as thesis and non-thesis graduate degree programs, professional masters, executive programs, and short courses.
Dr. Cui gave the presentation on behalf of SESAM while the College of Agriculture and Food Sciences (CAFS) was represented by Dr. Sheryl A. Yap, director of the Institute of Weed Science, Entomology, and Plant Pathology and Dr. Rommel C. Sulabo, director of Institute of Animal Science.
Dr. Ronilo Jose D. Flores, a faculty member at the Environmental Biology Division of the Institute of Biological Sciences, represented the College of Arts and Sciences (CAS). Dr. Flores is also the associate dean of UPLB GS, which administers UP PSAE.
Representing the College of Economics and Management (CEM) was the Chair of the Department of Agribusiness Management and Entrepreneurship Chair, Mar B. Cruz .
Dr. Dixon T. Gevaña, director of the Training Center for Tropical Resources and Ecosystems Sustainability (TREES) represented the College of Forestry and Natural Resources (CFNR).
The Open House also served as a venue for presentation of the UP PSAE admission process as well as discussion of scholarships and financial assistance.
Also in attendance were Dr. Jomar F. Rabajante, GS dean, Dr. Pamela A. Custodio, GS college secretary, and Dr. Rhea Ledesma-Gumasing, GS assistant college secretary.
Over 50 participants stayed active during the four-hour session. The UP PSAE open house was hosted by UP PSAE Director Maria Catalina T. de Luna and Dr. Flores.
Those who missed the live streaming of the open house can still access the information as the UP PSAE made the event available online for post-event viewing at the UP PSAE Official Facebook Page. (KEAraguas)