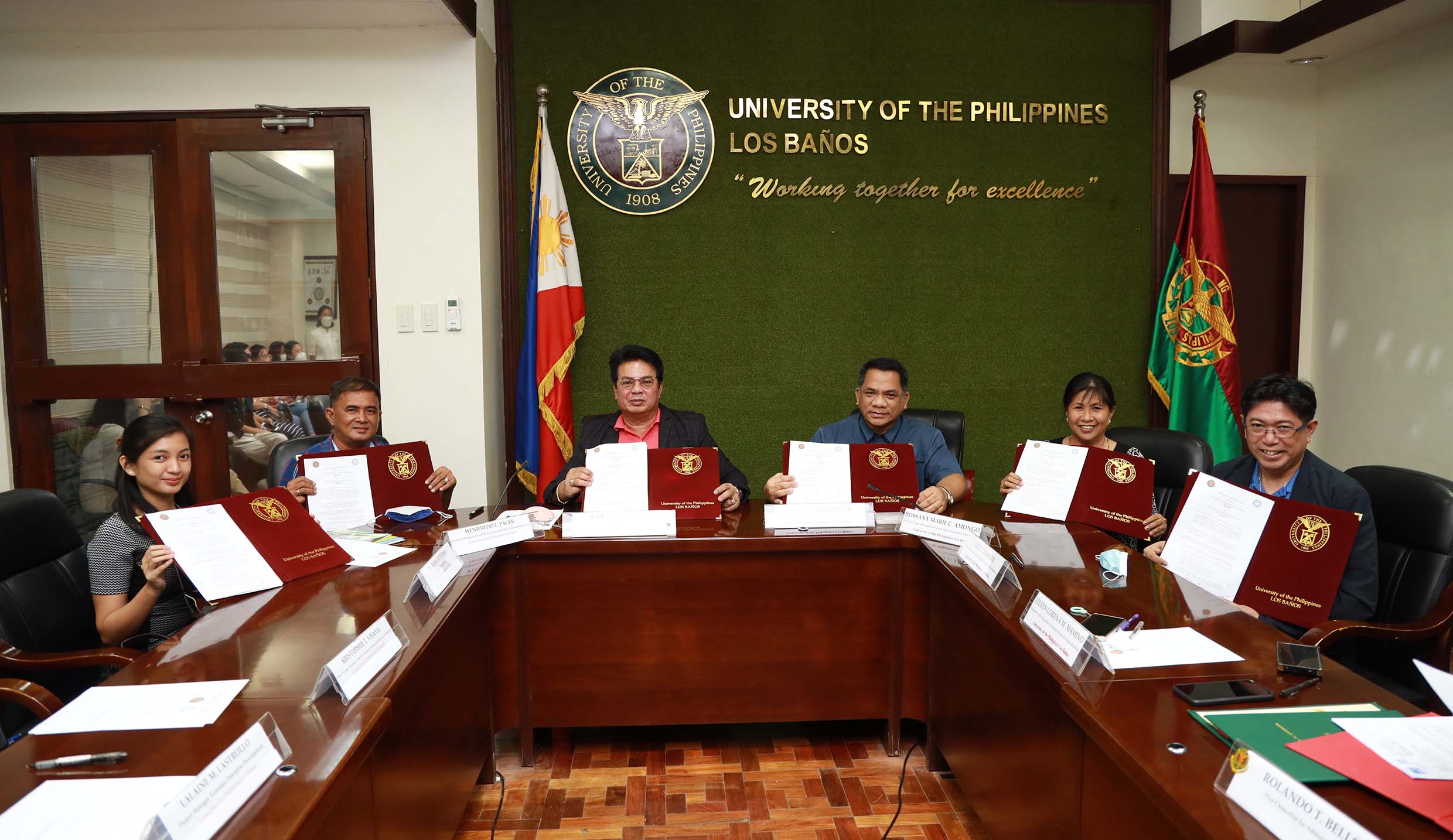 UPLB, Cam Sur Polytechnic Colleges formalize partnership
The expansion of UPLB's network of local higher education institutions (HEIs) remains unstoppable as the University signed another Memorandum of Understanding (MOU)—this time with its third partner university in the Bicol Region, the Camarines Sur Polytechnic Colleges (CSPC).
The ceremonial MOU signing between the two state universities took place on June 13 at the Executive Conference Room, BM Gonzalez Hall, UPLB.
"We all know the importance of continuously improving and evolving as institutions of higher learning," Chancellor Jose V. Camacho, Jr. said. "UPLB, as one of the constituent universities of the country's National University, is always ready to assist and help our fellow HEIs reach greater heights and success."
The MOU between UPLB and CSPC shall pave the way for upcoming academic and research collaboration and exchange of human and knowledge resources.
"We consider ourselves lucky for having been one among those SUCs [that] UPLB has considered [to be its] partners," noted Dr. Charlito P. Cadag, president of CBSC and a graduate of MS Agronomy at UPLB. "We assure that in whatever way we could, we would do our best so that this MOU will not just end after this [signing]."
CSPC, based in Nabua, Camarines Sur, opened in 1985. In 2019, Republic Act 11283 was signed to convert it to the Polytechnic State University of Bicol.
UPLB's MOU with CSPC is the 26th it has signed in less than two years since the establishment of the Office for Institutional Development in Higher Education (OIDHE), the unit that coordinates and maintains UPLB's linkages with local HEIs.
Dr. Greg T. Pawilen, director of OIDHE, and Dr. Rossana Marie C. Amongo, dean of the College of Engineering and Agro-industrial Technology, served as UPLB's witnesses to the MOU. Their counterpart-witnesses from CSPC were Engr. Wenifredo L. Pacer, director of the Production and Entrepreneurial Development Services, and Ma. Kiara Sapinoso, guidance coordinator.
The delegation from CSPC also visited UPLB's production facilities at the Institute of Food Science and Technology and National Institute of Molecular Biology and Biotechnology. They benchmarked, too, with the services of the Technology Transfer and Business Development Office and the Office of Counselling and Guidance. (Mark Jayson E. Gloria)