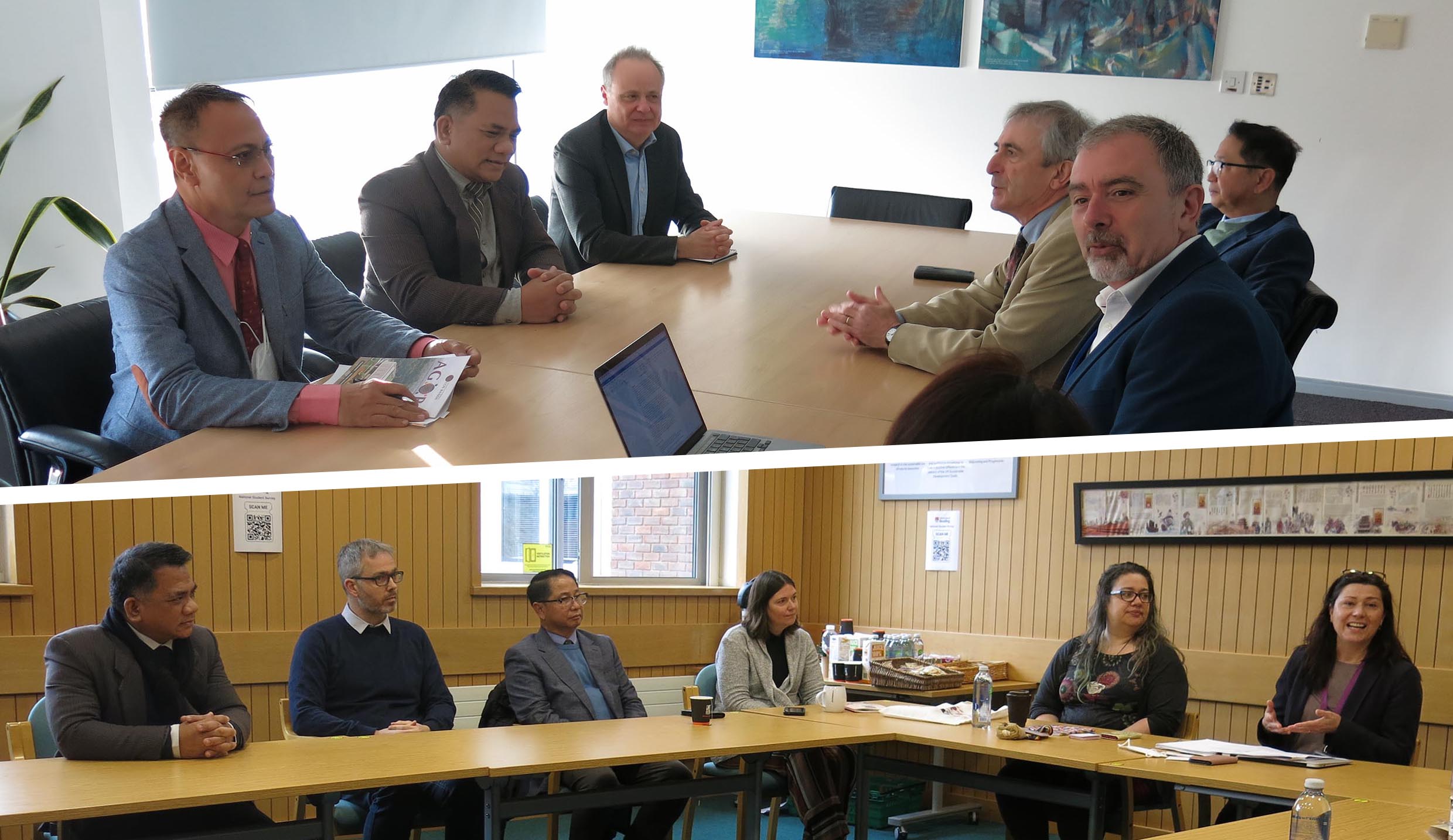 UPLB campaigns for collaborative partnerships and support for AGORA in visits to UK universities
What the UPLB delegation scheduled as side trips during their visit to the UK to participate in the Sustainable Foods London Conference stand to benefit the university in terms of new and expanded academic and research partnerships in the near future.
According to Dr. Nathaniel Bantayan, vice chancellor for research and extension, representatives of the University of Reading (UoR) and University of Liverpool (UoL), whom they met were enthusiastic about establishing academic exchange and research collaboration with UPLB.
Dr. Bantayan said they also visited the University of Cambridge and the University of Oxford to explore partnerships with these top universities and received the same enthusiastic reception.
The UPLB delegation led by Chancellor Jose V. Camacho, Jr., with the support of UP President Danilo L. Concepcion, campaigned for support for UPLB's new research and extension agenda called AGORA or Accelerating Growth through One Research and Extension in Action at the London conference and in its side event exhibit and to these UK universities.
On April 29, before participating in the London conference, the UPLB delegation visited the UoL, toured its facilities, and discussed with their counterparts possible collaborations in academic development and capacity building, research, and the development of resources and facilities.
President Concepcion broached the idea of UoL collaborating with UPLB to develop its Zoonoses Center, which Chancellor Camacho said will soon be elevated into a national zoonoses center.
Chancellor Camacho gave UoL a walkthrough of UPLB's dual PhD with UoR, suggesting a similar mode for the UPLB-UoL partnership. He also discussed UPLB's desire to send junior faculty to pursue their PhD at UoL under collaborative scholarship agreements.
Dr. Bantayan presented AGORA and its focus areas, followed by a discussion on how these matched with research interests at UoL. Some of these research areas are foodborne diseases, diseases in chickens, zoonoses, and preventing future pandemics.
The UPLB delegation included directors of some of the critical units of the College of Agriculture and Food Science, namely: Dr. Fe M. de la Cueva of the Institute of Plant Breeding; Dr. Rommel C. Sulabo of the Institute of Animal Science; Dr. Lotis E. Mopera of the Institute of Food Science and Technology; and Dr. Amado A. Angeles of the Dairy Training Research Institute discussed with their UoL counterparts possible collaborations on academic development, training, and research and extension programs.
On April 1 and 3, the UPLB delegation visited the University of Cambridge and the University of Oxford, respectively, to explore collaborative partnerships.
UPLB has a supervisorship arrangement with University of Oxford on a current study on the rafflesia species, which can be expanded to other species, Dr. Bantayan said.
The last leg of the UPLB visit was at UoR to sign a Memorandum on Academic Cooperation on April 4 by President Concepcion with International Pro-Vice-Chancellor Paul Inman.
The Memorandum covers academic exchange, research collaborations, holding of research lectures and symposia, and exchanging educational information and materials.
The Memorandum may be activated by other UP constituent universities for their future internationalization initiatives with UoR.
According to Dr. Bantayan, there is enormous potential for UPLB to expand its collaborative research with UoR, which has solid programs in agriculture and veterinary medicine.
"We have a lot to learn from UoR with its modern facilities such as controlled environment facilities for crop science research, state-of-the-art dairy research facilities, and multi-species animal research facility," Dr. Bantayan said.
He revealed that UPLB is now looking into the modernization of teaching and research laboratories.
According to him, UPLB can very well improve its facilities with the support of President Concepcion, who encouraged the faculty and researchers to come up with proposals for such. "President Concepcion is very supportive and promised to help tap funding for research. We need to submit proposals." Dr. Bantayan added.