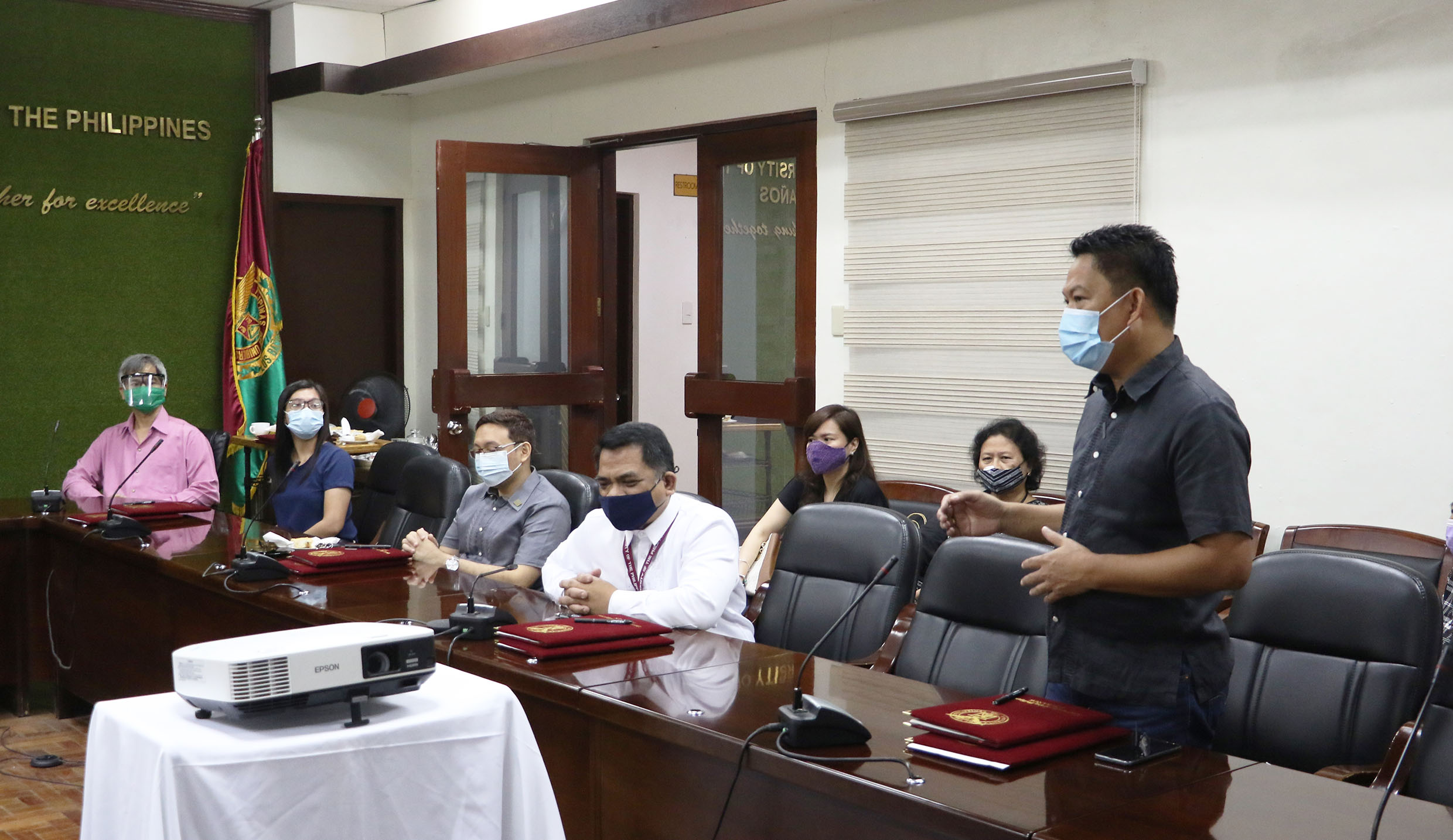 UPLB, CBSUA sign MOA, MOU for academic collab
Thirty academic staff of the Central Bicol State University of Agriculture (CBSUA) will later find themselves wearing the UP Sablay once they succeed in finishing their graduate degrees from UPLB.
Like all others, they will first have to hurdle the course requirements of their respective programs as they pursue either PhD Development Studies or MS Veterinary Medicine from UPLB.
However, they will do this right where they are based, in Pili, Camarines Sur where CBSUA has its campus under the auspices of UPLB's off-campus mode of offering graduate programs.
Through the Memorandum of Agreement (MOA) signed between UPLB and CBSUA, these selected faculty members and staff will be the first batch from CBSUA to be given the opportunity to study in UPLB via the off-campus mode.
The MOA signing took place on Jan. 26 at the BM Gonzalez Hall, UPLB, with the leaders of the two institutions sealing the agreement – Chancellor Jose V. Camacho, Jr. for UPLB and Dr. Alberto N. Naperi, president, for CBSUA.
"We responded to the challenge of the Commission on Higher Education (CHED) that we should really play our role as the national and public service university, that we assist the state universities and colleges (SUCs), and possibly all higher education institutions engaged in agriculture and in the niches of UPLB," said Chancellor Camacho.
"Our mantra was to make quality graduate programs more inclusive and more accessible," Chancellor Camacho added, as he looked back at the beginnings of opening up off-campus programs in UPLB during his term as the dean of the Graduate School (GS) from 2012 to 2020.
Under his deanship, which immediately preceded his term as chancellor, more than 10 graduate programs of the university were offered in various SUCs, government agencies, and private institutions via off-campus mode.
Under this set-up, which also serves as the template for CBSUA, students take their classes in their localities or headquarters. The partner agencies, like CBSUA, provide the facilities and fund other mechanisms to hold the classes. They also facilitate the mobility of the UPLB professors. They pay for the matriculation and other fees of their scholars, too.
For his part, Dr. Naperi expressed his gratitude to Chancellor Camacho and UPLB for giving CBSUA staff the opportunity to study in the country's national university. The CBSUA off-campus students underwent the usual screening procedures required by the GS for all its applicants.
Serving as witnesses to the MOA were Dr. Jomar F. Rabajante, OIC-dean of GS, and Dr. Ana E. Miraña vice president for academic affairs of CBSUA. Eloise Joycee S. Igno, CBSUA's university accountant, also took part in the MOA signing.
On the same day, the UPLB College of Public Affairs and Development (CPAf) and CBSUA also signed another document, a Memorandum of Understanding for academic, research, and institutional collaborations. Dr. Rowena DT. Baconguis, OIC-dean of CPAf, served as UPLB's witness in the MOU signing.
The CPAf executive committee discussed with the CBSUA team the areas of collaboration that they may pursue in terms of research themes, knowledge sharing activities, faculty, staff, and materials exchanges, and other academic cooperation initiatives.
Present during the MOA and MOU signing events were Prof. Rolando T. Bello, vice chancellor for administration; Dr. Janette Malata-Silva, vice chancellor for student affairs; Dr. Eileen Lorena M. Mamino, assistant to the chancellor and director of alumni relations; Dr. Jezie A. Acorda, dean of the College of Veterinary Medicine; Dr. Rogelio V. Cuyno, former chancellor of UP Mindanao; and Dr. Higino A. Ables, Jr., former vice chancellor for academic affairs of UPLB.
Also present were CPAf's Dr. Aileen V. Lapitan, assistant to the dean and assistant school secretary of GS; Dr. Evelie P. Serrano, OIC-director of the Institute for Governance and Rural Development and head of the Knowledge Management Office; Dr. Merlyne M. Paunlagui, director of the Center for Strategic Planning and Policy Studies; Blanquita R. Pantoja, director of the Community Innovations Studies Center; and Dr. Miriam Caryl DL. Carada, faculty member. (Mark Jayson E. Gloria)