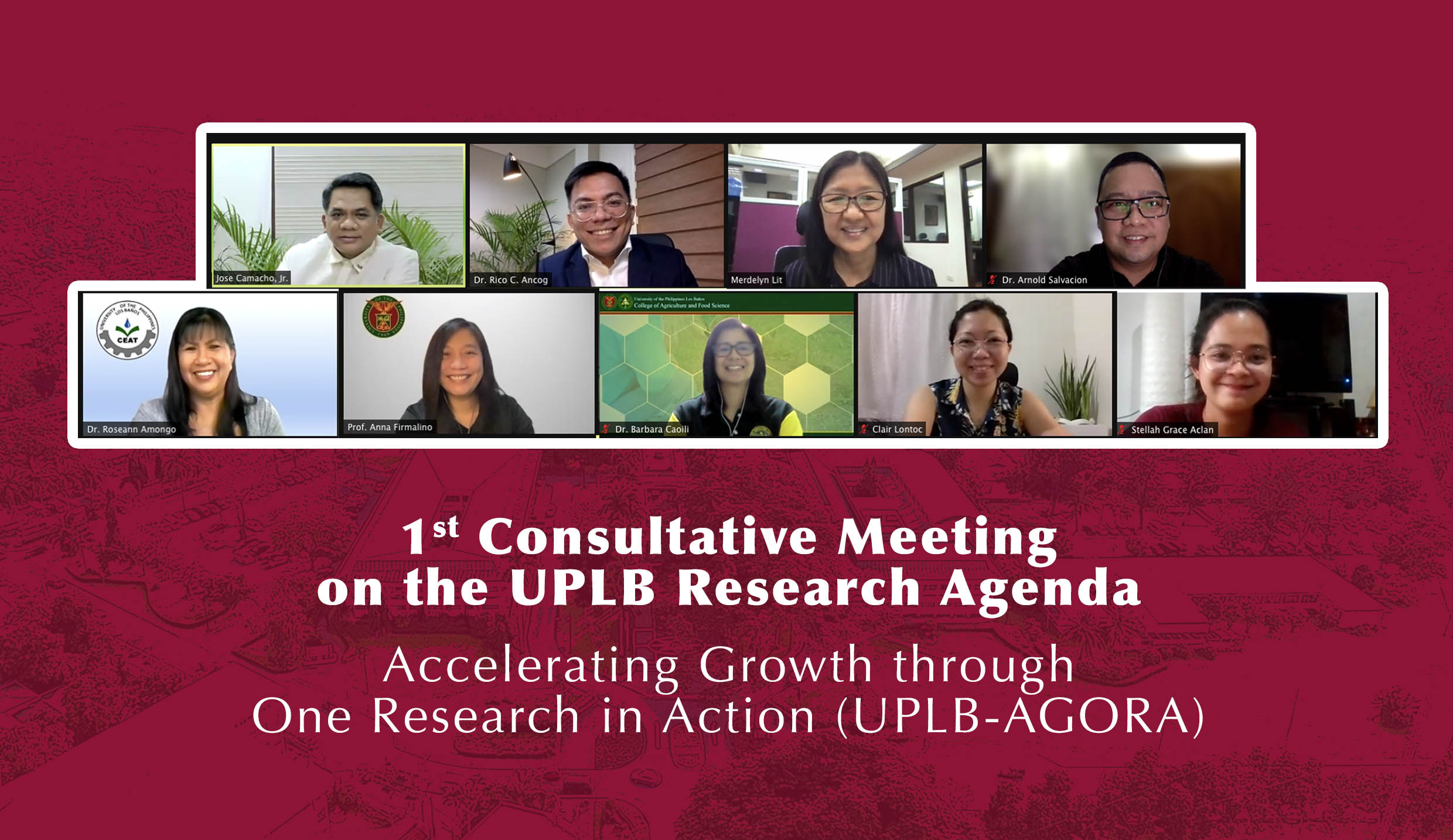 UPLB consults researchers on research agenda
More than 200 University officials, faculty, researchers, and professors emeriti met virtually on July 21 and discussed the proposed UPLB research agenda "UPLB AGORA" or "Accelerating Growth through One Research and Action."
Chancellor Jose V. Camacho, Jr., who gave the opening message during the consultative meeting that was held via video conference, said that the idea of coming up with UPLB AGORA debuted during the UPLB Strategic Planning Workshop on July 9.
According to him, AGORA "strategizes our research efforts in order to ensure that what we are doing inside our laboratories, in the field, and in the communities will address the most urgent and most important issues not only today, but of the future."
He said that the inputs during the consultative meeting will help the University come up with a clearer set of priority themes, more aggressive strategies to strengthen our networks and partnership, and with well-defined plans in research.
"We will come up with a research agenda that we will co-own and collectively pursue, and that will motivate us to do more and better research," Chancellor Camacho added.
According to Chancellor Camacho, once AGORA is finalized, UPLB will conduct webinars with research funding institutions inside and outside the University, with international collaborative institutions, and with other Philippine universities.
The consultative meeting was led by Dr. Rico Ancog, dean of the School of Environmental Science and Management and chair of the UPLB AGORA ad hoc committee.
Dean Ancog discussed the compelling reasons for coming up with UPLB AGORA, namely: low productivity, unprofitability, and lack of competitiveness of small farmers, subsistence agriculture, and lack of economies of scale to operate.
These, according to Dean Ancog, are perennial concerns that were earlier pointed out by National Scientist Emil Q. Javier, who is a former UPLB chancellor and UP president.
Dean Ancog said that UPLB aims to work on this and through AGORA, "hit right on the head" the need to increase productivity, which he encapsulated in a slogan, "dobleng ani, dobleng kita."
It will consolidate and strengthen UPLB's current and future research on food security and sovereignty, resilience and sustainability, future cities, and One Health.
The Ad Hoc Committee is currently putting together in matrices past and present research initiatives of all units and interdisciplinary studies centers to be able to identify a focus for UPLB's future R&D initiatives.
UPLB AGORA, according to Dean Ancog, was designed in coordination with the Office of the Vice Chancellor for Research and Extension (OVCRE) headed by Dr. Merdelyn C. Lit, in response to the call to future-proof the UPLB R&D and innovation system.
The AGORA ad hoc committee team members are Dr. Rosanna Marie C. Amongo, dean of the College of Engineering and Agro-Industrial Technology; Dr. Barbara L. Caoili, associate dean for research and extension of the College of Agriculture and Food Science; Director Anna Floresca F. Firmalino of the Office of International Linkages and faculty member at the College of Economics and Management (CEM); Geny F. Lapiña, also a faculty member at CEM; Dr. Arnold R. Salvacion, faculty member at the College of Human Ecology; and Fides Z. Tambalo, assistant to the vice chancellor for research and extension. (JMBo)