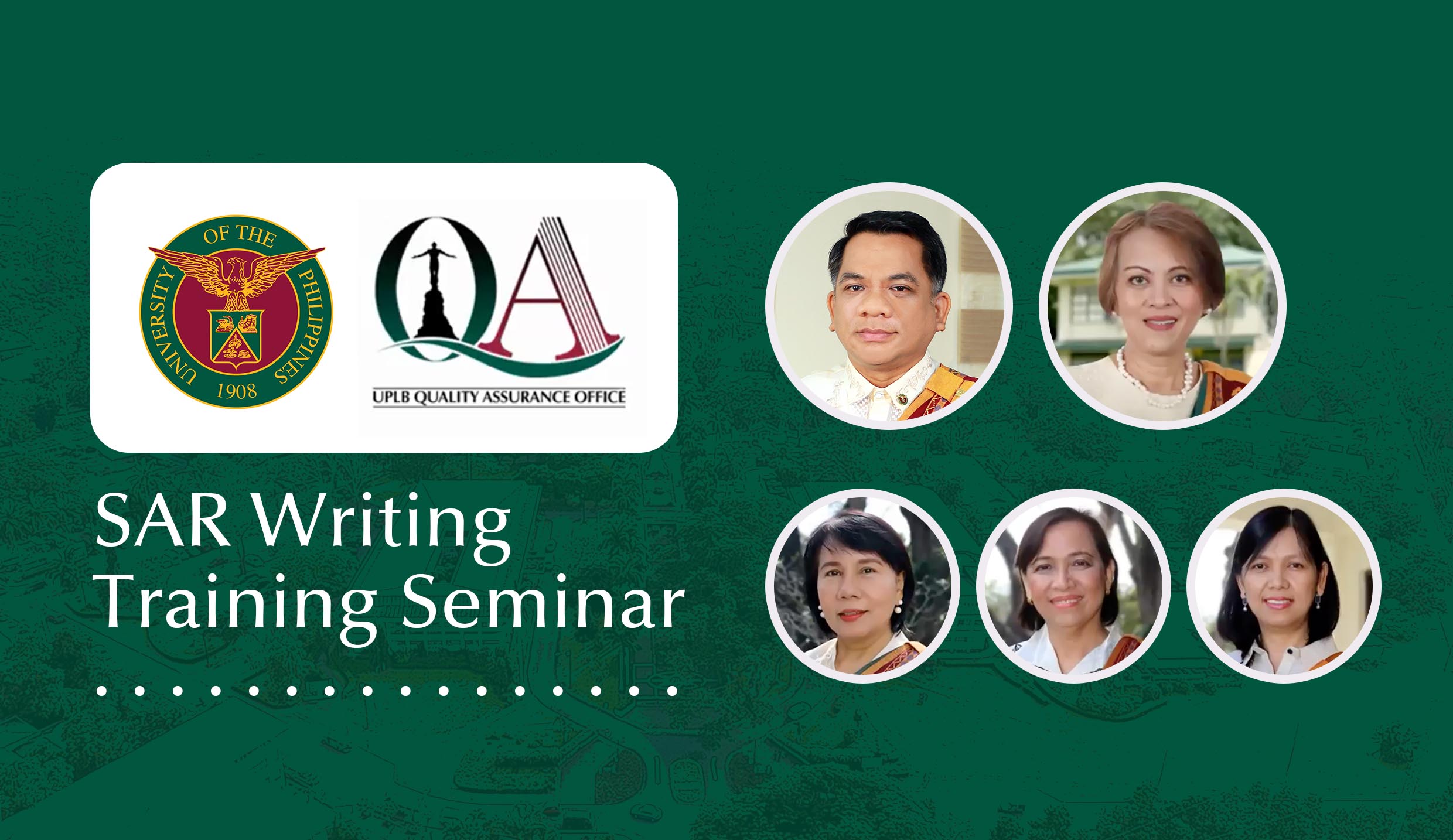 UPLB gets ready for SAR writing
Narendra Modi, India's Prime Minister whose leadership finds new benchmarks for the country, said, "Whatever education a university or institutes of higher education imparts, it must achieve the global level of benchmarking given the vastness and diversity of global village we live in today."
This is a goal of the UPLB Quality Assurance Office (QAO) as part of its mandate in QA or quality assurance.
Hence, QAO, as spearheaded by the College Quality Assurance Officers (CQAOs), conducted the "Self-Assessment Report (SAR) Writing Training Seminar" on Oct. 28-29 and Nov. 3-4 via virtual conferencing.
The training seminar launched training modules devised by the CQACs that aim to equip SAR writers of the different units with skills and knowledge in crafting a sound SAR.
SAR is a requirement for external quality assessment such as the Asian University Network Quality Assurance (AUN-QA).
In a message delivered at the opening program of the training, Chancellor Jose V. Camacho, Jr. extended his support for the activity by highlighting the importance of being knowledgeable of the metrics of QA evaluation and being skilled in applying these metrics to UPLB's academic and administrative undertakings.
This, according to him, would help in critically assessing academic programs by identifying strengths and areas that need focus as UPLB continues its quest to future-proof its quality of education.
This was supported by Dr. Jean O. Loyola, vice chancellor for academic affairs, in her opening remarks, where she emphasized UPLB's pursuits on leveling up its standards, not only academically, but also in its operations, customer service, and human resources.
The University has completed the Institutional Assessment by the European Union Support for Higher Education in the ASEAN Region (EU-SHARE), accredited seven degree programs under the ASEAN University Network-Quality Assurance System (AUN-QA), and recently held the Administrative Staff Program Towards Institutional Resiliency and Excellence (ASPIRE)CQ.[KAB1]
For four days, more than 200 participants underwent instructions from CQAOs in organizing each module of AUN-QA Assessment Guide version 4.0.
Dr. Cadiz ,[KAB2] Assoc. Prof. Rosemarie Eusebio, and Dr. Myra Borines were the resource persons for modules 1-3 on the first day of the training.
On day 2, Asst. Prof. Arlene Gutierrez, Dr. Rhea Gumasing, Dr. Jomar Rabajante, and Dr. Analyn Codilan guided the participants in modules 4-6.
Modules 7-9 were presented by Prof[KAB3] . Leila Africa, Asst. Prof. Janice Garcia, Dr. Jovencio Abalos, and Dr. Adeliza Dorado on day 3.
The fourth day covered the sharing of Dr. Rowena Carpio of her experience in writing the SAR for BS Chemical Engineering, while Dr. Rio John Ducusin and Ms. Junelle Paller, administrative officer, discussed their experience in writing the SAR of the College of Veterinary Medicine.
Dr. Aimee Dupo of the College of Arts and Sciences, Dr. Benjamina Paula Flor of the College of Development Communication, and Asst. Prof. Paul Altheo Bagabaldo of the College of Human Ecology also shared to the participants the challenges that they encountered in SAR writing.
The closing program and awarding of certificates immediately followed the sharing of experiences.
In her closing remarks, Dr. Nina M. Cadiz, UPLB quality assurance officer and director of QAO, wished all participants to be infused with the "prairie fire" of [A4] [KAB5] quality because QA is a way of life.
She encouraged everyone to continually review their degree programs to help prepare the University for another institutional assessment, may it be for International Organization for Standardization (ISO), renewal of EU-SHARE, or Philippine Quality Assurance (PQA).
She declared that the ballgame of QA now lies with the participants, saying they are doing this not for QAO, but for the University, its degree programs, and its students.
Dr. Edmund Centeno, Assoc Prof. Eusebio, Dr. Borines, and Dr. Codilan successfully moderated the four-day SAR Writing Training Seminar. (KAE Blanco)
Aligned with our commitment to: