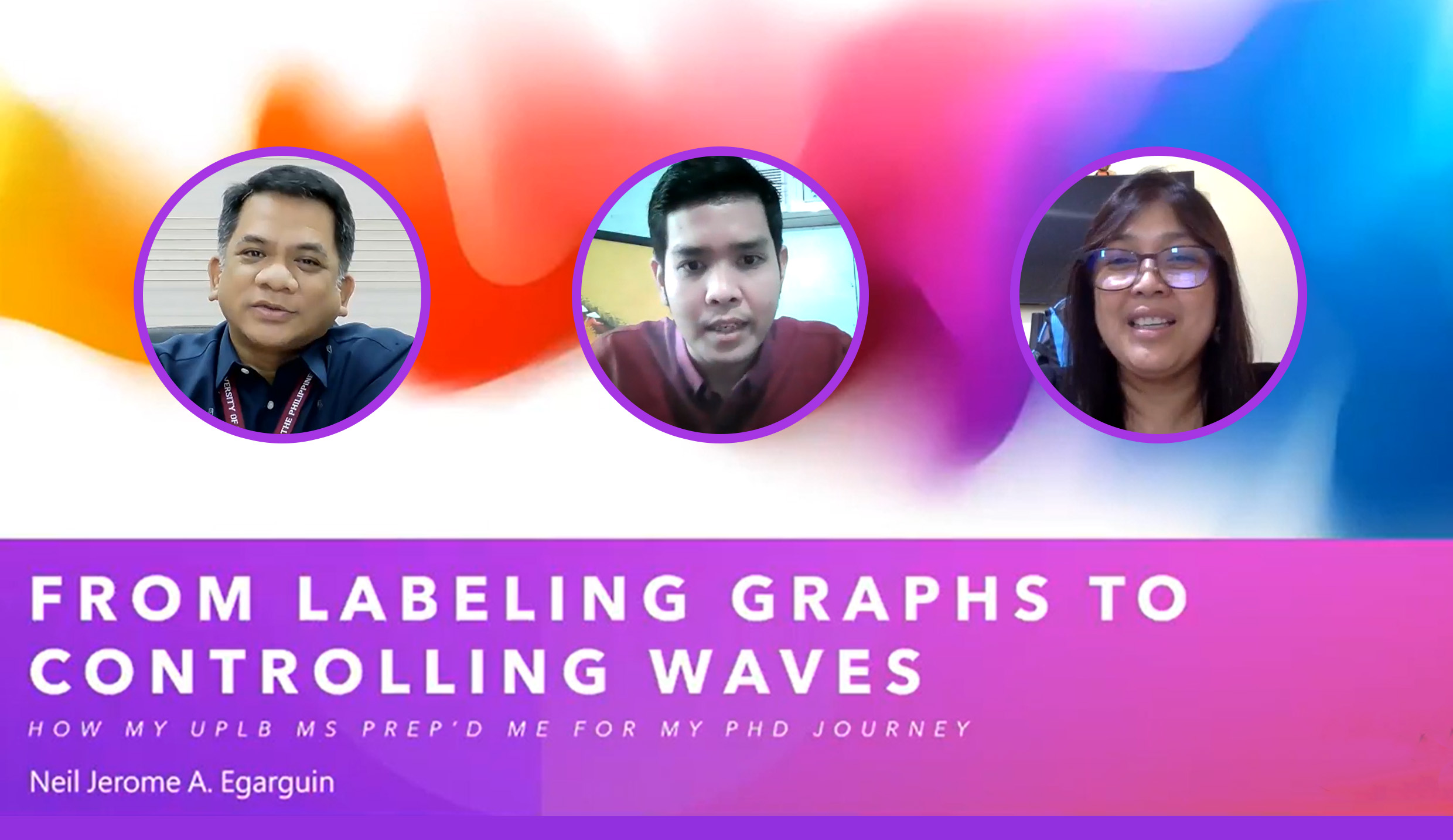 UPLB GS prep'd us for collaborative research, say GS alumni
As the UPLB Graduate School (GS) opened the celebration of its 48th founding anniversary on Dec. 15, some of its alumni shared their testimonials and experiences as graduate students in an online webinar to discuss their journey as researchers.
They are Neil Jerome Egarguin and Dr. Gladys C. Completo, faculty members at the Institute of Mathematical Sciences and Physics (IMSP) and Institute of Chemistry (IC), respectively. IMSP and IC are both under the College of Arts and Sciences (CAS).
Egarguin (MS Mathematics), shared to the audience how he applies his theoretical knowledge of numbers and graphs into the applied research of wave manipulation, which has practical applications in emergency and military communications.
While this area of research is mostly dominated by experts in engineering and physics, he said that his training at UPLB enabled him to work with the experts in these fields and contribute his own knowledge.
He said that UPLB's cognate courses prepared him well in dealing with subject matters from different fields of specialization while operating from his own niche. It also trained him to communicate with experts from various disciplines and explain technical knowledge and their implications in popular language.
Egarguin emphasized the importance of developing communication skills as a researcher, especially to secure funding for research from institutions and to get the support of policy and decision makers.
He added that the strong foundational courses at UPLB prepared him to take highly specialized courses in his PhD program.
Dr. Completo (MS and PhD Agricultural Chemistry) discussed her team's research entitled "Sugars as potential biomarker in Lung Cancer and anti-cancer screening of natural products."
She explained that their study delves into how sugar affects the body and how it reacts to the presence of cancer cells. They aim to use this knowledge to develop an early-detection method for lung cancer, one of the most common causes of cancer deaths among Filipinos.
Alongside this activity, they are also conducting studies of Mount Makiling's flora to search for a potential cure for cancer. So far, they have found extracts from guyabano, mango, and lanzones as the most viable candidates for a cure and are currently working with their graduate student researchers in purifying these compounds further.
Citing the lack of Asian representation in cancer studies, Dr. Completo said that they are also looking into identifying unique properties of cancer tumors among Filipino patients to improve cancer diagnosis.
With the scale of their research, Dr. Completo said that they are working with experts in different fields to carry out their objectives. The project mainly has medical applications, but their team also enlists experts in other fields of study, including agrichemists.
In a brief message at the webinar, Chancellor Jose V. Camacho, Jr. highlighted the role of the Graduate School as the producer of the country's researchers, innovators, and mentors of the future generations of young Filipinos. He also recognized graduate students as knowledgeable partners in carrying out important and timely research and in developing better ideas that can help communities.
"It is imperative that the work started by UPLB GS must continue, and that its members be ready to take on even more ambitious but important endeavors that will support our university and our country's mutual aspirations while providing our graduate students the necessary help and the support they need to pursue their professional and personal goals," he said.
Keynote speaker Acad. Alfredo Mahar Francisco A. Lagmay, executive director of the UP Resilience Institute, underscored how the pandemic has changed the conduct of research all over the world.
Compared to how it was before the pandemic, he said that research now is much more open and collaborative, with research grants and applications being processed much quickly and the scientific community sharing information not just among themselves but with the government, media, businesses, and the community at large.
"Let us use this crisis to make science better and let's continue these efforts beyond the pandemic," he said.
This webinar is part of GS's week-long 48th anniversary celebration held from Dec. 14 to 18. (Jessa Jael S. Arana)