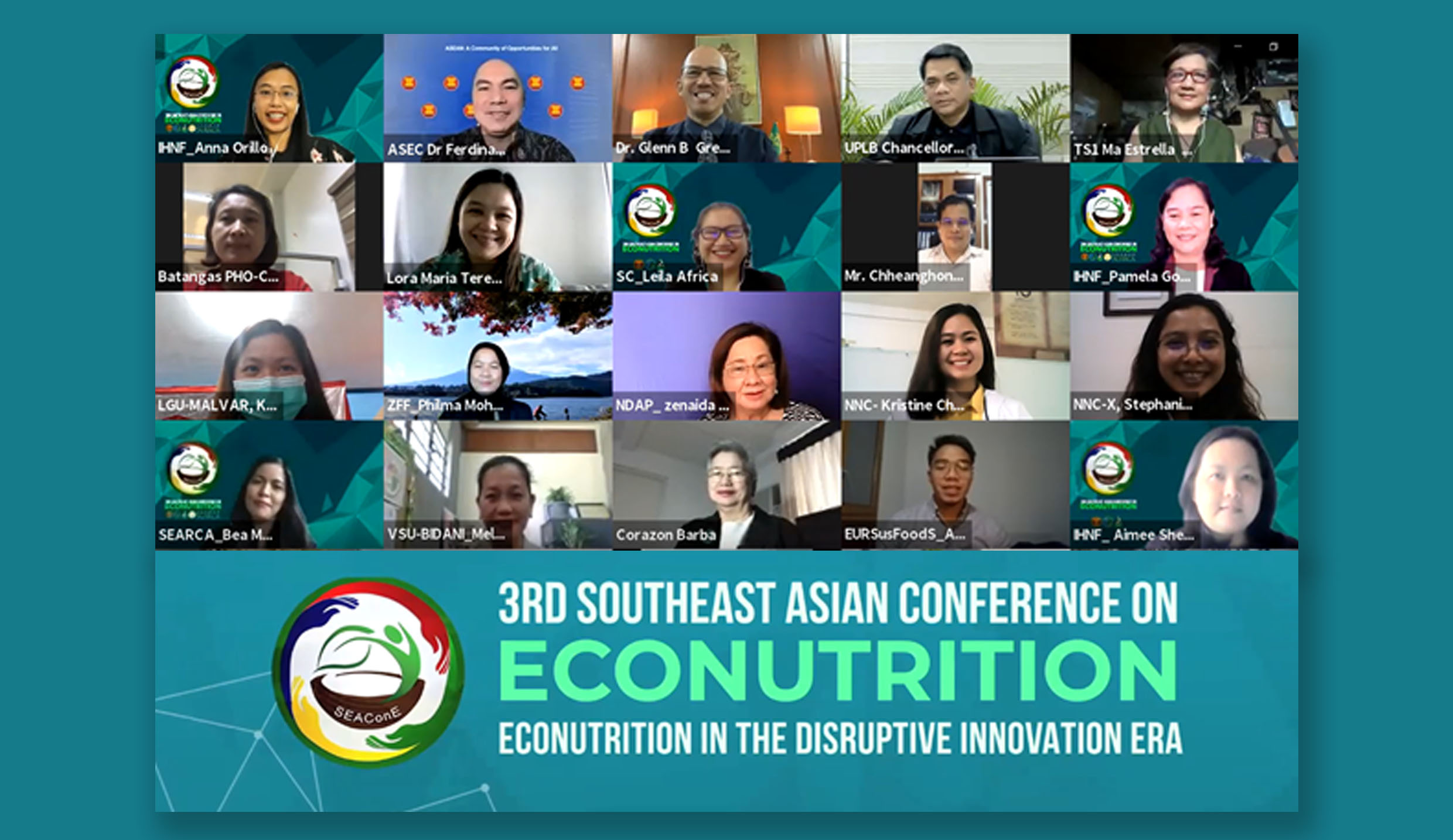 UPLB-IHNF hosts SEAConE 2021
The Institute of Human Nutrition and Food, College of Human Ecology (IHNF-CHE) organized and hosted the 3rd Southeast Asian Conference on Econutrition (SEAConE) on May 20-21.
The theme for this year's SEAConE 2021 is "Econutrition in the disruptive innovation era." The conference identified emerging technology innovations that can have a profound impact on food systems, food security, and nutrition to help achieve UN Sustainable Development Goals (SGDs).
This is also a venue for sharing state-of-the-art information on disruptive innovations in food and nutrition, drawing of lessons from country experiences, and providing a set of recommendations and strategies for more effective use of econutrition.
In his opening message, Dr. Ricardo M. Sandalo, dean of the College of Human Ecology, highlighted IHNF as one of the pillars of the college, advocating the use of the human ecological lens in understanding and prescribing solutions to socio-ecological problems.
He said that IHNF recognizes the significance of integrated and interdisciplinary approaches to promoting optimal nutrition and transforming food systems challenged by increasing population, climate change, ecosystem degradation, and scarcity in land and energy.
Dr. Aimee Sheree A. Barrion, director of IHNF, said in her opening remarks that creating affordable and accessible food and nutrition innovations to benefit a wider population is one strategic key in uplifting the health status of the majority of the people and concomitantly help achieve a number of SDGs.
In his message to the participants, Chancellor Jose V. Camacho, Jr., said that the conference was a platform for development, bringing together researchers, practitioners, policymakers, and educators from around the world to exchange ideas and share the latest information on disruptive innovations in food and nutrition.
Director Glenn B. Gregorio of SEARCA, which is a co-organizer of SEAConE, shared one of the regional trends that contribute to food, agriculture, and nutrition. According to him, consumption behavior moves from purely functional to more sophisticated and experiential, thus driving structure and level changes in food consumption.
These structural changes, Dr. Gregorio said, will have a significant effect on food production and will directly impact the number of resources, emerging biodiversity, and greenhouse gases emission. In perspective, rapid and significant changes in lifestyles will be expected. This is the reason SEARCA's 7 priority areas gave strong emphasis on food and nutrition.
Dr. Ferdinal M. Fernando, head of ASEAN Health Division, The ASEAN Secretariat in Jakarta, Indonesia, served as conference keynote speaker.
Dr. Fernando shared some of his insights and perspectives on the ASEAN Health Development Agenda and food security and nutrition in the Southeast Asian region, the role of relevant stakeholders in the region, and the role that ASEAN played in the midst of the COVID-19 pandemic.
He sounded in his keynote address the following needs and commitments the region should make: 1) expand multi-sectoral coordination to ensure coherent policies and nutrition enhancing actions and food security initiatives; 2) formulate multi-sectoral regional framework of action for the duration and food security; 3) ensure sustained delivery of quality nutrition specific interventions and programs; 4) enhance cooperation across pillars for integration of nutrition into sectoral frameworks, as well as engagement and consultations with other sectors in all levels of society; and 5) increase the level of cooperation and mutual pursuit of initiatives in food security and nutrition, and strengthen human institutional capacities.
The virtual conference was participated in by faculty members, project implementers, policymakers, researchers, nutritionists, agriculturists, environmentalists, educators, health and nutrition workers, and students from Southeast Asia and other countries who directly and indirectly work in the field of econutrition. (Juan Paolo A. Aquino)