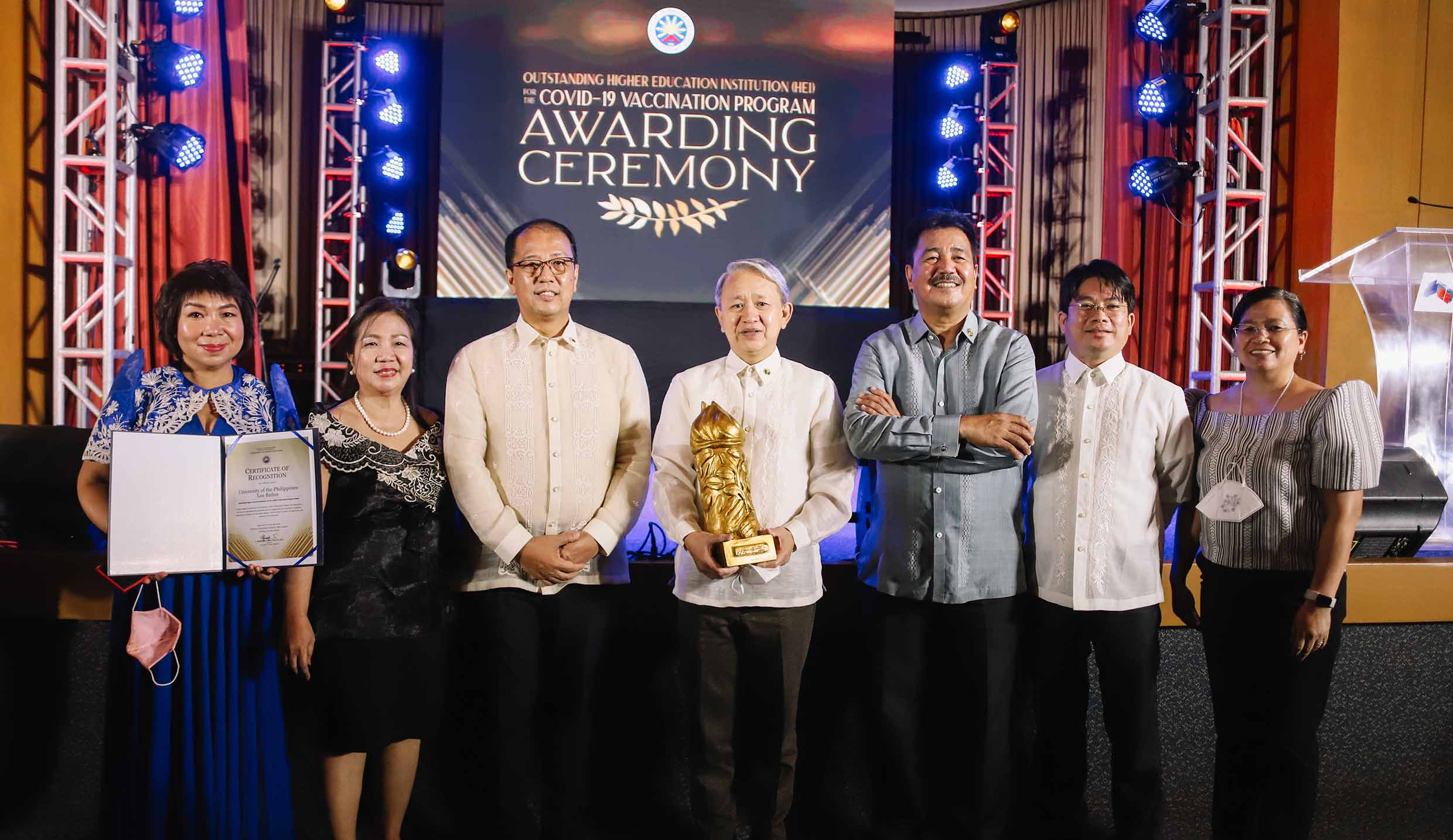 UPLB is CHED's Outstanding HEI for COVID-19 Vaccination Program
UPLB was lauded as an Outstanding Higher Education Institution (HEI) for its COVID-19 Vaccination Program.
In an awarding ceremony held on July 19 at the Philippine International Convention Center, UPLB was recognized by the Commission on Higher Education (CHED) for its notable contribution to the national COVID-19 vaccination program and deployment plan.
On behalf of UPLB, Vice Chancellor for Community Affairs (VCCA) Roberto P. Cereno, Assistant to the VCCA Benevieve D. Villanueva, and University Health Service (UHS) Medical Director Jessie Imelda F. Walde received a trophy and certificate of recognition. Twelve other HEIs from other regions were also recognized in the ceremony.
According to CHED Chairperson J. Prospero E. de Vera III, the awardees exemplified the Bayanihan spirit by forging unity among key stakeholders to expedite the vaccination of its students, personnel, and community. "These are the universities who persevered and aggressively pushed for vaccination [and became] the shining examples for the whole higher education sector," he noted.
Sec. Carlito G. Galvez, Jr., chief implementer of the National Task Force Against COVID-19 and vaccine czar, thanked the awardees for volunteering their facilities, personnel, and expertise to further expand the country's vaccination coverage. "Dahil sa inyo, mas marami tayong buhay na nailigtas at maililigtas mula sa COVID-19," he said.
(Because of you, more lives have been saved and will be saved from COVID-19.)
The UPLB Vaccination Program is part of the UPLB Safety, Health, and Intra-community Engagements for Lifesaving Defense (SHIELD) against COVID-19. It is an umbrella program initiated by the OVCCA and serves as UPLB's holistic response to the COVID-19 pandemic.
It can be recalled that in April 2021, UPLB offered the E.B. Copeland Gymnasium to serve as a vaccination hub. In collaboration with the Los Baños municipal government and the Department of Health Center for Health Development Region IV-A, UPLB vaccinated the residents of Los Baños and other nearby communities against COVID-19.
To achieve herd immunity, UPLB extended its vaccination drive to its students, personnel and dependents, and the staff of the member agencies of the Los Baños Science Community. From April 2021 to June 2022, UPLB was able to administer a total of 47,945 COVID-19 vaccine doses.
Various UPLB units were mobilized to provide support for this effort. These include the Office of the Chancellor, UHS, UPLB Housing Office, Security and Safety Office, University Planning and Maintenance Office, Office of Public Relations, Information Technology Center, and Department of Human Kinetics. Private organizations Makiling Medical Society and UPLB Community Chest, Inc. also gave their assistance.
Through the UPLB Vaccination Program, Los Baños was able to inoculate 100% of its target population before the end of 2021, ranking the highest in the province of Laguna. (Roi Mojado)
Aligned with our commitment to: