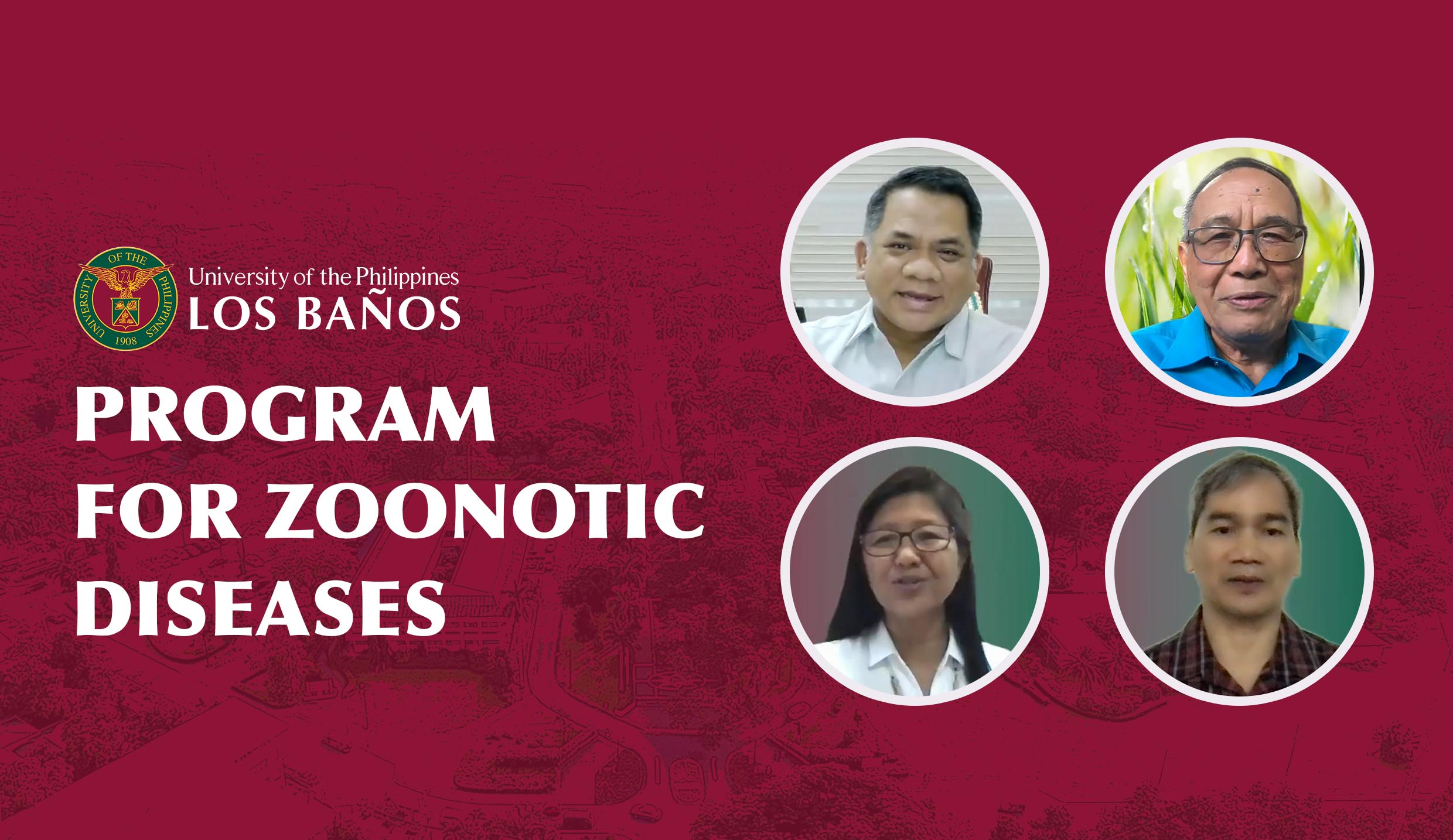 UPLB launches zoonoses program, aims to help prevent future pandemics
UPLB launched its Program for Zoonotic Diseases (or zoonoses) as the world celebrated the sixth annual One Health Day on Nov. 3.
Collaboration, multi-sectoral approaches to public health, and the inseparability of human, animal, and environmental health were the dominant themes in the two-hour event held via video conference.
UP President Danilo L. Concepcion, in a written message, acknowledged past research on zoonotic diseases and their contribution to our understanding of animal and human safety today.
"Ang kabutihan ng nakararami ang dahilan kung bakit mayroong Unibersidad ng Pilipinas [The University of the Philippines exists for the good of the many]," he said, as a reminder of the university's tripartite mandate and as an expression of his support for the program.
Chancellor Jose V. Camacho, Jr., in his address to the virtual audience, thanked the previous administration under the former chancellor, Dr. Fernando C. Sanchez, Jr., for laying the groundwork for the zoonoses program.
He said the program is anchored on UPLB's research and extension agenda and will help in attaining the United Nation's third sustainable development goal of good health and well-being.
The program launch was graced by National Scientist (NS) Emil Q. Javier. In his keynote address, NS Javier emphasized that "human health cannot be separate from animal health and the health of the ecosystem."
He further described the uniqueness of UPLB's network, environment, and resources in tackling the task at hand, adding that the university is in the "best possible position to deliver this public service to our fellow Filipino people."
Dr. Jezie Acorda, dean of the College of Veterinary Medicine (CVM) and program director, presented the program's goals, structure, operations, ongoing activities, and areas for collaboration.
This was followed by a message of support from the Philippine Veterinary Medical Association through Dr. Bernard Baysic and Dr. Corazon Occidental.
During the forum, questions related to disease prioritization and future-proofing of the program were addressed by members of the team.
The role of humanities, communication, and policy in reaching the program's overall objectives was also brought up.
In her closing remarks, Dr. Merdelyn C. Lit, vice chancellor for research and extension, declared that the launching of the UPLB Program for Zoonotic Diseases "is just the beginning."
The program brings UPLB one step closer to its target: a fully operational National Zoonoses Center, a facility that was conceptualized at the peak of the enhanced community quarantine by a committee led by Dr. Rex Demafelis and Dr. Acorda who are both former vice chancellors for research and extension of UPLB.
As Chancellor Camacho said at the beginning of the program, "future outbreaks can be stopped before they even begin."
The online program launch was attended by UPLB faculty and staff, representatives from various higher education institutions, government agencies, PVMA, and the World Organization for Animal Health.
Dr. Elaine Llarena, chair of the Department of Science Communication at the UPLB College of Development Communication (CDC), served as host for the formal program launch, while Dr. Emilia Lastica, assistant professor at CVM, facilitated the stakeholders' forum. (Mariz Diagan)