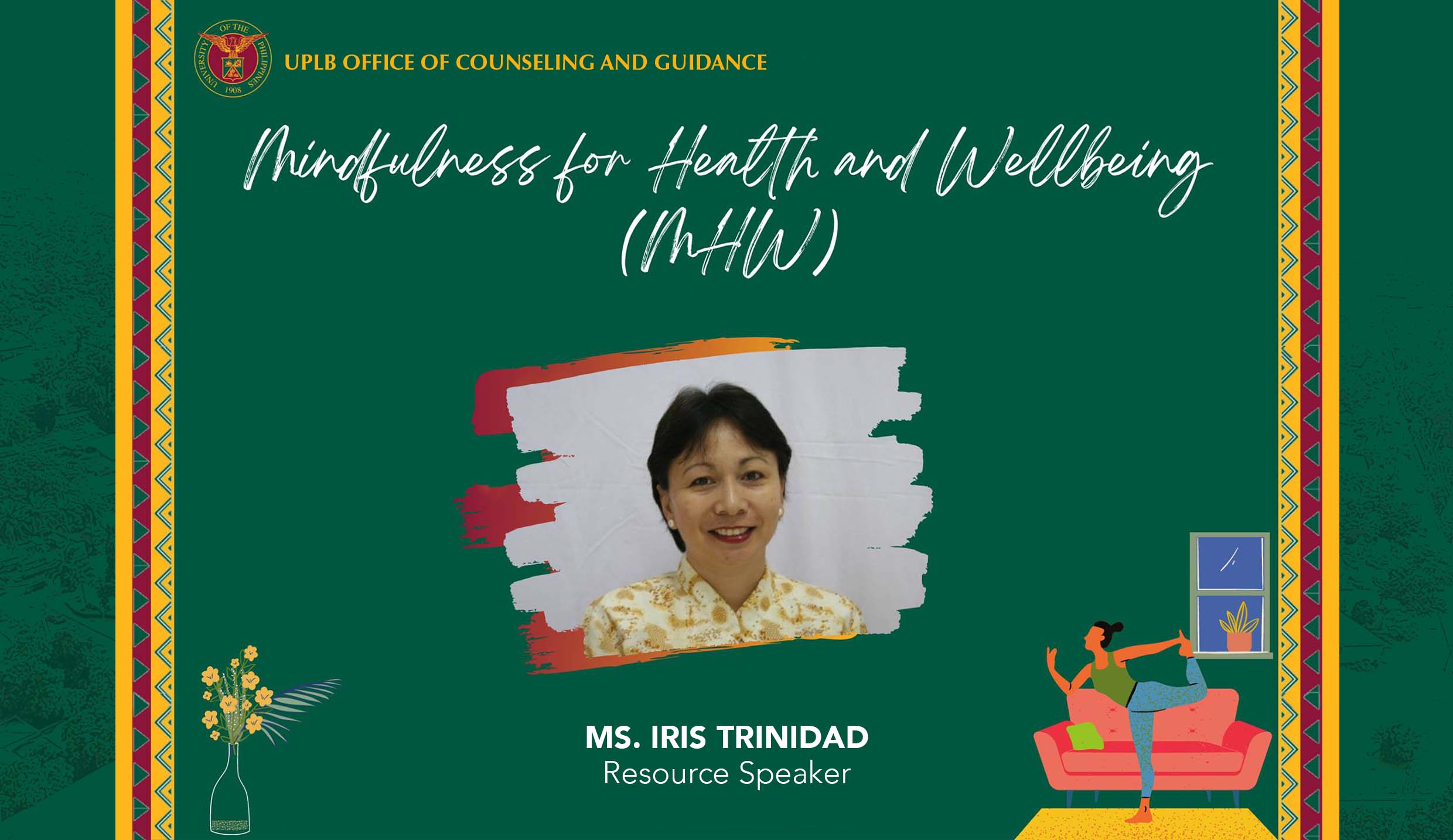 UPLB OCG presents "Mindfulness for Health & Well-being Webinar"
Taking care of our mental health and wellbeing during this pandemic is crucial to stay healthy, grounded, and connected. One way to achieve this is by practicing mindfulness.
Researchers discovered that mindfulness techniques improve self-control, objectivity, tolerance, enhanced flexibility, concentration, and empathy where an individual can gain mental clarity.
The Office of Vice Chancellor for Student Affairs (OVCSA), through the Office of Counseling and Guidance (OCG), conducted a webinar entitled "Mindfulness for Health & Well-being" on Nov. 11 via virtual conferencing and Facebook live streaming.
This webinar aimed to help individuals cultivate a greater awareness of their own emotional landscape, as well as to increase capacity for compassion.
Several techniques proven helpful to improve self-control, enhance flexibility, and to develop mental clarity were introduced and explained during the webinar.
The resource speaker for the webinar, Ms. Iris Trinidad, senior facilitator and coordinator at Mindfulness and FriendlyCare Office, Center for Mindfulness Studies based in Toronto, Canada, is a practicing mindfulness-based cognitive therapist.
The webinar was attended by 150 participants, including students, faculty, REPS, and staff of UPLB, and from other schools and organization.
Dr. Janette H. Malata-Silva, vice chancellor for student affairs, highlighted in her welcome remarks the importance of conducting this kind of webinar session as a crucial discussion on mental health.
Dr. Malata-Silva said that initiatives like this would make the [mental health] discussion open for everybody.
Ms. Trinidad introduced stretching routines and breathing techniques to attain calmness and peace of mind. She further explained that to achieve mindfulness, a reflection on attention, self-awareness, emotional regulation, and compassion are crucial.
At the end of the session, the resource speaker emphasized the importance of the key to successful meditation: "start small, but be consistent." (Tyrone Balaguer and Wella Josel Mejia)