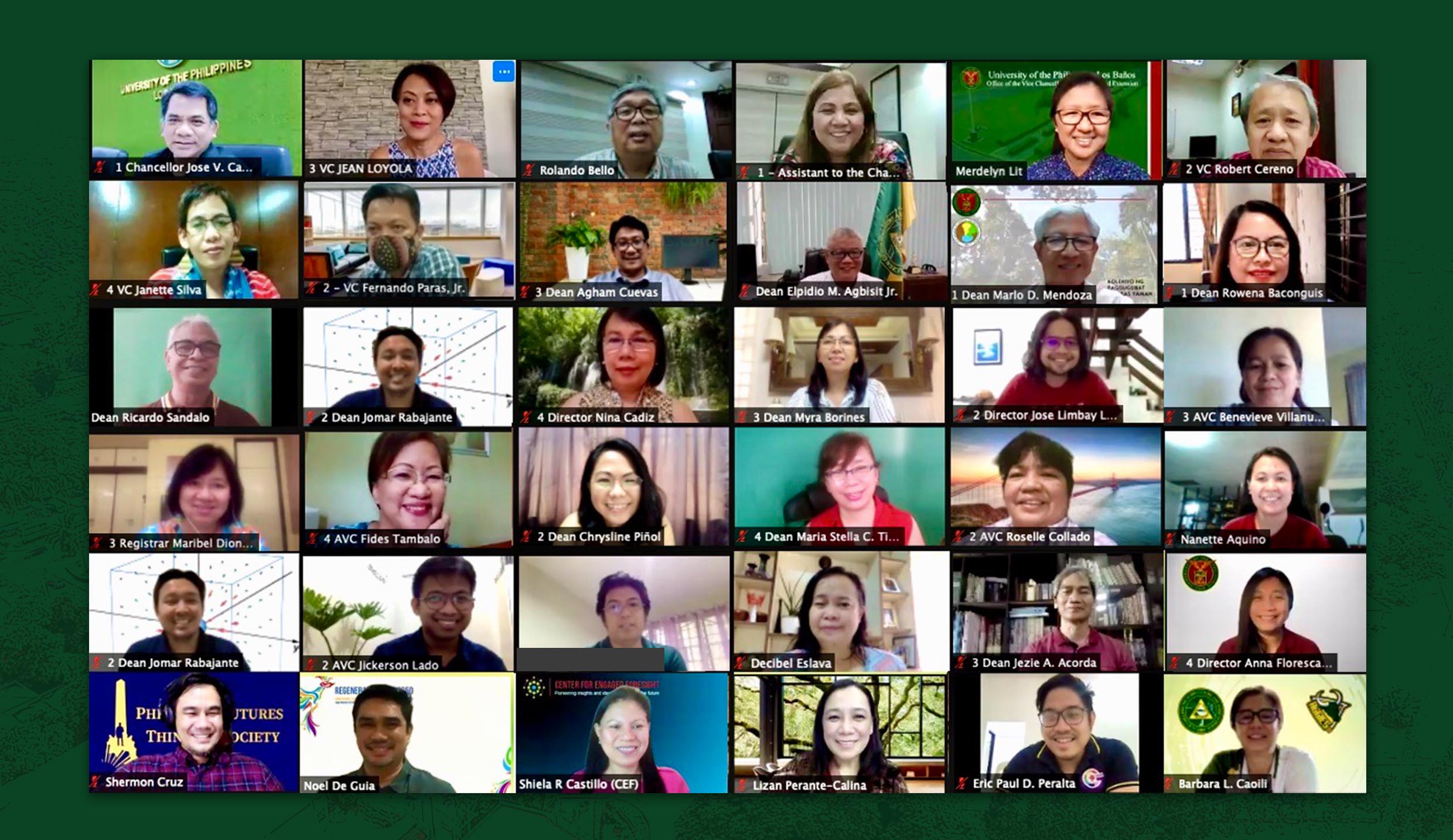 UPLB officials complete Futures Thinking masterclass
The UPLB management team marks a new milestone in its vision to future-proof UPLB as it completes the Leading from the Future: Strategic Foresight Masterclass for University Executives held on April 12 and 19 via video conferencing.
The Leading from the Future masterclass introduced to the UPLB officials the use of futures as an asset, resource, and tool to change and transform, in line with the Futures Thinking movement that is unfolding worldwide.
The Asian Development Bank defines Futures Thinking as the theory and methods that provide approaches to help identify emerging issues, negotiate uncertainties, identify scenarios, and formulate a vision of the desired future.
"It is apparent that Futures Thinking is aligned with our own vision of future-proofing UPLB," said Chancellor Jose V. Camacho, Jr. as he opened the online masterclass. "It is in this glaring similarities between Futures Thinking and future-proofing that we deem it timely and appropriate to hold this kind of learning and knowledge sharing activity among us."
Joining Chancellor Camacho in the learning event were the vice chancellors, assistants to the chancellor and the vice chancellors, deans, university registrar, and directors of university-level offices.
Facilitating the masterclass are resource persons from the Center for Engaged Foresight (CEF) and the Philippine Futures Thinking Society (PhilFutures), that have both been promoting the concept and culture of Futures Thinking in the country. They are working closely with the Senate Committee on Sustainable Development Goals (SDGs), Innovation, and Futures Thinking that is chaired by Senator Pia Cayetano.
The participating UPLB officials listened to the lectures and shared their insights covering the six foresight competencies, namely: framing, scanning, futuring, visioning, designing, and adapting.
They also took part in virtual hands-on activities that sought to test their preparation for and develop their skills in anticipation, systems thinking, and strategic foresight. These activities are each called emerging issues analysis, mapping the futures triangle, hybrid and alternative scenario building, and backcasting.
Prof. Shermon Cruz, founder, executive director, and chief futurist of CEF, encouraged the UPLB leaders to learn how to anticipate the future and to identify opportunities in emerging shocks and stressors. This way, the university will thrive in the future amidst the current and future challenges.
The UPLB Ad Hoc Committee on Futures Thinking Program, chaired by Dr. Elpidio Agbisit, Jr. and co-chaired by Dr. Barbara Caoili, dean and associate dean for research and extension, respectively, of the College of Agriculture and Food Science, coordinated the masterclass.
The committee, composed of 17 members from various fields, will also take part in another Futures Thinking masterclass on April 22, which will focus on its application to food and the supply chain.
The committee was formed through Administrative Order No. 061, Series of 2021, immediately after Chancellor Camacho's exploratory meeting on Futures Thinking with Prof. Cruz and UPLB alumnus Emmanuel de Guia, a consultant of the Senate Committee on SDGs, Innovation, and Futures Thinking, in February 2021. 
The UPLB Ad Hoc Committee on Futures Thinking Program oversees the implementation of the Futures Thinking Research and Innovations for Food System and Food Security project, the promotion of futures literacy in the university, and the crafting of the UPLB Food Futures Research and Agenda, among others. (Mark Jayson E. Gloria)